When I talk about cruising, people often assume massive amounts of food from endless buffets with intermittent afternoon naps on the deck. As relaxing as that sounds, I think I would go stir crazy within an afternoon. We did have access to more food than we could possibly eat, I was delighted with our options to choose an 'active' package of excursions, aka the 'Discovery Package' for the duration of our cruise. While we didn't have an 'active' option at every destination, the combination of more active tours with guided history-focused tours made for a more in-depth and varied experience overall. We even had the opportunity to try some very unique and fun activities.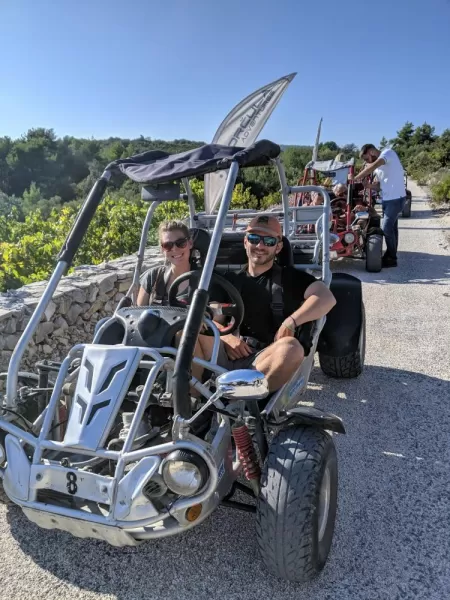 Buggy Safari in Korčula​:
We transferred by bus to the buggy garage where our group of 12 chose our respective buggies. We were given brief instructions on the safety features and how to drive before taking off. We stayed as a group, following our guides on small gravel roads through olive groves and vineyards. The views overlooking the Adriatic were incredible. Eventually, we made our way down to Vela Przina Beach, one of the few sandy beaches in Croatia because most of the beaches are rocky. We had about an hour of free time to relax or swim as we wished, and there was a small cafe.Then, we made our way around a small bay to a local restaurant where we could try local dishes of olives, cheeses, salted fish, hummus
, 
prosciutto, and of course, local wines!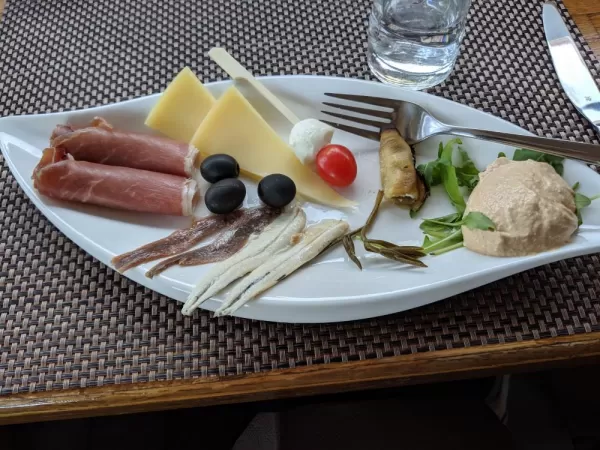 Hiking in Krka National Park:
Krka National Park is a 30-minute bus ride from the main port of Šibenik. It's known for seven beautiful waterfalls including Skradinski Buk, the longest, where swimming is allowed. Our hike started with the 'typical' tour of the Krka waterfalls, walking on winding boardwalks down past the trickling streams and pools with our guide who explained the natural history of the area to us, as well as sharing some insights about the native wildlife. We had free time to take in the sunshine at the beautiful waterfalls and snap some photos before meeting our group of six to hike out of the National Park on a dirt road.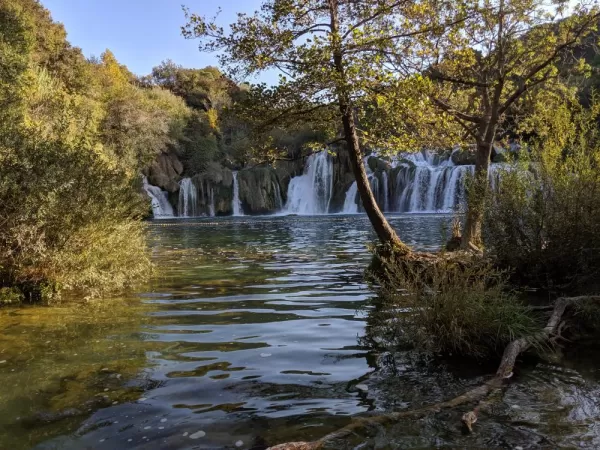 The hike out was about 2.5 miles along a dirt road that followed along the Krka River. Our guide let us know the stopping point was a bridge near the town of Skradin. Everyone was able to go at their own pace, which was nice. The sun was starting to set, which made for some gorgeous views and the flocks of flying swans was not a bad touch either!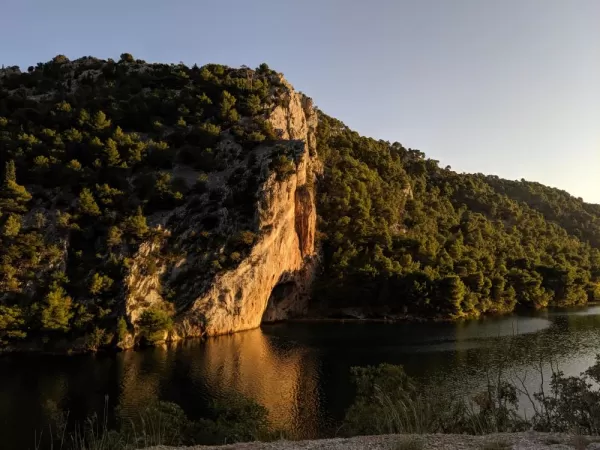 Urban Hike to the Spanish Fortress in Hvar: 
Hvar is a popular vacation destination, with people often sailing their yachts to Hvar and spending time there relaxing on the beaches and swimming in the topaz waters. Hvar also happens to be the sunniest island in Croatia, getting more than 115 days of sun per year. We quickly saw the appeal. Our guide met us as we disembarked our ship and then began to give us a quick tour and history lesson of the main square of Hvar before making out way up a series of 180 fairly steep stairs. Beyond the stairs, the way up turned into a gentle path winding through a rocky herb garden and plenty of giant agave plants. We learned about a small group of local nuns who spin the fibrous agave leaves into thread and make intricate lace.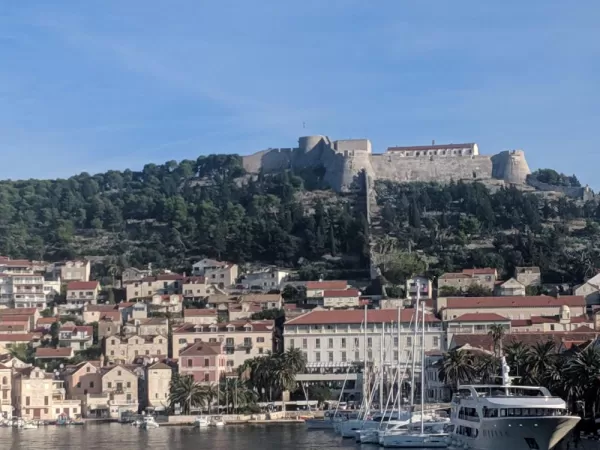 From the fortress, the views of the harbor and town below were incredible. We were able to explore the fortress with our guide and then had a bit of time on our own to explore. One highlight was the fortress' stone prison, carved straight out of the mountain.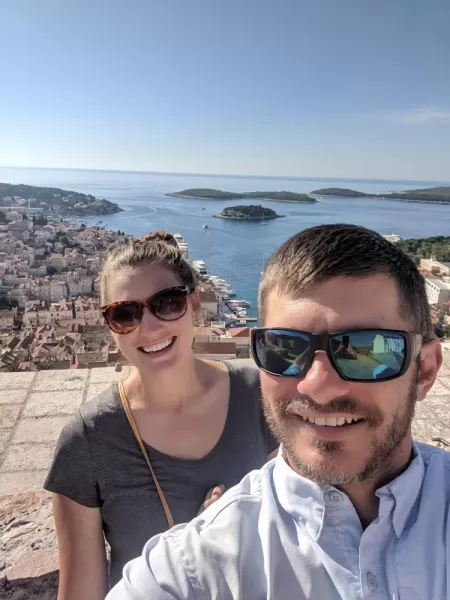 Bike Tour of Vis:
Vis is the farthest populated island from Croatia's mainland. This made it an important and strategic location during many of the wars fought during Croatia's storied past. Our guide picked us up at the port with bikes and our small group of four headed through the town to a rocky beach near a British military cemetery. After a bit of a break to enjoy the beach views and some refreshments, we biked back through town and up a decent incline to the former British base of Fort George.The fort now serves as a bar and restaurant with pretty unbeatable views.The restaurant was closed for the season, but we were able to walk around the exterior walls while our guide shared stories with us and even pointed out the entrance to a submarine base used in the Second World War.