If Romania could be thought of as ever moving forward, Bulgaria seemed, for the most part, to be looking back. Perhaps due to its centuries under Ottoman occupation or perhaps the simple geography of being more isolated from the economic prosperity of Western Europe... whatever the reason the Bulgarians seemed a bit more nostalgic for socialist times.   This is not to say that Bulgarians are not also a fiercely independent people. Bulgaria existed as an independent nation long before the rest of Europe and the Bulgarians are proud of their long history. It only seems that to the average citizen, Communism did not seem to be at odds with this independence. During WWII, Bulgaria was one of the few occupied nations that was able to protect all of its Jews from concentration camps. Similarly, it seems that Bulgaria was able to navigate socialist times while still protecting their rich cultural and religious traditions.
​Bulgaria is an experienced middle child- well versed in working amongst more dominant siblings toward quiet compromise.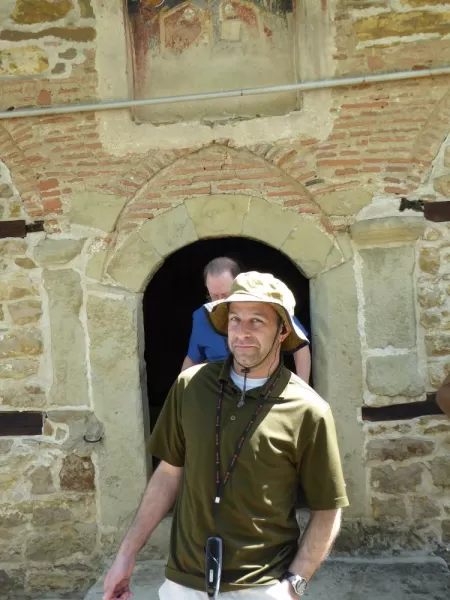 In Veliko Tarnovo we visited two 16th century Eastern Orthodox Churches  built during Ottoman occupation. Ever the pragmatists, the Bulgarians bribed the ruling Turks and offered concessions (no bell towers, churches built below the height of the local mosque) to accomplish their goals. From the outside the churches appeared plain and humble. Yet, in true middle child rebellion, the insides (where the Turks never stepped) were ornately decorated with frescoes on every surface, gold leaf and ornate altars. The inside of the church would also be filled with rich music and we had a taste of this as well. The Angelic Voices, an acapella quartet, performed hymns for us in ancient Bulgarian.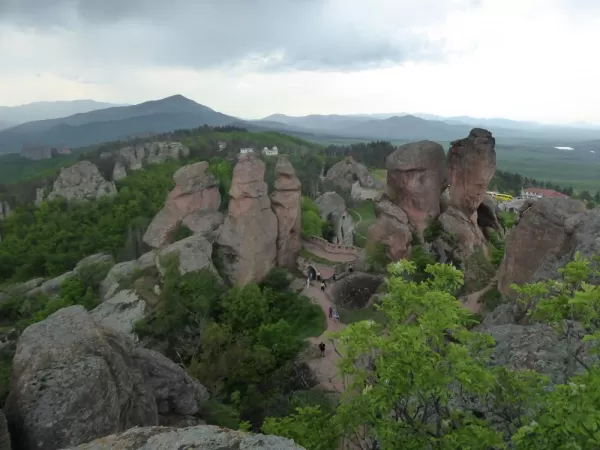 ​The following day we visited Baba Vida, the best preserved medieval fortress in Bulgaria. There a local theater group performed a re-enactment of the Ottoman invasion at the site. In the afternoon we traveled to the breathtaking Belogradchik fortress and rocks, a natural sandstone formation of rock spires where the Romans built a fortress in the 3rd century that was later improved with towers and gates by future conquerors of the region. The Belogradchik Rocks were submitted for consideration as one of the 7 natural wonders of the world. The combination of this natural wonder and ancient fortress certainly made our visit to the  Bulgaria memorable.
​In the evening, we had a last farewell from Bulgaria from a local children's folklore group who performed singing and dancing onboard. Once more, the Bulgarians seemed to be looking back- reminding us of their proud history.