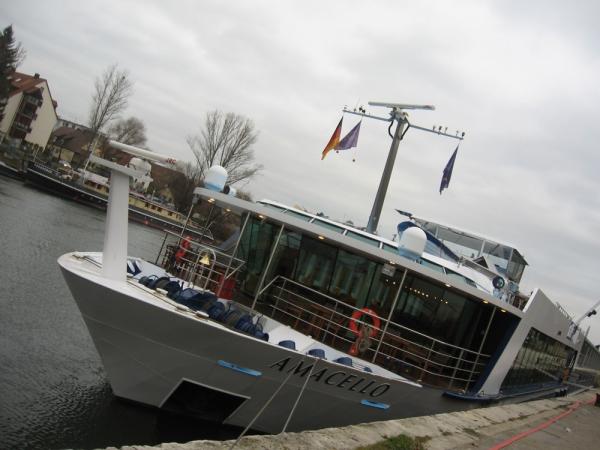 Took a wheelhouse tour this morning. The ship is actually controlled by a joystick rather the a wheel. Guests were allowed to ask the captain questions. They mainly asked about safety. Regulations are strict and all systems have multiple back ups. Extensive mapping and a radar system are all battery operated so that they are not impacted by any electrical failure.
After the tour, we had another great meal and then headed into Regensburg for a city tour. The city is a UNESCO site with many remnants of old Roman walls as well as dozens of intact medieval merchant homes that are still used today.
We returned from the tour chilled from the cold wind and headed straight for the hot tub. The kids loved a chance to splash around in the warm water and then we bundled them into the Amacello bathrobes and headed back to the room.
After dinner, they had a fabulous Bavarian duo onboard. The kids bounced to the polka music and Matthew was particularly enamored by the Bavarian flag that showed two lions that they had brought along. Ryan was volunteered to play the spoons and he did an incredibly good job, complete with a stylish Bavarian hat.