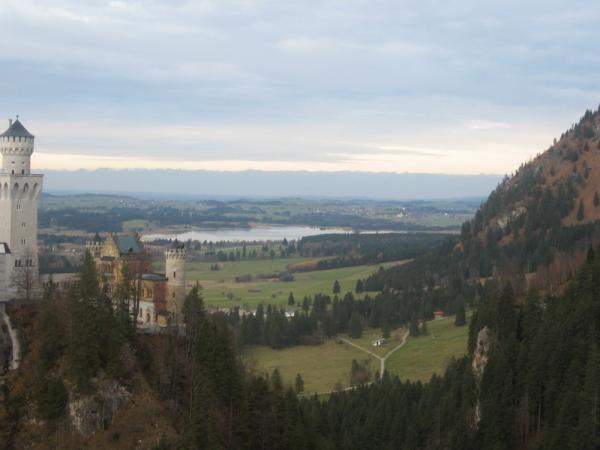 Today we visited King Ludwig II's two famous castles near the German-Austrian border, Neuschwanstein and Hohenschwangau. Following the advice of our guidebook, we woke early to be sure to have plenty of time to get tickets. Travellers are assigned a set time to visit each castle and reminded that there are no refunds if they miss their allotted time. The castle visits are spaced two hours apart. Though the tours are only ~ 35 minutes in duration, it was still a bit of a rush to get two young kids between the castles with bathroom stops along the way.
We started at Hohenschwangau, the yellow castle where Ludwig grew up. Our guide spoke perfect english and provided a thorough tour of each room- pointing out interesting tidbits such as the secret door and passageway between the king's and queen's bedrooms. The castle was bright and elegant with much of the original furnishings.
After the first castle, we walked back down one hill and caught a horse and carriage ride up the much steeper mountain to Neuschwanstein. This castle was only ~ 1/3 finished on the interior as King Ludwig had died young before its completion. It was immediately converted into a museum to help pay the royal family's debts. Neuschwanstein had a much darker, Gothic look and had been dedicated to Wagner, a family friend. Every finished room was themed after a Wagnerian opera. The top floor was a theater with excellent acoustics designed for showing operas. Though it never held a performance for Ludwig, it now offers classical musical performances every summer.
After our tour, we had lunch at the castle cafe and then headed up to Marienbrucke (Mary's Bridge) for a view of this Disney like castle before catching a shuttle bus back down.
For dinner we went to an incredible Italian eatery and ordered twice as much food as we could ever eat (on accident) to warm us up after a cold day of touring.