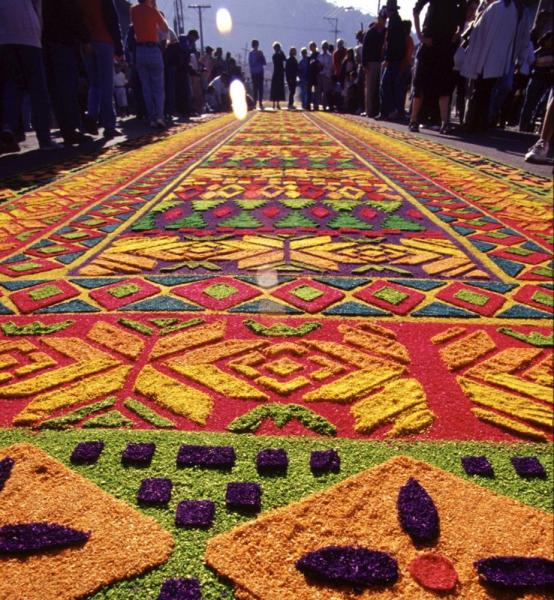 The spectacular
Easter festivals in Antigua
, Guatemala are beyond comparison to anything in the northern hemisphere. One of its most striking aspects are the carpets -- or alfombras -- that adorn the processional route. Residents along the streets of Antigua begin preparations weeks and even months in advance to create these beautifully intricate offerings. The carpets are painstakingly made by hand. Ranging in designs from biblical scenes to popular soccer teams, alfombras are often created a single spoonful of sawdust at a time.
Sawdust is the primary medium, though pine needles, wood shavings, bottle caps, and even tea bags are also used to create alfombras. Fruits, vegetables, and flowers like carnations, bougainvillea, chrysanthemums, and roses are often added as finishing touches. The finest carpets are recognized for their details and crisp edges.
The best time to see the alfombras is before the morning Good Friday procession. Starting around 9:00 PM on Thursday, artists begin laying the foundation for the carpets and finish just before the 4:00 AM Friday procession begins. The streets start to come alive in the early morning hours as people arrive to pick out their favorite designs. Come sunrise, many of the carpets are gone. Experience this unique Latin America celebration on our
Guatemala Easter Festival tour
.

More Easter Celebrations
Our
Ecuador Easter Festival trip
celebrates Holy Week in Quito. It includes the colorful procession of Good Friday which takes its 90,000 participants wending through the streets of Quito's Old Town. The hooded
cucuruchos
are a distinctive feature in the procession. Dressed in purple robes from head to toe, the cucuruchos symbolize the penitents who are displaying not only their repentance, but also their will to change.