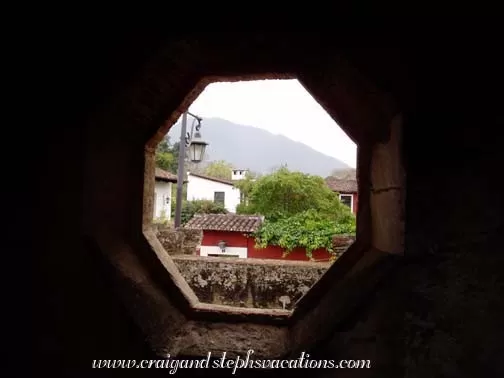 We woke up at 6 am. Craig took a shower and we found that it barely drained. I waited for about half an hour for the water level to go down enough so I could take my shower. We went to La Fuenta for breakfast, dropping some laundry at the hotel's front desk on the way. I had panqueques with honey and Craig had huevos rancheros with black beans and cheese. We also had succulent pineapple, cantaloupe, and orange juice. After breakfast, Craig and I walked around town hoping to find a place that would ship home the rather large and heavy wool bedspread we had bought in Panajachel. We found a FedEx but it didn't open until noon.
We met everyone back at La Fuenta and headed to San Francisco church. There was a gorgeous, intricate sawdust carpet in the center aisle. There were also lots of floats which would be used in a procession later today. We donated a quetzal to light a candle. There were lots of gorgeous paintings adorning the walls and stained glass windows beautifully capturing the daylight. There was a metal track on the floor at the entrance of the church because the floats are too tall to be carried on people's shoulders out the front doors. Instead they are placed on the rails and slid through the doorway, with participants lifting them to their shoulders once they are outside of the building. There were paintings on the ceiling of Catholic saints and their Mayan counterparts (animals). We found this to be particularly interesting and really indicative of the way the churches needed to embrace both the Catholic and Mayan faiths. In a far corner of the church there was a wall of plaques giving thanks to Hermano Pedro de Betancourt. He was a friar most noted for his work with the sick and the poor and credited with performing many healing miracles. As we continued by his tomb and shrine a few people were gathered around making their own pleas for help so we respectfully moved along.
Once back outside we noticed more than a dozen floats depicting the stations of the cross parked across the street. They were very detailed making some of them very creepy to look at. Unlike the hand carried ones, these floats were on wheels that seemed to be more of a train. Each station latched to the next and it seemed the whole string of them would be pulled through the streets. The final one consisted of a skeleton holding the earth which was rather unsettling to see. We wandered around them taking pictures from all angles in the daylight since we didn't know if we would see them "in action" and if so, under what conditions? Due to the crowds and the fact that these procession go on all day and night you just can't really count on seeing anything more than once.
After that we went to Casa de Artes, a highly recommended store which sold lots of quality handicrafts. There were church-quality religious icons, huipiles, furniture, masks, antique hand-crank sewing machines, etc. tucked into every corner. It was practically a museum in its own right. Craig immediately fell in love with a white cotton hand-made huipil which was embroidered with colorful animals and birds. Desiree, the woman who runs the shop, had commissioned it from a woman in San Andres Xecul back in January, and it took the woman three months to complete it. Most huipiles in that town are now machine-made, but she found a woman who still does it by hand. We decided to think about it, but as soon as we were out of the shop we decided that we needed to buy it so we went back. We asked if there was any way we could get a discount, but Desiree said she had checked her paperwork and it actually costs her more than the price she had originally quoted us, but she was going to honor her word and sell it to us for that price anyway.
We met Gerry, Judy, Beverly, and David in the park and had sodas with them at Cafe Jardin. Then we went back to the hotel and got our bedspread and Craig's fleece (which he wouldn't need in 80 degree temperatures), so that we could hopefully ship them home. We went to the FedEx but were told it wouldn't be open until Monday due to the Easter holiday. Craig remembered that Desiree had said that Casa de Artes ships things, and he had the brilliant idea to bring it to her and ask if she could ship it for us. She was a real sweetie about it and quickly packaged it up in a box only charging us the post office rate. We were so relieved not to have to lug it around for the remainder of the trip. Desiree saw our last name and said that it was the same as her great-grandfather's, who had moved to Guatemala from Oklahoma and had started the shop. She noticed Craig's hat and asked how much we had paid for them in the States. She is doing a craft fair in Puerto Rico and planned to sell tipica hats, and wondered how much she should ask for them. She showed us the fine quality hats and asked if we thought $10 would be fair, which we did.
We rushed back to La Fuenta, where we were supposed to meet everyone at 12:30. We were about 10 minutes late, but they weren't ready to leave yet, so we got to relax in the courtyard for a while. Then we all walked down the street and saw some beautiful carpets. Some of them were made of colored sawdust. Others were made with pine needles, flowers, fruits, and other natural materials. We stood on the side of the road and waited for the San Francisco procession to begin. A truck was trying to get through, but its way was blocked by a carpet. It had to just sit and wait. Such is Antigua at Easter. Babies, children, and men were dressed in bright purple robes and hoods. Women were wearing more solemn clothes (black veils, etc.). Some men were dressed as Roman soldiers, with nylon broom heads as plumes on their helms. A boy was handing out flyers announcing the 450th anniversary of the founding of San Francsico. Kids came by swinging incense burners and there was a brass band playing the now familiar mournful music that accompanied the other processions we saw. Floats were carried by either all men or all women. Men had tall metal poles with wooden tops that they used to prop up the electrical and telephone wires so that the floats could pass underneath. About every block or so, the people carrying the float would change up and take each others' places. Up to 4000 people pay between Q50 and Q100 for the opportunity to participate in each procession. Those who wish to carry the floats are all measured and placed into groups based on height.
Once the procession passed, we moved to another street corner where we ended up in just the right place at the right time. There were people dressed as Roman soldiers on horseback and in chariots reading from scrolls and parading a man dressed as Jesus through the streets. They were acting out the sentencing of Jesus. The crowd was tight, and we noticed some men and women trying to pick people's pockets. It was very sad to see a couple of women standing right next to us looking for unwary tourists that would make easy targets. They were very easy to see amongst the crowd. Every so often a few men would walk by and the women would point out the ones they felt were most vulnerable. Our group even witnessed one person's bag getting slit open. We had to be very cautious and vigilant at all times as the crowds are really all encompassing. It was a very uncomfortable feeling at times but well worth the risk. It really makes you think about how much money (actual cash as well as clothing and equipment) that an average tourist has in their posession compared to the residents of the city and neighboring towns. Unfortunately there are many folks that come from the nearby villages not only to sell their wares, but also to prey on unsuspecting folks. We felt safest when our backs were up against the wall even though we really didn't have anything of interest on our person. Suddenly we felt like the camera in our hands was like holding up a bar of gold.
After the processions (around 3 pm) we headed to the Cafe Sky (which is owned by Via Venture, the subcontractors for whom Andre works) for drinks. There was a really nice rooftop bar overlooking the city. We went up quickly to take a look but we decided to sit with David and Beverly on the second floor in the Bambu Bar. Craig got a chicken quesadilla and I got a cheese quesadilla. We headed back to the hotel and picked up our laundry. At Q5 per pound, it cost us Q45, slightly over $5 U.S. We felt it was a great deal to have all our dirty clothes washed, dried and folded ready for the rest of the trip. While there a very nice Mexican girl who was staying in the same hotel wanted to practice her English with us. She asked us where we were from, etc. This is always one of our favorite things about travelling, meeting other people and taking the time to interact with others and learn more about how they live. Of course we envied her desire to learn English and her ability to actually do it well as we still have such a hard time truly communicating in Spanish.
The employees of the hotel were getting stencils ready for the evening's carpet-making, and there were large sacks of colored sawdust waiting to be utilized. We went back to the room to journal and look through our digital photos. We met the group at 7:30 in front of the hotel just as the hotel was starting its carpet. They had laid out the frame with 2x4's on the cobblestones and were laying down coarse sawdust in a rectangle to create a smooth pallette. We were very excited to see this but knew it was going to be a long night, so we walked a few blocks away to the Beijing restaurant for Chinese food. We ended up in a separate little room. It was a little hot and stuffy but having our own area was nice in such a large group as Craig sometimes doesn't hear so well with lots of different conversations and people. The gang split a few liters of Gallo, and I had a Coke and soon the conversations were flowing freely. Craig and I weren't super hungry so we decided to just split a sweet and sour chicken rather than join in the larger food ordering. It wasn't breaded like we are used to at home. It consisted of little tenderloins served with white rice and we proudly ate using chopsticks. Unfortunately we weren't served until pretty much everyone else had already finished eating but it was well worth the wait and disappeared rather quickly.
When we got back to the hotel, the carpet was well underway. Craig and Gerry had a beer while we sat on the curb watching the creation unfold. Once the coarse layer of sawdust was down, they flattened it with a board to make it level and lightly sprayed it with a little water to keep it down. Next came the first color: red. They used a sifting box to sprinkle the very fine red sawdust on top of the coarse layer. They laid out a green border around the edges using boards to keep it straight. They put plastic Pepsi pallettes on each side of the carpet, and laid planks of wood across them. That way they could stand on the planks above the carpet to work on it without damaging it. One man (Marco Antonio) was clearly the foreman. He took all measurements, placed all stencils and handled any questions or issues that arose. Once stencils were placed on the red sawdust, people used plastic spoons to put colored sawdust into each section of the stencils. A little boy was in charge of filling the sifting box and emptying the chafe. Everyone was working in harmony. There was an electric light suspended from a ladder, and a worklight on the balcony illuminating the work area. We finally went to bed at around 1 am thinking we would wake up early to watch some more.