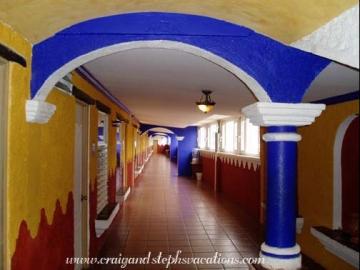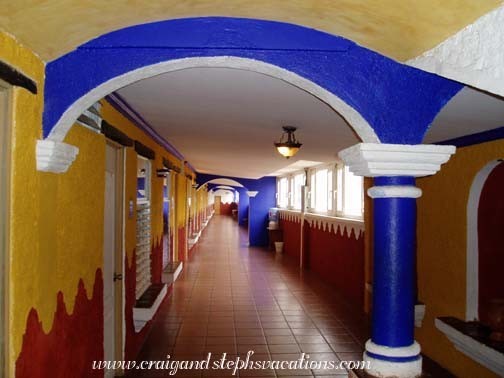 We started out on this trip with very little sleep. The night before we departed, we had tickets to the symphony. When we got home, we watched some of our guilty pleasure TV shows ("Survivor" and "The Apprentice"), did some last minute packing, and went to bed at around 2:00am. When the alarm woke us up at 5:30, we looked out the window to find the entire back yard flooded due to the massive amounts of rain we had gotten in the past day or so. Craig's brother drove us to the airport at around 9:00. The ride in was slow due to the weather, but once we got to the airport there was absolutely no waiting. We checked right in and ate breakfast at Burger King. We arrived in Miami at 2:45. We ate a meat empanada in the terminal and passed the time by looking at our fellow passengers and trying to guess if any of them might be on our tour. There were three older folks sitting opposite us that looked promising, especially when I saw the title of the book that the woman was reading: Murder with Puffins. Puffins have been an inside joke between us ever since our Alaska trip.
We arrived in Guatemala City at around 7:30pm. We had to wait a while for our bags. We cleared immigration and customs and headed out into the throng of people waiting outside near a waterfall and "Welcome to Guatemala" sign. Our driver met up with us and took us to his van. He didn't speak any English, but we were able to communicate the necessary information to one another. There was a lot of traffic getting out of Guatemala City which turned out to be due to an overturned bus which had fallen off of an overpass. A line of hearses waited to take the bodies away. It seemed to be an inauspicious start to the trip.
We saw lots of U.S. car dealerships and restaurants (there was a McDonald's shaped like a Happy Meal box). We also saw Merck and Bayer offices. Driving was quite a free-for-all in the city. We saw more carnage (another accident and a dead dog in the road). Eventually we got out of the city and things were a bit more calm. After about an hour, we turned off the main road and our driver announced "Es Antigua." We immediately found ourselves in a grid of narrow cobblestone streets, and the atmosphere was much more quaint and calm than Guatemala City.
Antigua was at one time the capital of Guatemala. Its history is interwoven with that of the three surrounding volcanoes: Volcan de Agua, Volcan de Fuego, and Volcan Acatenango. After the founding of a temporary capital near the modern town of Tecpan, the Spanish set up a permanent capital near Ciudad Vieja in 1527. A mudslide from Volcan de Agua destroyed this permanent capital, and Antigua (then known as Santiago de los Caballeros de Guatemala) was established as the third capital in 1543. It became a very important and influential city, and the third printing press in the Americas was installed in 1660. There was an earthquake in 1717 which destroyed part of the city. Many colonial buildings that still exist to this day were built soon after this earthquake. In 1773, there was a six month period of earthquake tremors. In its wake, damage and disease forced the capital to relocate to Guatemala City. This relocation actually worked to preserve the city. Antigua was not subjected to the industrialization or population explosion that plagued other Latin American capitals. The result is a city that still maintains a colonial feel. Streets are paved with cobblestones, and it is a very pedestrian-friendly city with a population of around 35,000. (Facts courtesy of Insight Guide: Guatemala, Belize, and the Yucatan, edited by Huw Hennessy, Copyright 2000, Apa Publications.)
We drove down a series of one way streets past the Parque Central to the Hotel La Sin Ventura. When we tried to check in they didn't seem to have our reservation on file, even though we had a hotel voucher, but our driver straightened it all out. The hotel is a walk-up and has a restaurant and very active bar beneath it. We headed up to our room (302 on the 4th floor) at 9:50. The room was small and somewhat dim, but clean. Like in Peru, you are not allowed to flush toilet paper; it instead needs to go into the wastebasket. The hot water is only available during certain hours of the day but this never seemed to be a problem for us. We perused our tour information packet for a while and then decided to go to bed.