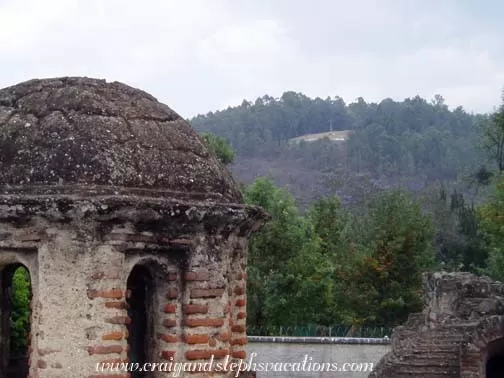 We woke up at 6:30 am and headed to La Fuenta for breakfast. Marcia had left for home bright and early this morning. Craig got an omelette and I got panqueques again. We also had a nice side dish of cantaloupe and papaya. As always the fruits here were incredible. After breakfast we briefly stopped at the hotel where Andre picked us up. Margaret and Tracy rented mountain bikes and went with a group to the surrounding hillsides but we had planned to go to a coffee finca, a music museum, and a butterfly farm, but when we arrived we discovered they were closed for the holiday weekend. So instead we continued down the road to see some of the villages on the outskirts of Antigua. As we climbed higher and higher up the road we ended up in Santa Maria de Jesus, a small Mayan town on the mountainside above Antigua. We went inside a nice church that was festooned with brightly colored banners. The tile flooring was very ornate and once again we were reminded of how nice many of the churches are even when in a town where many of the buildings look a bit worse for wear. There was a small Ferris wheel and a Teletubby amusement ride in the center of the town. It was very interesting to see such a mix of Maya folks in traditional clothing surrounded by big amusement rides. After a short visit we then went to Ciudad Vieja where there was a big white church with yellow trim and some men playing basketball in a court across the street. In the distance was a clothes washing pavillion where a few women had gathered doing thier laundry. Suddenly a large bus pulled up making it the perfect time for us to move along.
Next we went to Valhalla Experimental Station, a macadamia nut farm that is run totally organically. To reduce dust they cover the parking lot with macadamia nut shells, which do not decompose. Although the ground here is very dry, a layer of mulch retains the moisture. Macadamia agriculture absorbs a lot of carbon dioxide. Lorenzo ("Larry"), the man who runs the place, gave us a tour. The size of macadamia nuts can vary widely, so they had created a contraption which used a flat tire to husk the nuts. It looked like something straight out of "Junkyard Wars". Then the nuts are placed on a metal grate and rolled downhill. Depending on the size of the nut, they fall into sorted bags. Larry showed us how all of the organic waste is eaten by worms. He then let us taste some of his macadamia nuts. They were very rich and we were already wondering when we could buy some for ourselves. He then let us try macadamia nut oil on the back of one of our hands and macadamia nut cream on our palms. The scented cream is very nice and not filled with all the chemicals that you find at home so I bought a little to bring back with me. We also bought a package of unsalted nuts, we couldn't resist. Larry did a little makeover on Ann with the macadamia nut products and we were joking about how Ann was glad to be here instead of on the back of a mountain bike as it was a little bit hot in the sun today. Just after we said that Tracy and Margaret appeared on their mountain bikes. Apparently we were in a rather popular stop afterall. It was pretty funny and the timing of it all made us laugh.
Then we continued on to San Antonio Aguas Calientes where locals were working on floats for the upcoming processions in the church. We saw a fountain in the center of town as well as a large church that seemed to be under a bit of construction. As we arrived the church bells were attempting to ring but were somehow disabled so it simply kept making a loud clicking and banging sound. It was sort of amusing at first but it seemed like it would never stop. We proceeded into a little textile co-op but by this time Craig and I had bought all we planned to so we would have preferred spending a bit more time in one of the little towns meeting the people rather than being hustled to buy more things we would have to carry with us on the second half of our journey.
On the way back to the city we stopped at a gated community in Antigua where Andre's friend owns a house and where Andre is currently staying. We kept hearing about the place so we were all curious to see what it was like. On the way there we came very close to hitting a motorcyle with a man and his son on the back. It was very scary and way too close for comfort. Fortunately Andre was able to miss the bike and after a brief pause, we continued to our destination. Once we arrived at the house we could see that they are doing a lot of construction and hope to rent the house out to tourists when the owner isn't using it. It was a gorgeous house with cathedral ceilings, fireplace, wooden religious icons, a pool, and beautiful grounds. It is clear that there must be a pretty large group of people working on the property to keep it looking so beautiful. The owner also purchased the lot of land next door so there is a large yard with nice grass making the whole place very large and like a little oasis just outside the city itself.
We got back to the hotel at around 1:15 pm. Gerry, Judy, and Ann went with Andre for cebiche but Craig had a little bit of a headache and didn't want to spend a lot of time in the van again so we rested in the room for a short while. We then headed to Frida's for fajitas and margaritas and spent some time discussing the trip and how much we had already done in the past few days and how much we still had left to go. We walked to La Merced and got some pictures as the sun was starting to get low in the sky. On the way back to the hotel we went to the Funky Monkey for a quick email check as we figured this would be our last chance to see if anyone had replied to our email postcard. Once at the hotel Craig showered first and I ended up having to bail out the shower so that it wouldn't overflow before I took a shower. By this time the shower drain was getting a bit old and we were happy to be moving along and yet sad at the same time. We packed up our stuff, collected our second batch of laundry, and met the group at 7.
We went to the Antigua Vineria for drinks and supper. They had a really neat candle-lit ambiance, and the walls and ceilings were completely covered with photographs of patrons. We were going to sit inside but it was way too stuffy and warm. So we ended up going out to the deck where we were the only party. It was very nice being up here as we felt like it was our own backyard party on the rooftop. This was the first bar we had been to where I could get a malt beverage (Bacardi Silver). Craig had Gallo beer we all had a lot of laughs. It was a very nice way for the group to spend their last night together. Andre told us the legend of Maam and finally at around 9 o'clock we ordered a blanco quatro quesos pizza. It had somewhat funky crust but really good cheese. After a few drinks we broke up at 10:45, said our goodbyes to Andre on the street in front of the restaurant, and headed back to the hotel.