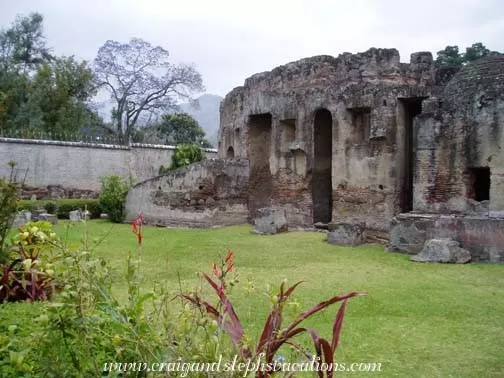 We woke up at 3:45 am and met our driver in front of La Sin Ventura at 4:30. We needed two vans to fit all of us but we travelled together the whole way. The ride was enjoyable and it seemed to go by very quickly. It was sad saying goodbye to Antigua but it was time for us to move on and we were very excited about going to Tikal. There were very few people on the roads at this time but there were still a few locals along the road waiting to begin their day of work. We arrived at the airport shortly after 5. We checked in for our Tikal Jets flight and then proceeded straight to the gate. Once there we had to pass through a metal detector, but the carry-on luggage was not scanned at all. A security employee looked vaguely into our carry-on bags and then let us through. It was open seating, and Craig and I were easily able to sit together near the front of the plane. Even though it was only a 40 minute flight, we got more refreshments than we had on our flights to Guatemala from the U.S. They gave us "American doughnuts" and Hi-C juice, which was quite the sugar rush. The "American doughnut" turned out to be a small glazed doughnut in an individually wrapped plastic package. It was surprisingly effective at waking us right up.
We arrived in Flores, in the Peten region of Guatemala at around 7:15. Josue, our guide for the morning, met us at the airport, and we rode to the Tikal Inn in a private van. Along the way we stopped and picked up a few locals giving them a much-appreciated ride further down the road. We rode past Lake Peten Itza, and we saw a coati mundi crossing the road. It was only about an hour drive, and we arrived at the Tikal Inn at around 8:30. It was too early to check in to our rooms, so we stored our luggage in a locker in the lobby. We changed into shorts (it was the first time on the entire trip, despite the heat, because shorts are not considered appropriate attire in Antigua and surrounding areas, especially during Semana Santa). We ate a big breakfast at the hotel (scrambled eggs, beans, biscuit, jelly, and plantains), put on our sunscreen and deet and then walked over to the park.
First we made a quick stop at the little entrance building selling various items as a few people in the group needed hats. While waiting we were able to admire a large display showing the entire park and we could see where all the temples were in relation to each other without all the trees shielding our view. Our $10 entrance fee for the day was included in our trip cost, so Josue handed us our tickets and we entered the park. First we saw a small reservoir. The Mayans had created drainage aqueducts across the entire city to collect rainwater for storage in the reservoir. Near the reservoir there was an army of leaf-cutter ants carrying pink petals down the trunk of a tree and into a hole in the ground. It was amazing to see how industrious they are. You got the feeling they could completely strip a tree of its precious leaves in no time at all. As we walked further into the park, we saw a giant ceiba tree (Guatemala's national tree). It has wall-like roots and horizontal branches. We heard a jaguar in the distance. Josue thought that it was at least 3 km away. We also heard howler monkeys, though we never saw them in the surrounding trees.
It was extremely hot and humid and we would only have Josue for a short time so we headed straight to Temple IV. At the time of Tikal's heydey, the Mayans had totally cleared the land. In the intervening years, the jungle has really encroached upon the ruins. Archaeologists have restored some of the structures but are waiting for future technology for others. There were steep wooden ladder-type steps (with handrails) and we climbed these to the top of Temple IV. At 210 feet, Temple IV shares the title (along with El Tyre Temple at the ruins of El Mirador) of highest pre-Colombian structure ever constructed. From the top there were beautiful views of the roof combs of other temples (Temples I, II, and III) peeking out above the jungle canopy. Once you reached the top of the wooden steps you could climb a flight of stone steps up to a little chamber at the top of the temple in which swallows were flying around. We got some photos and enjoyed the view for about 20 minutes before descending the stairs.
Next we headed to the Gran Plaza, flanked by the grandiose Temples I and II, and the North Acropolis. Tikal consists of various complexes of buildings that were constructed in various time periods. It was inhabited between 500 B.C. and 900 A.D. At its height, the population reached around 100,000. People of a high social status lived within the city, and those of lower classes lived on the outskirts. In the North Acropolis there are giant stucco masks in the stone steps which are now protected by little thatched-roofed structures. After 20 minutes of exploring the plaza, we were sitting with Josue when we heard, "Craig!" It was Maria Jose, our young friend from Antigua. She had told us that she was heading to Tikal and then onto Belize, but we never expected to run into her. We only got to talk for a minute because her guide was leading her group away, but it was very nice to see her again.
There are many stelae around Tikal (stone tablets with carvings on them). However, most have been moved to protected locations (museums, etc.) and the ones within the park are mostly replicas. We saw a ball court near Temple I. The ball game was very important to Mayan society. It was played with a large rubber ball. Players were not allowed to use their hands. They wore leather yokes around their waist and on one leg and forearm to protect them from the ball. The object of the game was to propel the ball through a vertical hoop (although no hoops had been recovered at Tikal). The ball game was seen as a reenactment of the ball game that the Hero Twins played against the lords of Xibalba (the underworld), as recounted in the Popol Vuh. The ball games often ended in human sacrifice, though it is debatable whether the winners or the losers were the ones sacrificed. There are 9 deities of the underworld (Xibalba) and 13 deities of the heavens. The Mayans have a cyclical calendar, and have been known as great astronomers. As a result of their calculations, they believe that the world is going to come to an end on December 21, 2012. Josue has a more upbeat interpretation, however. He believes that date will be the start of world peace.
There was a tree in the middle of the plaza in which black birds with bright yellow tails were sitting amongst their sack-like nests. The birds are called Montezuma Oropendula. Apparently the females build these nests and the males come along and crash into them making sure they are sufficiently durable and to their liking. It was quite a sight to see so many of these nests hanging from a single tree and swaying in the light breeze. We also saw a lot of butterflies, and trees which bore pairs of fruit known as "cajones de caballos" (horse balls).
On our way out of the park we passed the ruins of a Mayan sweat house. These were used for purification of mind and spirit, much like saunas are used today. They were thought to open channels of communication to the supernatural. We headed back to the hotel at 1:30, and checked into our rooms. Ours was B8, a little private thatched-roofed bungalow right next to the pool. Lunch was included in our package, and we ate "bistek" (steak), with broccoli, carrots, rice, and tortillas. Then we decided to go for a swim in the pool. The pool looked a little questionable as it was very cloudy and the water level was too low to be properly skimming and filtering but it was just too tempting to ignore in the overwhelming heat and humidity. It was very refreshing and we spent the remainder of the afternoon sitting by the pool reading, writing in the journal, and chatting with Gerry, Judy, Tracy, Margaret, and Ann. As the sun got lower in the sky we saw green parrots with yellow and orange heads, as well as a host of other birds flying around the property. We thought how it would likely be a beautiful sunset in the park but we were very tired and quite content with our current situation as well. Unfortunately it wasn't all perfect as there were also black flies and a few mosquitoes, so we were continually refreshing our deet and making the most of the remaining time outside.
We took showers which turned out to be too hot and we were wishing for nice cool ones. In this humidity it seemed we would never be dry again. When it was dark, we headed to dinner at the nearby Jaguar Inn with Gerry, Judy, Ann, Tracy, and Margaret. Craig and I each had a frozen lemonade with soda water and vodka, which was very refreshing. We had chicken cordon bleu. At 9:00, just as we were about to leave, the generator shut off. We were just about to pay the bill using a credit card, but once the whole place was lit by candlelight, we had no other option except to pay cash. At 9:15 we walked back to the Tikal Inn. We sat on the patio and played hearts with Tracy, Ann, Gerry, and Judy and by 10:00 the Tikal Inn's generator had also shut off. Although we had candles, and were quite prepared to continue playing our game, the bugs became too much, and we all decided to turn in. This was the last night that we would be with the rest of the group but we were excited about continuing on to Belize the next day and we knew we would soon be on the next leg of our exciting journey.