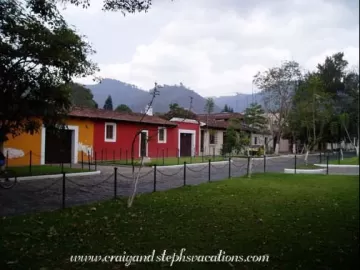 We woke up at 6 and packed up our stuff. We met the group (minus the girls) for breakfast. Craig got scrambled eggs and bacon. I got panqueques with bacon. We sat on the patio of the restaurant overlooking the lake and the San Pedro volcano. We left our luggage in the lobby and walked into Santiago to meet up with Andre and the girls. There was a nice path which followed the lake, and brought us past women washing their clothes against the rocks, men farming the fields, etc. We ran into a small boy asking for quetzales. Instead we gave him a pen and a notebook and asked him for a photo. He was very excited with his new present and yelled to his papa while running off to show him his prize. When we arrived in Santiago we went to the Cojolya Association musuem and store. They are a non-profit group who preserves the art of the backstrap loom. They sell handwoven items which are of very good quality. I bought a small red purse for Q80. We went into a few shops and then headed into the square.
We saw a shrine to Maximon. People were starting to gather and music was playing over a loudspeaker. We entered the Catholic church and saw lots of religious figures, floats, and wood carvings. There was an interesting altar which was carved in the shape of a mountain, bringing together Mayan and Christian beliefs. Maximon's effigy would be brought here later in the day. We walked around and eventually came upon the Maximon procession. It began with boys and men carrying baskets of fruit and produce on their heads. Next came incense burners, a brass band, and finally Maximon himself, in his newly cleaned clothes. People were lining the streets and even standing on roofs to catch a glimpse of him. As the procession passed, people fell into step behind it and followed it to the square. Vendors were selling ice cream, girls were selling turkeys, and there was an endless sea of people in brightly colored traditional clothing. Maximon entered a building and wouldn't emerge again for several hours. This was all we would get to see of Maximon for the day, so we headed back to the docks and had an Orange Crush near the water. A boat took us to the Posada de Santiago for lunch. Craig got the lomito sandwich with potato salad and a Moza beer. I got French onion soup. We took a quick tour of the grounds and saw the girls' room from the night before. It was a nice stone cottage with a carved wooden door. We all piled into one boat (the girls' luggage included) and limped back to the Hotel Bambu. I was seriously surprised that the small boat made it with all the people and luggage. When we arrived, another boat was waiting for us. Our luggage was loaded onto the boat, and Bev, David, Marsha, Craig, and I got onto the second boat.
We disembarked from the boats in Pana and met up with our bus driver. We left at around 3:15 for Antigua. On the outskirts of Antigua we passed through Pastores, where a procession was taking place right in the middle of the only road through town. One float was carried by young boys and the next was carried by young girls. I opened the window to take a picture. The girls all started giggling, waving, and yelling "Hola!" It was so adorable! Needless to say there was a lot of traffic, which brought up the thought "whatever happened to that bathroom break we were promised?"
Semana Santa (Holy Week) is characterized by religious processions and the creation of alfombras (carpets) made out of sawdust and flowers in the streets. Once Good Friday rolls around, you can't enter or exit the city because the streets are all blocked off for processions. Parts of the city were already being blocked off, and our bus needed to park a couple of blocks away from our hotel due to road closures. We reached the Hotel La Sin Ventura at around 6:15 pm. We checked in to the hotel. We were all put in rooms next to one another on the fourth floor. We were in room 311. We met with Andre to go over tomorrow's plans (such as they are) and then set out for dinner with Beverly and David. While walking down the street toward the Arco de Santa Catalina, we caught up with a procession. There were adults carrying a lighted float, followed by a brass band, and finally a guy pushing a power generator on bicycle wheels. We got some good photographs of our first night procession. We went looking for Frida's Mexican restaurant, and on the way there we came upon another procession. This one was a big float being shouldered by little tiny kids. Adult chaperones were overseeing and trying to help. This procession was going anticlockwise around Parque Central. A garbage truck and front end loader brought up the rear of the procession, cleaning up as it went.
We found Frida's (hadn't gone far enough past the arch the first time around) and got a non-smoking table. Craig got fajitas mixtas and I got nachos. We had frozen margaritas. We had a very nice chat with Beverly and David. While eating we saw two floats go right by the door. At 8:45 we went right next door to Nim Po't and did some shopping. It closed at 9, however, and we made a pact to go back while we were still in town. We relaxed in the room and began to write in the journal for a while and then decided to head out to the park to take photos of the nicely lit cathedral and continue to write outside while sitting on a bench in the fresh air. A family of women and children were packing up their wares from a day of selling in the park. Even the littlest kids had bundles on their backs. We felt very safe in the well-lit park, and at one point there were about 5 policemen patroling near us. At 11:30 we headed back to the room. I finished writing in the journal and we went to bed around midnight. We thought we'd never get to sleep due to the noise (bars, music, etc.) but our earplugs worked out wonderfully and we were asleep before we knew it.