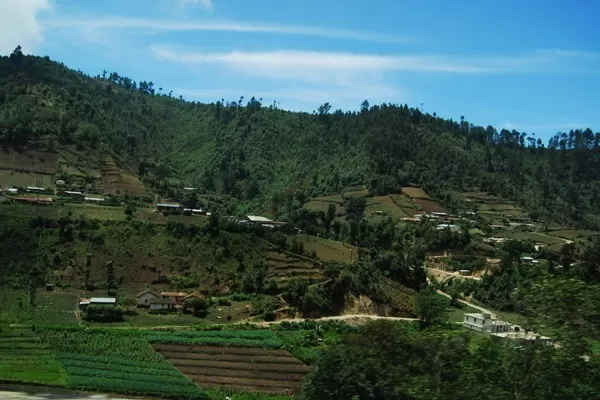 We're up early and on the 6:00am shuttle to the airport. Today our flight is "late" - it is t 8:30 am! We meet a really nice couple in the shuttle - on their way to Minnesota for the summer, as they live in Rio Dulce.
Our flight to Miami was uneventful, but the Miami airport has another long, long walk to immigration and baggage claim. I guess physically challenged people are not really welcomed to travel internationally. e're stuck in baggage claim for about 45 minutes. he ramp is closed because of a thunderstorm and the luggage cannot be offloaded from the plane. Our 2 1/2 hour connection time is rapidly being eaten up!
Finally we're through customs. We repack - the rum and whiskey Gerry bought in the duty-free in Guatemala has to go into the checked luggage for the remainder of the trip.
Unfortunately, American has screwed up our upgrade request again, and Gerry is on the brink of a fight with the gate agent about it. Oh well, everyone on the plane arrives at the same place at the same time and it is only a 2 hour flight. We're home by 7:00pm!
And so it ends, our Guatemalan adventure. I remain as in love with the country as I was after the first trip. Gerry is a convert (I had so hoped he would love it too!) and we're planning to return.
Would we do anything differently?
For one, we would not go in May. May was the only time we could schedule this trip, and it was in no way a mistake, but one of the real experiences for me on my first trip to Guatemala was the absolute awe I felt when I saw all those volcanoes. That was missing from this trip. Because of the season, the volcanoes were shrouded with haze and clouds for all but one days in Antigua and the very early mornings on Lago de Atitlan.
Ideally, our next trip will be much longer. I would love to visit every single town around Lago de Atitlan and be able to enjoy the sunrise over the lake to my heart's content. I'd also like to visit the highlands around Quetzaltenango, and believe it or not, I'd visit Tikal again (Maybe in our winter months it will be manageable temperature-wise). Tikal deserves more time, and more time especially to be there early in the morning and late in the evenings.
Although many of my friends are now of a mind to seee everything in the world before they're too old to enjoy traveling, I have always enjoyed revisiting places I have been, delving a little deeper each time into the culture and the life...I cannot wait to go back to Guatemala!