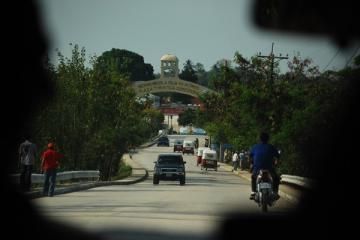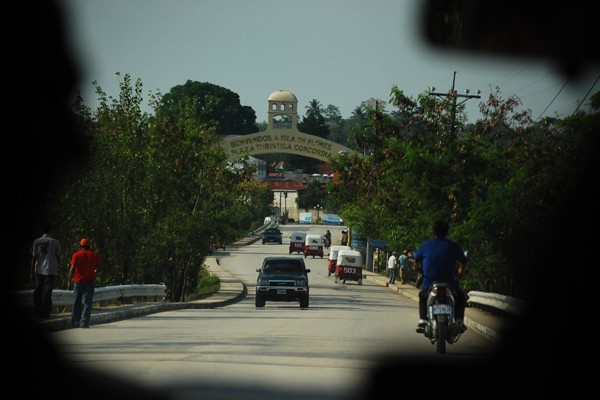 We're up early again, packed and ready to go, so we linger over our last breakfast at the Hotel Aurora. We've been switching tables each morning, today surprising the people who have always sat at this one! (Why are we such creatures of habit anyway?) All paid up and in the van, we're on our way to Guatemala City. It is just Antonio with us this morning as we are meeting Vinicio in Guatemala City (he lives there). It was nice to have just Antonio – The fellow can talk (of course with Vinicio around no one can get a word in edgewise!) and he's very friendly and informed.
We pick up Vinicio at his father's house (the resemblance is obvious) and begin our tour for the day. There is something going on down in Zone 1 so Vinicio is uncertain if we will be able to visit the Zone 1 sights.
(A prominent lawyer was murdered just a day or so before our trip began. He was investigating the murders of two other people and discovered links to the president of Guatemala and his wife. He created a video tape with all that he had found out and gave it to someone with instructions to release it if he was killed. As a result, the country is split between those who support the president (basically the poor) and those who don't (the rich). There have been demonstrations in Guatemala City every day – some people are forced to attend rallies supporting the president. There may be such a rally today.)
Our first stop is to see a relief map of Guatemala. There are viewing towers from which you can get up above it and look down. The scale is a little screwy making the mountains, and especially the volcanoes, taller than they really are. The effect is dramatic though and, for that, quite interesting. It was fun to walk around the map and get a sense of the geography around Central America and the topography of Guatemala.
Next, we go to the market. This one is unusual because it is on three levels, underground. Parking is the ground level and you walk down stairs positioned on all four sides to get into the market. Gerry and I took off to explore. This is not a native market, but a big city market for residents: Food, clothing and special items like floral arranging supplies!
From the market, we head to Zone 1. Apparently there is nothing going on there now to prevent our sight-seeing. Naturally we visit the cathedral! The cathedral faces out onto a large plaza with a big fountain in the center. There are stately government buildings and residential high rises around the square. We see a man herding goats through the square…they were quite well-behaved, but it certainly fits my criteria for a 3rd world country, i.e. barnyard animals in the city. (Puerto Rico qualifies, too!) Apparently, if you are in need of household help, you come to this square on Sunday, the maids' day off, when all the household workers in the city meet in the plaza.
The only unfortunate incident of our trip occurred in the plaza. Joanne had her necklace ripped off her neck. Gerry and Vinicio gave chase, but the thief disappeared into the maze of corridors and buildings around the square. Joanne was bereft, but admitted she had become complacent about wearing the necklace while we were in safe places like Antigua and Panajachel. As I usually the case, the necklace had far more sentimental value to Joanne than monetary value to the thief.
A brief "happy room break" and we're on our way to a restaurant called "Cacao" for a lunch of typical Guatemala food. It was very, very good but we are just not used to eating a big heavy meal in the middle of the day, and certainly I could not finish my huge serving of "pepián" though I sincerely wanted to!
After lunch, (we ate a little later than we wanted to), we went to see the two museums that are on the Fernando Marroquín University campus, Ixchel and Popol Vuh. Ixchel is the museum of textiles and we're fascinated, especially by an exhibit of paintings by Carmen Pettersen who did a whole series on the native dress of all the peoples of Guatemala. Some of the garments she painted were actually in the exhibit. Popol Vuh is a museum of ancient Mayan artifacts – mostly ceramic. Also very interesting, but we really didn't have sufficient time to get the most out of it.
By this point, we're anxious to get the hotel and check in – we have a evening appointment at 5:00 and everyone wants to get cleaned up and settled in before we go.
After a hectic day touring (and Gerry worrying about being on time for the evening's activities), we met in the lobby of the Biltmore Express to be taken for cocktails at Ani and Mike's (Joanne's friends with whom she stayed at the beginning of the trip.) Since the bus to pick us up was late, we actually got a little bit of breathing time! The evening was very nice – everyone was relaxed. The views from the 12th floor of the condominium were exceptional even with the haze and clouds we have encountered everywhere during this the beginning of the rainy season. Sara arrived in time for the cocktails as did Ani's sister, Ines. Ines and Sara actually knew each other – what a surprise! For dinner we went just a little way to a very nice restaurant(of which, unfortunately, I cannot remember the name) where we sat in two tables of six for a nice Italian dinner. Sara's husband, Bill, showed up just before our food was served. It was so nice to see him again – It has been a year and a half since I last saw him in PR just before they moved to Guatemala.
Back at the hotel, I made sure we were packed for our early wake up in the morning and Gerry used the internet to get a hold of the kids (finally).