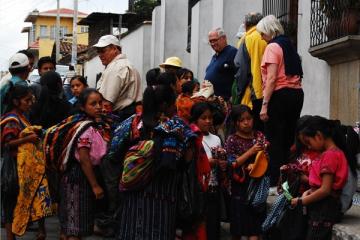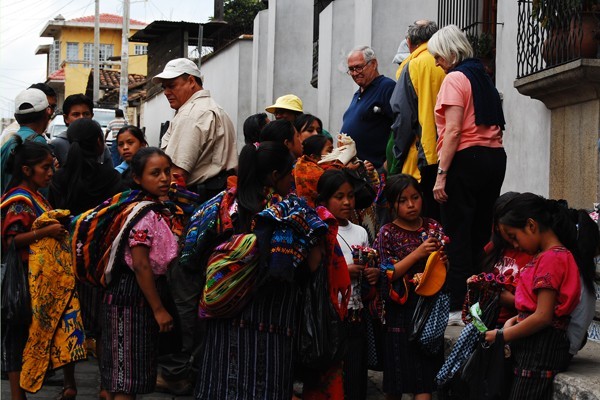 Marshall, Juanita, Gerry and I leave for the airport at 5 am via taxi. We decided to take a taxi because we were told that we needed to be at the airport an hour and a half before our 6:30 flight. We knew that leaving at 5:00 on the shuttle (which had to make other stops and may or may not leave on time) was going to be a huge cause for stress, so we paid all of $8 and took a cab. We were through ticketing and security with no glitches and then sat and waited for our flight. In retrospect, the shuttle at 5:00, late or not, would probably have been fine. Everyone else on our flight got to the gate a good 45 minutes later.
Unfortunately the entire flight was cloudy or hazy so couldn't see anything from the air until we got to Flores. As we were descending, we had a beautiful view of city of Flores out on the island in the lake. The cathedral looks so big compared to everything else, but probably because it is at the top of a hill.
We find our guide in the airport (and find out later that he is a son of founders of the Jungle Lodge. We drive around the Lake Petén Itzá and stop for a good look at it from El Remate. We continue on to the park (Tikal is in a national park) and to the lodge and check in. We get 15 minutes to drop off our luggage and then meet for our tour of Tikal.
It is very hot here, but I am still thinking that it is no match for Puerto Rico, until I start to sweat. Who said you can't wear shorts in Guatemala? You don't need to in the highlands where it is cool (and often cooler than you think it should be given the distance from the equator. But here, in Tikal, shorts and tank tops are just plain practical! Just put on mosquito spray and go for it. This became more and more apparent to me as each day we were here it got hotter and hotter.
Our tour is walking. With the hotel right in the park, it is just a hop to the entrance. Our guide is very good and quite interesting. He explained the Mayan system of mathematics and their calendar. Fortunately, Vinicio had given us an introduction to both. I think it is pretty complicated to grasp on the first telling. He also spoke to us about the causes of the collapse of Tikal, referring to Jared Diamond's book "Collapse" which I had read and which is sold here in the bookshops. All around us is a symphony of jungle sounds, both insects and birds. There is one particular bird who sounds as if it should be a monkey (and later we hear a monkey that sounds like a tiger!).
We are energetic today (and given that it is the coolest of the three days we're here that is a good thing) and we climb temples II and IV. Temple IV is the highest, but the climb is not so tough – the steps are wide and no steeper than a household staircase. The view is to the "grand plaza" below us where we have just witnessed a modern Mayan ceremony, complete with smoky black fire and kneeling, praying families. We can also see the classic view: Mayan temples protruding up through the dense jungle foliage. Our ride back to the Jungle Lodge was quite an experience…terribly bad and bumpy roads,on slippery, open jeep seats. I banged my shin twice before I finally got myself anchored in place (I was in the middle so had only the seat in front of me to hang on to). Lunch was included in the tour price (but it was not very good). In this heat, there is only one logical thing to do after lunch: Nap.
About 4:45 Gerry and I head back to the archeological site. Our recommended evening walk includes "Grupo G", Temple 5 and "Mundo Perdido", all different areas of the Tikal site from those we saw in the morning. Knowing what we know now, we would have aborted the walk and climbed Temple 5 right when we got there to watch the sun set, but we didn't because we wanted to see as much as we could. So we pressed on to Mundo Perdido. When Gerry started to hear tigers roaring in the jungle, he got spooked! "We have to go back!" As it turned out, the sounds of the roaring tigers followed us for a while and we finally, correctly, concluded that what we were hearing howler monkeys! They really do sound like roaring tigers (which of course, do not exist in the jungle of Tikal). Between the howler monkeys, the birds and the insects there is quite a symphony (cacophony) in the evening! Before dinner, we take our second showers for the day. Dinner is included in our room rate and again the food disappointing. Everyone is wrung out from the heat, so we're even earlier to bed than usual