Set in the rainforest high above the shores of Lago Peten Itza is La Lancha, a quaint, 10-room lodge decorated with artwork and furniture from Bali, as well as fabrics and carvings from Guatemala. Beyond the clear water of the lake is Tikal, the epicenter of Mayan spirituality. Buried deep within the rainforest, the ruins include more than 3,000 structures where moss clings to the steps of ancient temples and plazas. With its beautiful lake shore setting, relaxed ambiance and close proximity to the lost world of Maya, La Lancha is an ideal destination to both enjoy a languid pace and explore the many adventures of the Peten region. Hotel Amenities Main Lodge Set high in the hillside above Lago Peten Itza is the charming Main Lodge. This split-level building is a hub of activity at La Lancha, housing the reception area, gift shop, patio, restaurant and bar all under its towering thatch roof. The open plan design offers beautiful panoramic views of the lake and jungle canopy below. The lodge's patio features a small library decorated with native art furnishings and is a popular place for guests to access the complimentary Wi-Fi or relax with a book in the plush armchairs. Lake and Pool The second largest lake in Guatemala, Lago Peten Itza is famous for its dramatic changes in color, shifting from cobalt blue to a green turquoise hue in an instant. Some in the local community believe the cool waters contain almost magical powers because of the powerful sense of rejuvenation experienced many people experience after swimming in the lake. Complimentary canoes are also available to guests. La Lancha's split-level pool is also a wonderful place to cool off after a trek in the Maya ruins of Tikal. Located just below the main lodge, the pool sits above the Casitas offering spectacular views over the lake. Gift Shop Stocked with one-of-a-kind artistic treasures as well as basic necessities, the new and expanded gift shop provides you a glimpse of Guatemala, featuring locally-made hand-carved and painted masks alongside handmade ceramics and textiles. Additionally, we offer a wide variety of huipils (a functional yet symbolic component to a Mayan woman's wardrobe) bought directly from weavers in small Guatemalan villages. Restaurant La Lancha's open-air restaurant is situated under the main lodge's thatch roof, with spectacular views of the forest canopy and nearby Lago Peten Itza. Enjoy a cooked breakfast accompanied by the morning chorus of parakeet and ground doves along with the occasional call of the resident howler monkeys. Dinner features authentic Guatemalan dishes such as Chilaquiles, beef tenderloin served with chiltepe peppercorn sauce grilled on the open parilla, and Suban Ik ('God's meal'), a traditional dish containing chicken, beef, rice and spices. Bar Enjoy aged Guatemalan rum or a refreshing Belize-brewed beer at the rooftop bar. Set in the soaring thatch roof above the restaurant, the bar's location gives unparalleled panoramic views of Lake Atitlan. It's a wonderful place to relax with a book or to meet friends for an aperitif before dinner. Guest Accommodation From the main lodge, winding paths lead to secluded guest Casitas. Each is brightly decorated, inspired by native art furnishings. The Rainforest Casitas have a view of the surrounding forest and a partial view of the lake, while the Lakeview Casitas offer a breathtaking panorama of Lago Peten Itza. All dwellings at La Lancha feature: - Bathrobes - Safe deposit box - Refrigerator stocked with water, wine, soft drinks and Belikin beer - Wireless Internet access - Shellphone for communicating with reception - Air-Conditioning - Writing table & chair - Umbrellas (2) - Organic, locally sourced, handmade toiletries - In-Room Dining Rainforest Casitas Nestled in the forest with a partial view of Lago Peten Itza, these Casitas feature a queen-sized bed, and a comfortable private bathroom. The furniture is sourced from Guatemalan producers and the decor features many locally made arts and crafts. Outside, enjoy a covered deck with hammocks and plush chairs ideal for an afternoon nap. Lakeview Casitas A large deck with hammocks and chairs provides a comfortable setting for views of the lake and rainforest. Each Casita features antique Balinese and Guatemalan furniture, an expansive bedroom with a queen-size bed and large marble tile bathroom. Visits from the friendly howler monkeys right up to the edge of the decks leave no question of the natural surroundings.
Rooms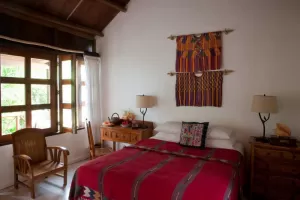 Rainforest Casitas
Nestled in the forest with a partial view of Lago Petén Itzá, these Casitas feature a queen-size bed and a comfortable private bathroom. The furniture is sourced from Guatemalan producers and our Guatemala luxury hideaway décor features many locally made arts and crafts. Outside, enjoy a covered deck with hammocks and chairs ideal for an afternoon nap.
Inquire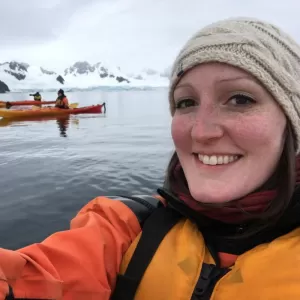 We Love to Talk Travel
Call
1.800.344.6118
or
Chat Now
Beyond expectations! Then again we weren't sure what to expect. Lovely stay at the lodge, met other like-minded travelers (many had their trips planned by Adventure Life) and the owner was a gracious hostess. It felt like you were one happy family, visiting with a favorite aunt.
Nancy Sin