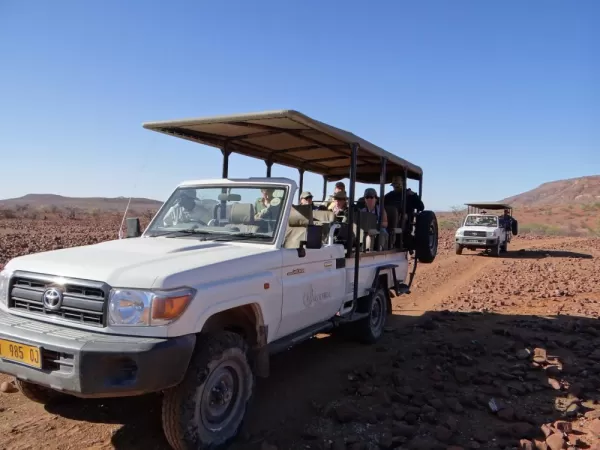 After being distracted by our lion encounter that morning, we were a bit delayed to meet up with our specialist rhino trackers, but that had given then some time to find tracks. And you would think that a heavy, huge African black rhino would leave significant prints in the sand, but we quickly realized how skilled our trackers were when they showed us the prints they found. The rhinos were remarkably nimble on the hard soil and didn't leave much of a print, but we knew were in the hands of some skilled and determined trackers, and we set out on foot. Our guide and trackers gave us an orientation and hints on how we wanted to be quiet and follow our experts' signals and instructions. It was clear that this was a dangerous undertaking if we were to spook a black rhino whose poor eyesight makes them quiet skiddish and aggressive if threatened. And their keen hearing and smell required us to meander and consider the wind.
After about 20 minutes of following the tracks toward some thick bush, the trackers decided it was too dangerous and even futile to continue into the bush as we would either provoke an attack or just scare them away. Instead we would climb an adjacent hill that would give us a good vantage point, requiring us to be vigilant of the noise we made hiking over the scree and boulders. As we got to the top, a tracker without binoculars pointed and said, "Look". After about two minutes of trying to figure out what the tracker was looking at, I finally saw some movement, a swoosh of a tail. That big boulder that was 300 meters away that I had scanned over countless times in search of the rhino had been a black rhino rump the entire time. The rhino turned broadside to us, turned its head in our direction, and started running. Our guides suspected the wind had changed, and the rhino caught our scent. And we were lucky. The black rhino population in southern Africa is low due to poaching and habitat loss, and sightings are not automatic. So as quick as our interaction with the endangered black rhino was, it was a special moment. Handshakes and an extra tip for those trackers. . .
It is a reality check on the importance responsible travel operations have towards conservation. Our visit funds the security of the black rhino and is a source of income for the local communities who have a big stake in the protection of the wildlife in their areas. Conservation travel not only protects the wildlife and environment but works to improve the well-being of the local people.