Have questions? We're here.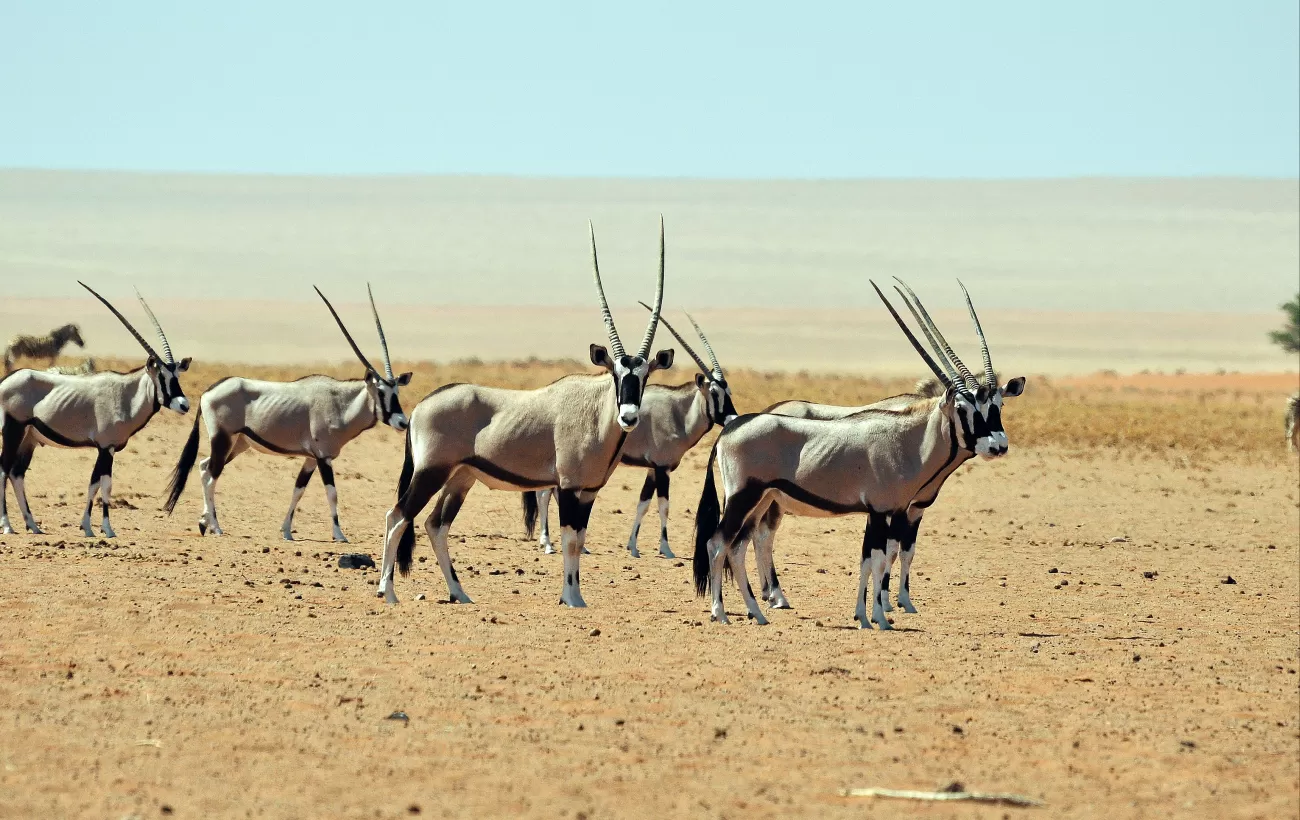 Namibia Wildlife Experience
Example 12 Day Tour
Get inspired by the possibilities.
Build your ideal trip.
Spend 12 days traveling across the dramatic landscapes of Namibia and learn first hand about the people and wildlife that live here. Explore Sossusvlei and the surrounding sand dunes, sea kayak with seals and dolphins, visit a Himba village, stay in the exclusive Huab Under Canvas and navigate across the Etosha salt planes. This active Namibia adventure is a must for any wildlife enthusiast!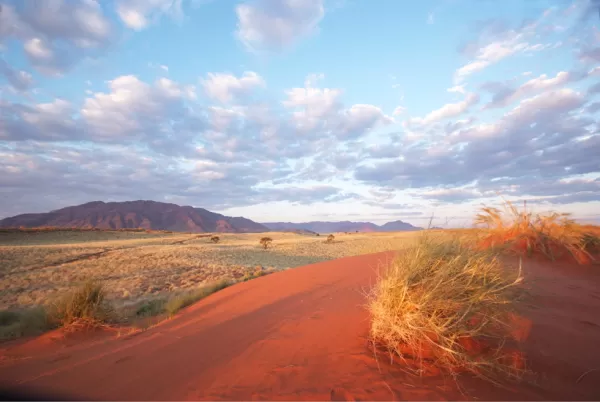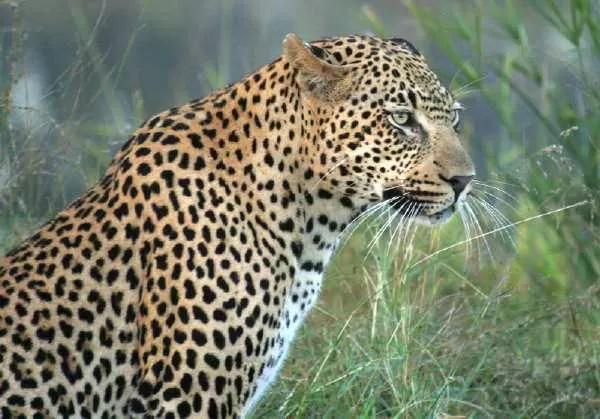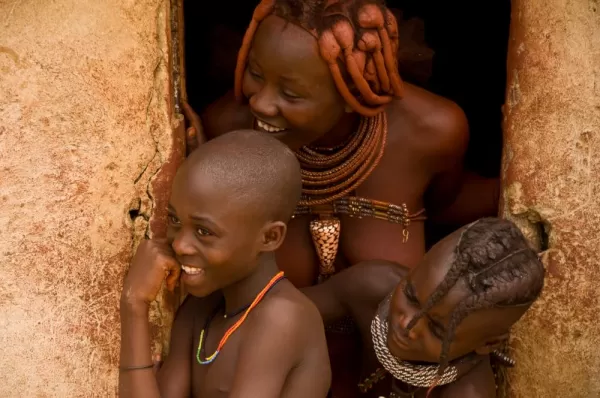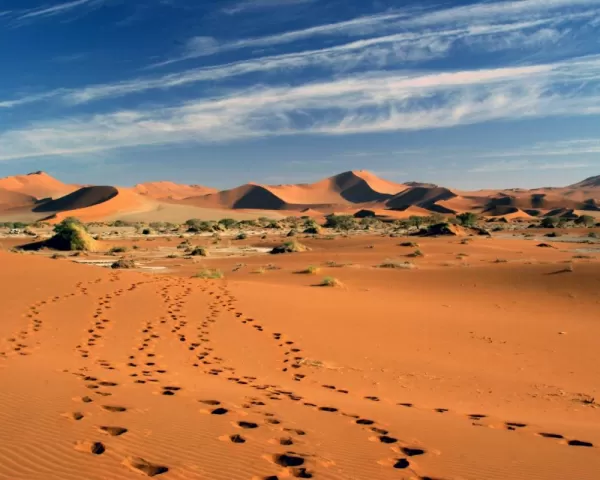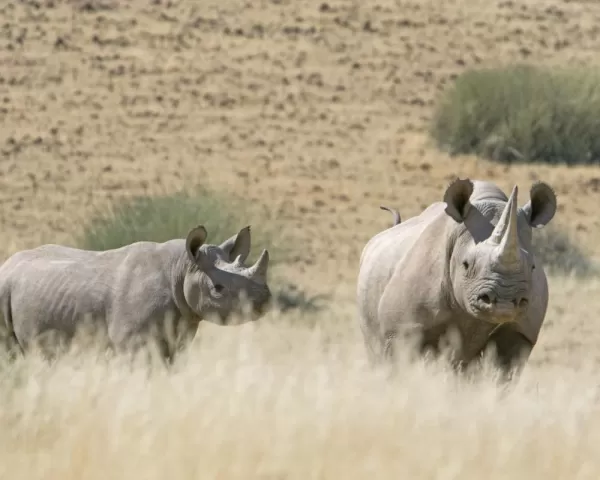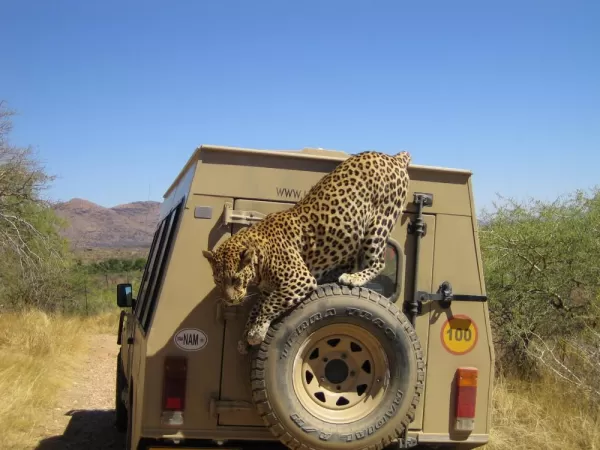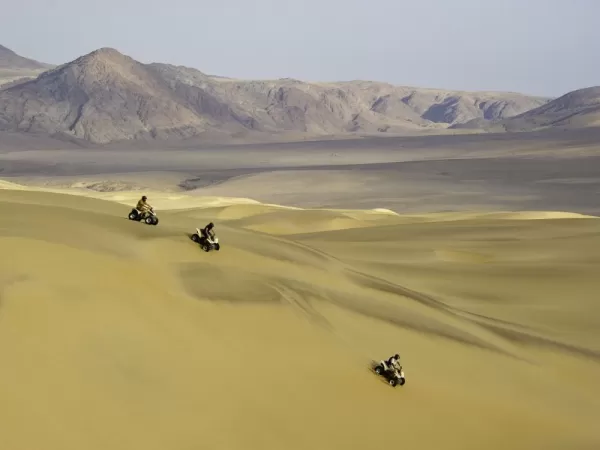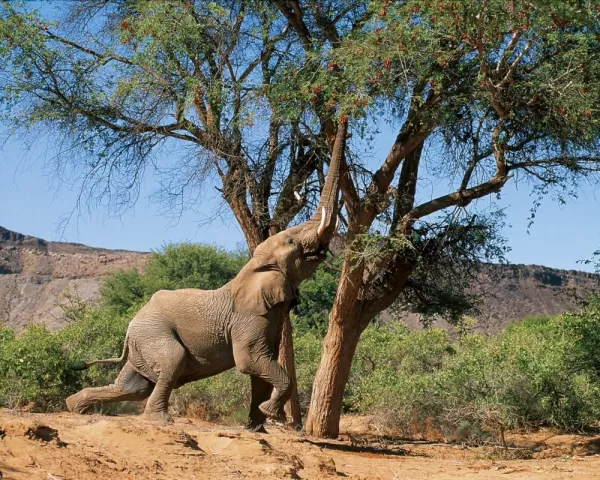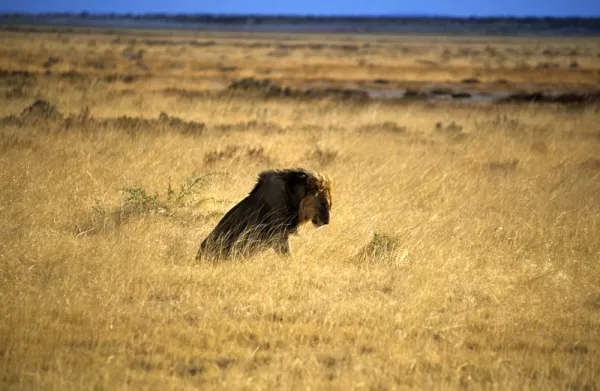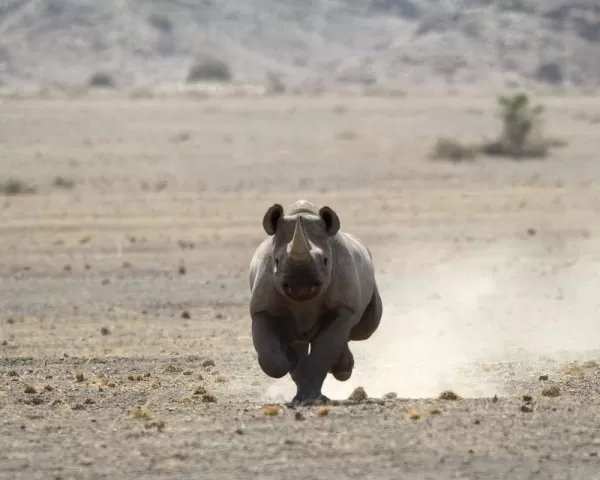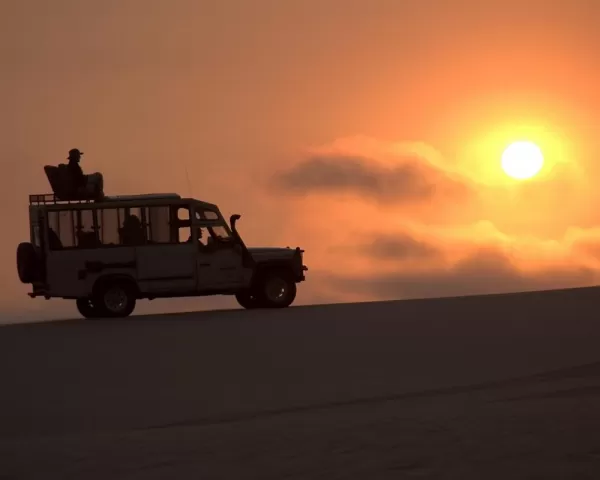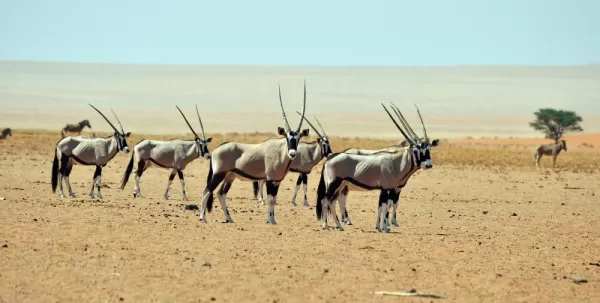 Experience the world's tallest freestanding sand dunes, Sossusvlei
Stay in the exclusive //Huab mobile camp "Under Canvas" style
Visit a Himba village to learn about their traditions, beliefs & daily life
Explore the Etosha salt pans, created by a lake millions of years ago
//Huab Under Canvas
Damaraland
Namib Desert and Sossusvlei Area
Okonjima Nature Reserve
Swakopmund
Walvis Bay
Windhoek
Full Itinerary
Expand All
Day 1: Arrive Windhoek, Namibia
You are met at the Windhoek International Airport and transferred to the Galton House. Your guide will join you for a relaxing dinner at the hotel in order to brief you on the two weeks to come. Your adenture awaits!
Day 2: AfriCat Foundation
1 Breakfast, 1 Lunch, 1 Dinner
Arise at your leisure this morning following your long journey to Namibia. After breakfast, you will set off with your guide to Okonjima – the home of the AfriCat Foundation. This wildlife sanctuary is dedicated to the conservation and habitat preservation of Africa's large cats, and is the world's largest leopard and cheetah rescue and release program.

Make your way this afternoon to the Okonjima Bush Camp and settle in after an exciting, yet informative first day. You also have the option to visit the Okhandja Craft market en-route to Okonjima Bush Camp.
Day 3: Southern Etosha National Park
1 Breakfast, 1 Lunch, 1 Dinner
Enjoy an early morning game activity from Okonjima Bush Camp before a delightful brunch back at the lodge. After freshening up your guide will accompany you to the Ongava Reserve on the boundary of Southern Etosha National Park – keep an eye out for big game en route!
Day 4: Southern Etosha National Park
1 Breakfast, 1 Lunch, 1 Dinner
Today is dedicated to an in-depth exploration of southern Etosha National Park and Ongava Game Reserve. The park is home to a wide variety of wildlife, including lion, leopard, giraffe, elephant, zebra and kudu. Etosha's game-viewing centers around its numerous springs and watering holes, where several species can often be seen at one time.

Return to Ongava Lodge by nightfall and enjoy a meal under the stars.

Day 5: //Huab Under Canvas
1 Breakfast, 1 Lunch, 1 Dinner
Rise early for a full day of exploration as you make your way to Damaraland and the unique //Huab Under Canvas experience. Damaraland is typified by magnificent table topped mountains, rock formations and bizarre-looking vegetation, and you may find yourself stopping every few miles for photos. Appreciate the feeling of solitude as you travel onwards before locating a local Himba settlement. Here you will learn about the customs and traditions of this very proud nation, who comprise one of last most traditional peoples of Namibia.

Your day concludes upon reaching the mobile site of //Huab Under Canvas. This completely exclusive location is yours to enjoy for the next three nights.
Day 6-7: //Huab Under Canvas
2 Breakfasts, 2 Lunches, 2 Dinners
For the next two days you will explore this remarkable area with your private guide, returning each evening to your private camp under the stars. Although the landscape is harsh, the Damaraland offers a surprising refuge for desert-adapted wildlife including elephants, giraffe, springbok and rhino. Join your guide and experienced local tracker while they search for the elusive and endangered black rhinoceros – a truly unique experience possible in this part of Namibia. You can also opt to join your guide on scenic nature drives or walks to best explore this vast and astounding ecosystem.

In th evenings, return to //Huab Under Canvas, where the "Camp Magicians" prepare a delectable dinner under the expansive night sky.
Day 8: Swakopmund
1 Breakfast, 1 Lunch, 1 Dinner
Rise early this morning and head south for the coastal town of Swakopumnd. Along the way, keep your eye out for the Brandberg, Namibia's tallest mountain standing at 2574m in height. Upon your arrival in Swakopmund you are free to rest or explore the city's German colonial landmarks by foot. Join your guide for dinner at one of the city's famous seafood restaurants before retiring to bed.


Day 9: Walvis Bay Sea Kayaking
1 Breakfast, 1 Lunch, 1 Dinner
Today you will set out for a memorable day of kayaking in Walvis Bay, where you have the opportunity to see bottlenose dolphins, Cape fur seals, flamingos and a variety of other sea birds. If you are lucky, you may also see whales or leatherback turtles. Return to Swakopmund in the afternoon for another chance to explore this historic town before dinner.

Day 10: On to Sossusvlei
1 Breakfast, 1 Lunch, 1 Dinner
Your drive today passes through the fascinating landscape of the Gaub and Kuiseb canyons and onwards to the sand dunes of Sossusvlei. If time permits, your guide can take you to the Elim Dune, a nearby geological attraction.

Settle in for an early evening in Sossusvlei – the final leg of your journey awaits you!

Note: As an alternative to the drive from Swakopmund to Sossusvlei you may take a sceinc light aircraft flight over the Dune Sea, where you can see abandoned mining camps, shipwrecks and salt pans for an additional fee.
Day 11: Explore Sossusvlei
1 Breakfast, 1 Lunch, 1 Dinner
This morning you will set out early for a magical day in the Namib Naukluft National Park, beginning with a memorable sunrise over the towering sand dunes. This area is home to some of the highest free-standing sand dunes and the world, and your guide will escort you while giving you insight into the formation of the Namid Desert and its myriad of fascinating plants and creatures. After a full morning of exploration settle in under the shade of a camel thorn tree for a picnic breakfast.

Return to your lodge in the early afternoon, stopping to see the Sesriem Canyon en route. Relax for the rest of the afternoon after an eventful and exhilarating day exploring the sand dunes.
Day 12: Return to Windhoek | Departure
After breakfast bid farewell to the Namib Desert and the Desert Homestead Outpost, and make your way back to Windhoek via the Great Escarpment and Khomas Hochland highlands. Depending on your flight time, your guide will either drop you off at the airport or say goodbye at a hotel of your own choice.
Dates & Prices
Notes

Select a Date

Rates based on current exchange rate ZAR/US dollars. Please contact us for exact quote in US dollars.

Rates may vary based on current exchange rate.
11 Breakfasts, 10 Lunches, 10 Dinners
10 Nights Accommodations
Accommodations as listed
Ground transportation as listed
Activities as listed
Meals as listed
Access to a 24-7 Emergency line while traveling
Park Entrance Fee
Gratuities
Travel Insurance
Personal Expenses
Flight costs (please request a quote)
Additional excursions during free time
Fuel and transportation surcharges (when applicable)
When to Go
Good to ideal period to travel, and many people choose to visit at this time.
Chance for unpredictable weather but with fewer visitors.
Typically not offered during this period because of weather conditions.
Inquire
Beyond expectations! Then again we weren't sure what to expect. Lovely stay at the lodge, met other like-minded travelers (many had their trips planned by Adventure Life) and the owner was a gracious hostess. It felt like you were one happy family, visiting with a favorite aunt.
Nancy Sin
Namibia Travel Guide
Favorite Namibia All Trips