Have questions? We're here.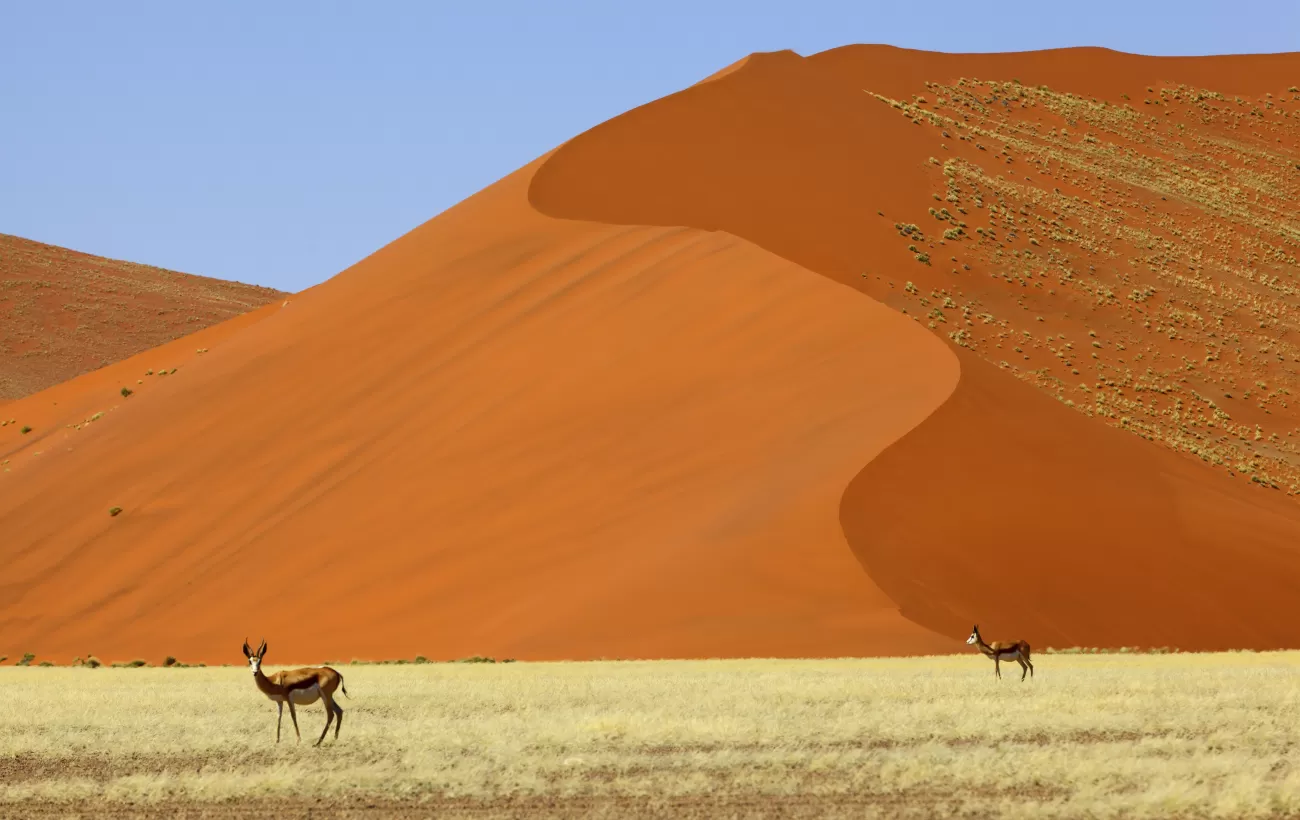 Diverse Namibia
Example 9 Day Tour
Get inspired by the possibilities.
Build your ideal trip.
Diverse Namibia is a lively, exhilarating journey covering the iconic areas of this vast country – its dunes, desert, plains and superb wildlife – enriched by select accommodation in private reserves and concessions, such as the Ongava Tented Camp and Damaraland Adventurer Camp. Drive along lesser known paths through huge private concessions and reserves. On this adventure take in the soaring red dunes of Sossusvlei, the glittering blue Atlantic Ocean, the desert of Damaraland, and the dense plains game and hunters of Etosha National Park. This is a true Namibian adventure with a range of activities impossible to beat!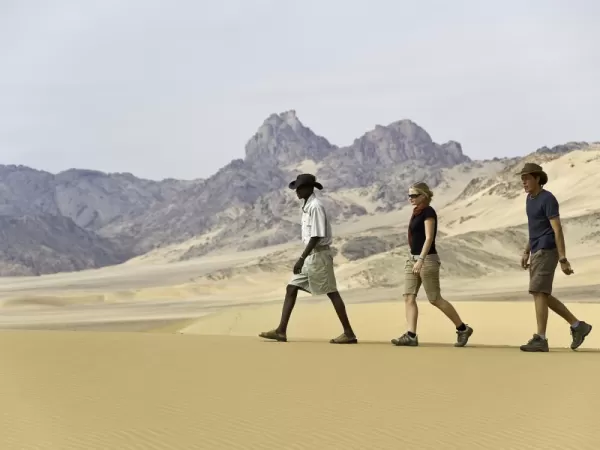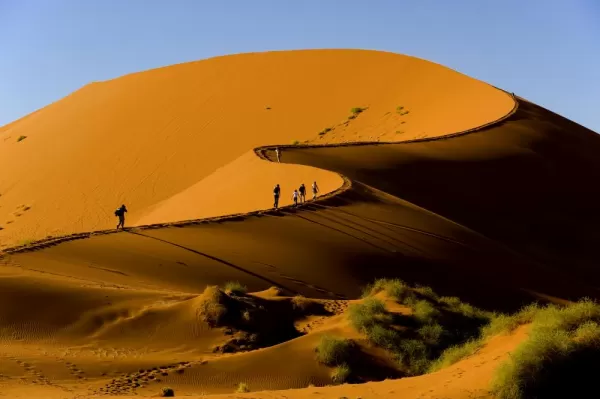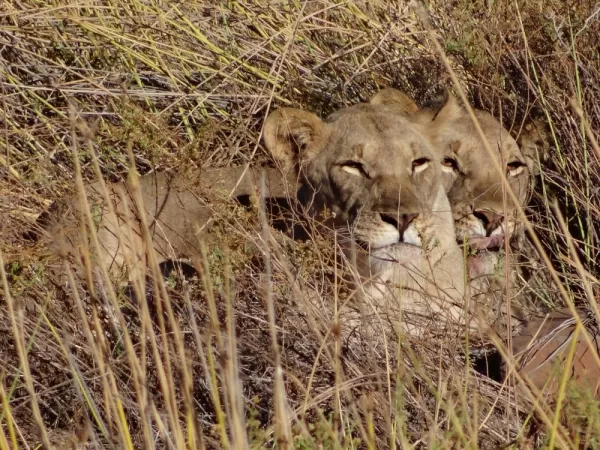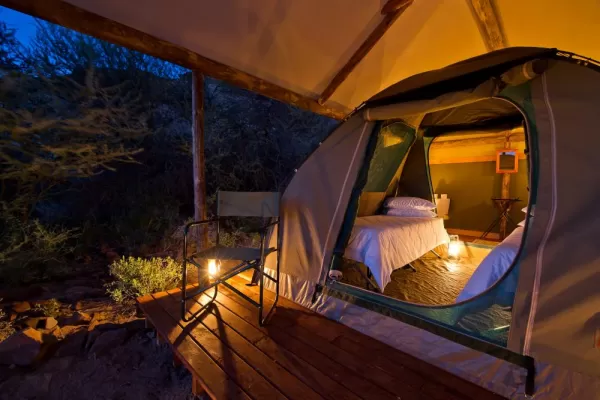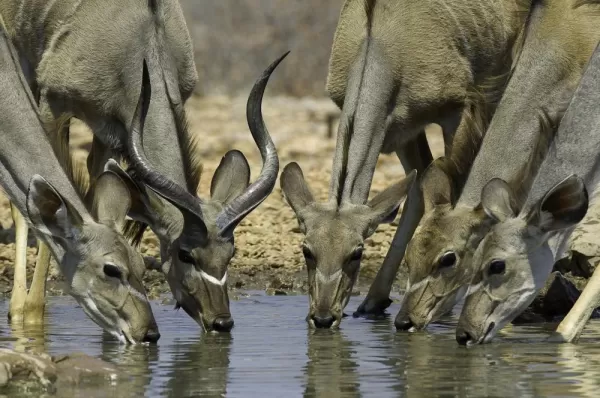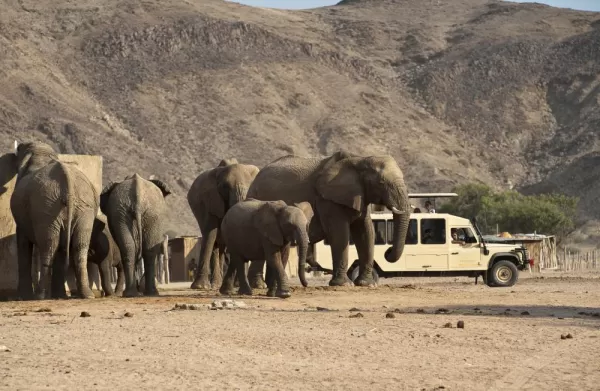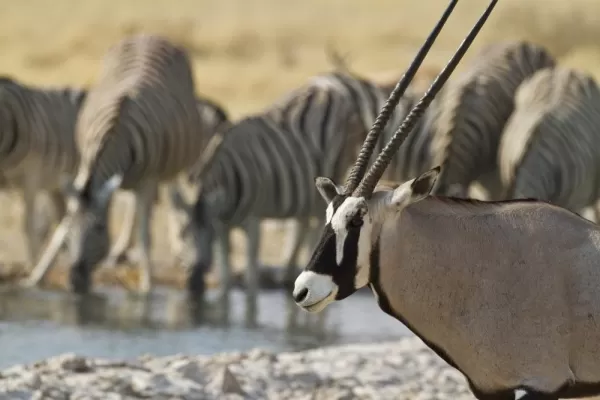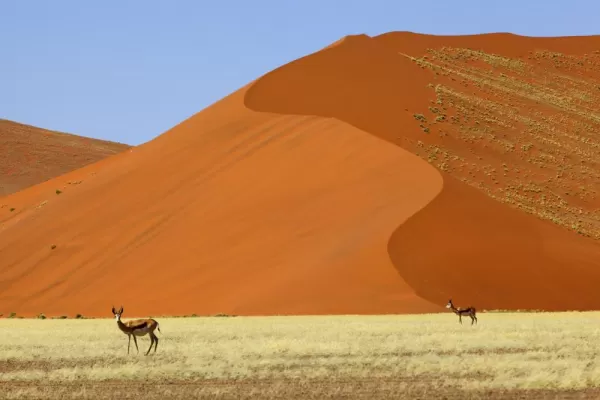 Explore Sossusvlei, home to some of the tallest freestanding sand dunes
Enjoy a game drive past the wildlife-rich salt pans of Etosha National Park
Search for wildlife by boat in Walvis Bay
Visit Ugab Save the Rhino Trust Camp and witness black rhino conservation
Damaraland
Damaraland Adventurer Camp
Kulala Adventurer Camp
Namib Desert and Sossusvlei Area
Swakopmund
Walvis Bay
Windhoek
Full Itinerary
Expand All
Day 1: Sossusvlei
Drive from Windhoek Airport to the private Kulala Wilderness Reserve, Sossusvlei. Spend time on the iconic red dunes as well as scenic drives taking in the unique wildlife that survives in one of the world's oldest and most arid deserts. Enjoy lunch en route and arrive to Kulala Adventurer Camp in time to freshen up before enjoying dinner under a canvas of stars.

Drive Time: 5-6 hours, 211 miles

*Flight must arrive to Windhoek by 8:00 AM or pre night hotel is required
Day 2: Explore Sossusvlei and the Namib Desert
1 Breakfast, 1 Lunch, 1 Dinner
Experience the unique dawn lighting over some of the world's tallest freestanding sand dunes this morning as you start your adventure in the Kulala Private Reserve. The rich reds of the sand and dramatic shadow lines make for stunning photo opportunities. Wander the area and surrounds with your adventure guide, marveling at the fascinating landscape and creatures that call this part of Namibia home. Explore Sossusvlei and nearby Deadvlei before resting under a camel thorn tree to enjoy a picnic brunch. This afternoon return to the lodge for a late lunch before visiting Sesriem Canyon or relaxing at the lodge for the remainder of the day.
Day 3-4: Swakopmund | Cruise Walvis Bay
2 Breakfasts, 2 Lunches, 1 Dinner
Today you leave the red dunes of Sossusvlei behind and travel north on the snaking roads of the Kuiseb Canyon and out onto the expansive gravel plains, eventually arriving in Walvis Bay before moving north into the quaint town of Swakopmund. After arriving in late afternoon the day is yours to explore this lively coastal town with its German influence and vibrant African markets before returning to your centrally located guesthouse for the night.

On Day 4, explore the ice-blue Atlantic coast with a catamaran cruise from Walvis Bay to spot wildlife from the boat including dolphins, seals, birdlife and depending on the season perhaps sea turtles and whales. (weather permitting). Join your guide for a private seafood lunch before returning to Swakopmund, where you are free to explore for the evening as you wish.

Drive Time: 5-6 hours, 230 miles
Day 5-6: Explore Damaraland
2 Breakfasts, 2 Lunches, 2 Dinners
Continue on a road journey to Damaraland, west of the Brandberg Mountain, the second largest monolith in the world (after Uluru in Australia), stopping for lunch at Ugab Save the Rhino Trust Camp. This area boasts the largest concentration of black rhino anywhere on the planet outside a national park. Damaraland's rugged landscape is renowned for its geological and scenic splendor as well as wild displays of color, looming table topped mountains, magnificent rock formations and unique vegetation.

Your time in Damaraland is highlighted by 4x4 excursions to the Aba and Huab River Valleys, where you and your guide will search for the elusive desert adapated wildlife, most notable of which is the desert adapted elephant. Other optional activities include cultural visits, game tracking on foot, by bike, or 4x4 vehicle. Return to Damaraland Adventurer Camp each evening for dinner and star gazing.

Drive time: 5 hours, 200 miles
Day 7: Etosha National Park
1 Breakfast, 1 Lunch, 1 Dinner
Move east from Damaraland to Estosha National Park early this morning, visiting a local Himba settlement to learn about the customs and traditions of one of the last truly traditional peoples of Namibia. Continue onwards to Etosha National Park, or the 'Land of Dry Water', which houses huge salt pans leftover from a shallow lake that existed over three million years ago. Arrive to camp in the early evening, resting and relaxing after a long but rewarding day. Settle into your comfortable room before enjoying dinner at Ongava Tented Camp.


Drive Time: 5 hours, 205 miles
Day 8: Etosha National Park
1 Breakfast, 1 Lunch, 1 Dinner
Arise early for breakfast before joining your private safari vehicle for a full day game drive through Etosha National Park. Keep an eye out for Etosha's resident wildlife, including lion, leopord, elephant and even the black rhino as you make your way from Amdersson's Gate to Halili for lunch. Game viewing in Etosha centers around springs and waterholes, where many of Etosha's 114 mammal and 340 bird species can be found congregating at these important sources of water.

Your game drive concludes in the Ongava Game Reserve, a private reserve on the Eastern border of Etosha National Park. Settle into a restful evening at your intimate camp, specially designed for travelers keen on experiencing the wilderness in it's raw splendour.


Day 9: Departure
Arise early for breakfast and your last transfer through the heart of Namibia toward Windhoek. Upon your arrival, you will be transferred to your accommodation establishment of choice, or out to the Windhoek International Airport (transfer to be booked additionally) if flying out this evening.

Drive Time: 5-6 hours, 260 miles
Dates & Prices
Notes
Select a Date
Rates may vary based on current exchange rate.
8 Breakfasts, 8 Lunches, 6 Dinners
6 Nights Accommodations
Accommodations as listed
Ground transportation as listed
Activities as listed
Meals as listed
Access to a 24-7 Emergency line while traveling
Park Entrance Fee
Gratuities
Travel Insurance
Personal Expenses
Flight costs (please request a quote)
Additional excursions during free time
Fuel and transportation surcharges (when applicable)
When to Go
Good to ideal period to travel, and many people choose to visit at this time.
Chance for unpredictable weather but with fewer visitors.
Inquire
Our guide and driver were very good with their knowledge and were very helpful with our questions. It was a very pleasant visit that would have been impossible to do on our own. Hotels and restaurants were fantastic. The special places we got to go to, like the kitchens, were great. Enjoyed the entire trip!
Meyer Smolen
Namibia Travel Guide
Favorite Namibia All Trips