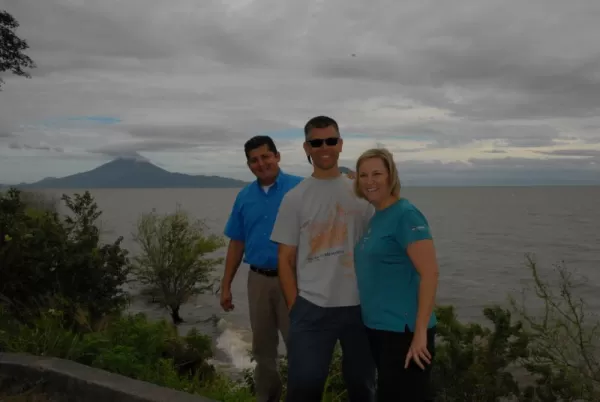 Today started bright and early with a traditional Nicaraguan breakfast. We are all now fans of gallo pinto (a mixture of rice and beans), queso frita (fried cheese), chorizo, huevos, and tortillas. The Contempo chefs impressed again with a beautifully prepared plate of traditional favorites.
Roberto and Sergio picked us up on time and we headed north to Leon Viejo (Old Leon). Leon Viejo is a UNESCO heritage site that once served, in the 1500s, as the capital of Nicaragua. The old city was the scene of many power struggles between Spaniards which resulted in bloody battles and beheadings. The town was eventually abandoned in the early 1600s and soon after was covered by the erupting volcano Momotombo. We learned about the history of this beautiful country and enjoyed sweeping views of Lake Managua.
From there we headed towards Leon City but not without a stop for a local specialty. Quesillos are a popular snack in Nicaragua and there are quesillo stands/restaurants throughout the country. A quesillo consists of a corn tortilla stuffed with a big slab of mozzarella cheese, a mixture of onion and chiles, covered with crema. It's wrapped up and shoved into a plastic bag. You hold the bag tight at the top and shake it until the creme is covering the entire concoction. Then you eat it like a popsicle, right out of the bag. Yum!!!
The afternoon was spent exploring Leon with our guide Roberto. He showed us the Centro de Arte Fundacion Ortiz Gurdian. La familia Ortiz Gurdian owns the fabulous hotel we'll be in for the next two nights, El Convento. El Centro de Arte is their own private museum showcasing their extensive collection of European and Latin American art. Sam was in heaven and we were pretty impressed too. The art is displayed throughout an amazing colonial home that used to house the family. We're not sure where they live now, but if it's anything like the place where they display their art, it's probably the biggest mansion in Central America. From there we wandered to the Parque Central and the third largest cathedral in the Americas, La Basilica de la Asuncion. It's the burial place of lots of Nicaraguans, most notably Ruben Dario, the famous Nica poet. They are crazy about him here.
Tomorrow we'll spend a leisurely day in Leon, exploring the market and neighborhoods on our own. We might even do a little volcano boarding. Roberto and Sergio will be back to pick us up on Saturday to drive us to our next destination: Granada.
Tonight we wandered through the festive streets of Leon, dining at a great restaurant and enjoying a few local beers. From there we went back to the Parque Central and the Basilica for some holiday entertainment. The square was packed with families enjoying folkloric dancing and music. There were vendors everywhere selling fruit, toys, and just about anything else you might want. We finished our excursion with a little Nicaraguan ice cream, which Sam declared, 'not as good as in the USA.' He didn't realize it but he ordered Mint Tea ice cream!???
More tomorrow!