In the morning we hiked westward again. Much of the trail was in view of Lago Grey and as we got closer to the glacier we had beautiful views. This section had an abundance of flowers with firebush shrubs that brigntened up the pictures.

We got to the location for the boat ride to the glacier just in time. We boarded the boat and were served pisco sours with glacier ice as we motored towards the glacier. It has three outlets and we approached all three of them quite close. It was interesting how different sections of the glacier had different formations.

From the .dock where we left the boat we took a van ride back to EcoCamp where we had another great dinner and spent the night.
Want to Go?
country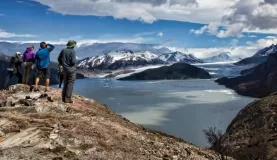 1 Day Tour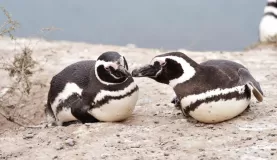 Magdalena Island Penguin Colony
4-5 Day Tour