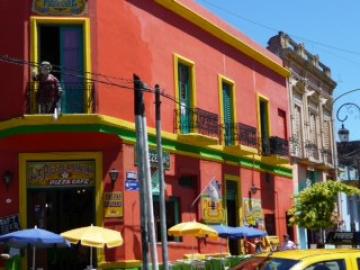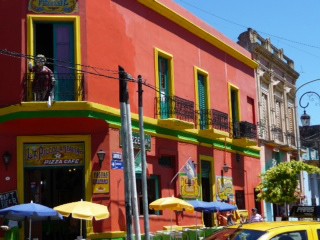 Today we had downtime to do a little souvenir shopping, and have a bite to eat. This is a special day to celebrate...it's Mario's 16th birthday! Although there is not much going on today, other than travel, we enjoyed a relaxing day. Mario was promised a special gift of his choice from a souvenir shop in honor of his birthday.
We took the long cement stairs down to the main shopping avenue, San Martin (it seems every city has a street named after the hero of the revolution). It's easier to descend than to ascend! First to look for a penguin statue made of pink stone native to Argentina, then to look for an ibis clip (all the ladies wear them to keep their long hair in place), and last to the supermarket for Yerba mate and Alfajores, a dessert made with two butter cookies filled with dulce de leche, or sweet carmel filling, then dipped in chocolate. Success! It was then time to have a bite to eat, which has been a challenge of Olivia and me. Normally, we try to order a salad, telling the waitress which veggies we would like, which oil to use, etc. Today, using my few Spanish words, and lots of hand motions and pointing, I described (so I thought) what we wanted. A few minutes later, out came some of the veggies, and many more that I did not ask for, nor could we eat! So, Dan and Mario enjoyed some canned corn, peas and palm hearts with their pizza.
The hotels were not notified by the Argentine agency of our special diet request. The last three mornings, we had to eat nuts and apples that we purchase, because the breakfast was all bakery goods, canned meat and cheeses. They did have a great selection of teas, and were very happy to oblige when I asked them for a thermos of hot water for our Yerba! The nationals carry their mate cups, Yerba, and thermos of water in a specially designed backpack wherever they travel...a redefinition of 'to go' beverages! By the way, you would assume there would be Yerba cafes everywhere. Not a chance...they either carry it with them, or, drink it socially at home. Go figure! They can't imagine anyone but their own people would drink the bitter but healthful drink anyway.
We were finally packed and transported to the Ushuaia airport at 2pm. The flight to El Calafate was delayed, which is a common occurrence on Aerolineas Argentinas, we were told, because of the wind patterns bringing in ash from the Chilean volcano eruption a couple of years ago. There is a possibility that the ash could clog the engines during the flight. Funny, our driver said, that it never seems to delay the other airlines, such as LAN. Ours, evidently has a reputation for being late, and sure enough, all four of our flights were delayed from 30 minutes to almost an hour!
The plane took off, even on this cloudy and rainy day. As we ascended, the plane made a complete circle, wing down, in order to climb out of the valley surrounded by jagged mountains. We had a perfect view of the little peninsula that held our airstrip...reminded me of the crazy locations of our tiny airstrips in New Guinea. The mountains, forests, wind, rugged coasts and waterways at the 'Fin del Mundo' were left behind.
The short, one and a half hour flight was smooth, and soon we were landing in El Calafate. This is the land of the glaciers, which we will climb tomorrow. Looking out our plane window, we saw miles of flat plains, similar to Texas, with mountains surrounding the plains, most without snow, but two to the west were covered with it. Odd... It reminded me of the surface of a planet in some respects.
Backpedalling with a bit of info: The first tour we took to see the penguins on Penninsula Valdez, was taken on a cloudy day. Being warned ahead of time, but forgetting to apply sunscreen, I was badly sunburned to the point that my skin began to develop small bumps. Thankfully, I had my lavender oil, which seemed to help. Hopefully, I will remember the sunscreen tomorrow, since the glare from the glaciers will be intense.
Our taxi driver took us for miles and miles it seemed, to our destination...El Galpon (shed) de Glaciars. He passed through the town, passed the shops, until there was nothing but land and sky. I wondered where he was taking us, and was a little disappointed that it was so far from town. Finally, a group of buildings came into view. Yes! It was another estancia...and this time, the view was more spectacular than Rincon Chico. We had the mountains surrounding us, Lake Argentina below us, and miles of stunning landscape. Thank you, Lord! Can it get any better???
Until tomorrow!