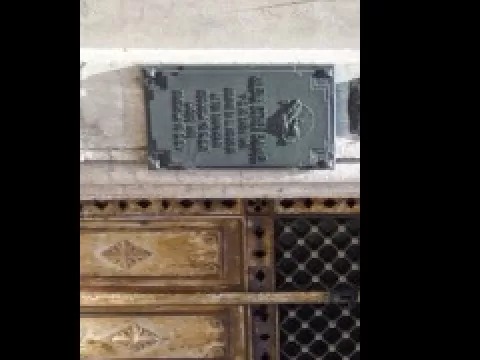 Everything went fairly smoothly through security and customs, so we had time to relax at the gate for an hour before boarding our 6 hour flight Avianca flight to 
Bogota.  Other than a few minutes of turbulence, it was an uneventful flight, and we arrived on schedule.
We were so relieved to see Mike waiting for us at the gate.  His was a friendly face, instead of a foreign one holding a sign that read, 'Del Boccio Family.'
Although we have been pleased with our drivers and guides in Argentina, there is nothing like a familiar face when one is weary at the end of the trail!
It was good to see the Dubberlys again, but, after a bite to eat, we hit the sack, totally exhausted, with scenes from our fabulous trip dancing in our heads.
I must end with a note about the Adventure Life travel agency with whom we booked our fabulous expedition.  Although the Argentine agency, 'Kallpa' (with whom Adventure Life worked in tandem) skipped a few beats with our diet details, on the whole, the tour was seamless.  Our favorite guide was Marta in Puerto Madryn, who was extremely knowledgeable and accommodating.  We hated to see her go!  Norbie, in Ushuaia, was our second favorite.  His jokes along the trail kept us going when the going got tough.
But, the ultimate kudos go to the Adventure Life team in Montana.  Monica was the first contact we had with the company.  She was very friendly and helpful in the process of putting together our Patagonian package to suit our needs, always willing to tweak things where she could.  
Lucas with Exito travel, helped us to find just the right flights to fit our pocketbook, and quickly took us through the process of purchasing the tickets, after waiting for the prices to lower a bit.
Jenny J was assigned to us next, and answered question after question about our trip details, from the type of boots we should bring, to which hotels carried shampoo and hair dryers.  And then, while we were overseas, she continued to be so patient with my many questions about hotel transfers and diet requirements.  Jenny always returned my emails the same day, when possible.  I always knew things were under control back at the office, which reflected on our trip within Argentina.
Then there was Sullivan, who helped here and there when the others were not available. I was able to chat with her online in Argentina when I needed assistance with my journal and photos. She was a wonderful, all around, knowledgeable gal.
Lastly, but certainly not least, was my hero, Lynessa, who painstakingly added all my photos to our journal each day, since my iPad did not support that feature.  Some days, I downloaded and sent over 30 photos, which would pop into our online album the very next day, thanks to Lynessa!  Even during the Missoula snowstorm, it took her only 36 hours to get back on track at the office...amazing!
All in all, Adventure Life did a fantastic job of keeping us informed, answering our plethora of questions, and communicating with the Argentine agency.  Never once did I sense impatience or frustration with our constant barrage of emails!  I know God lead us to them for a reason...thank you, each and every one who played a part in making this one of our most incredible family journeys!