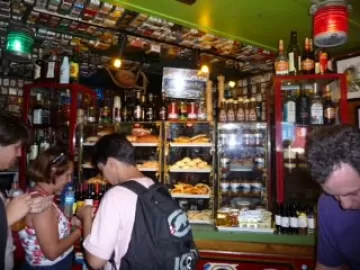 I don't like to use the word 'awesome' unless it is talking about God's creation, because, truthfully, only His works can be described as such. In this case, and many times on this trip, the word fit perfectly.
Today, like yesterday, we walked up, we walked down, we walked over and around and through. Actually, trekking is a better word. The weather changed so quickly and so often during our excursion, that our routine went like this: zip up, button up, hood up, face the wind. Sun out, unzip, unbutton, off come the earmuffs, take off fleece. This scenario played out at least once every 20 minutes to keep us on our toes.
Norbie, our guide, met us at the Linaris Hostel where we have been staying the last two nights. It reminds us of a Swiss chalet...very charming with antiques of all kinds throughout the facility. I had decided to take my Yerba Mate cup and a thermos with me, so when I ascended the motorbus steps, the two guides and driver all commented at once about an American drinking mate, how amazing that was, and maybe I should sit at the front of the bus to share. It was a hoot!
We rode for about 30 minutes, and then gained entrance to the Tierra del Fuego National Park. After a restroom break, we gathered at the map so Norbie could give us the instructions for the days events. He was a real joker all throughout the trip, suggesting we needed a helicopter to pick us up, and oh, by the way, order a pizza, too! He encouraged us to work as a team or family, and keep together. At one point, he described the three types of hikers. The Japanese (and we had a couple with us), walk a few short steps, take a photo, few more steps, another photo, etc. The Italian, he said, strolls along looking at the birds, taking his time, enjoying the sun, etc. The American, on the other hand, asks what time we were to be at the end point, and proceeds to look at his watch and take off at a quick pace, not looking at anything, keeping his eye on goal! I assured him we would be somewhere in between.
By the way, we learned a few facts on our way that are unique to the area. If one stands with the sun at his back, he will always be facing south in this part of the world. The Pan-American highway goes from Ushuaia the southernmost city in the world, all the way to Alaska. Many have done it by car, motorbike, and even bicycle. Evidently the latter took four years!
The scenery was truly awesome, and we had quite a few breaks to enjoy it. The fresh air was almost too much for my lungs...it's the first time I can remember being able to take a full breath of air without effort, even at this altitude. The path was quite challenging, as we walked over tree roots, rocks and gravel surfaces. We came across wayward horses from nearby estancias (ranches) that left their piles of dung all over the trail. We had to watch our step! I was so thankful to find a good strong stick to help me along the trail, which definitely helped me navigate the uneven trail.
The inlets and bays were breathtaking, and at each bend there seemed to be a more awesome view that the one before. Finally, when we thought we could walk no more, the trail ended at a campground, were we had a few appetizers, and grilled chicken with salad for the main meal. Everyone was famished, so we all ate with gusto. It was good to talk with our Argentinean, Italian and Portuguese fellow hikers. They knew more English that we knew Spanish!
As we took a bathroom break before venturing out on a canoe ride, we walked among the Sunday campers in the park. It was humorous to hear various types of music blaring from the car radios at the campsites...each one was different. I heard rock and roll, salsa, love songs, etc within my 3 minute walk to the banos!
It was time for our canoe trip, so we gathered at the river for instruction, then donned our rubber boots and waterproof pants. We divided into groups, got into the three canoes, and set off for our adventure. We were in the Beagle Channel, the river and a lake, all within an hour and a half. We saw little wildlife, but there were many people in the park fascinated with our journey. I felt like a celebrity as folks waved and took photos from the shore. At one point, the water level was too low, so we got out, and carried our canoe, or portaged, just as the Indians would have done. We had to duck under a bridge, and when we entered a larger body of water, the winds were fierce, so we paddled for dear life, and arrived at the shore first. Team America (the Del Boccios, our guide, and an Italian couple) had won the race!
Tired but happy, we arrived back at the bus, and rested on our way back to the hostel. We said our goodbyes, and after freshening up, went out on the town for dinner. The shops were still open at 9:30pm, and it was still light, so again, we fell asleep after midnight. It will be good to be home where our internal clocks will be reset. Chau for now!