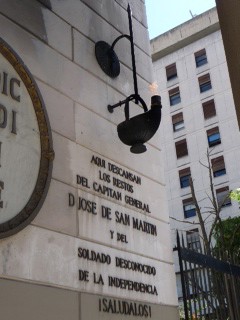 With about 6 hours of sleep, and lying flat, we had a much better rest than the night before. I can never sleep on a plane!
Our transportation arrived at 4:30am to drive us to the aeropuerta for our 6:50am flight to Trelew, our first destination in Patagonia.
I am too trusting of agencies and individuals, but knew better than to fail to remind our driver of our flight information. I assumed that he was well informed...NOT! We arrived at Terminal A, only to discover after our driver had left, that Aerolineas Argentinas took off from Terminal C. So, of course, I went into warp factor 10, and ran ahead to find our terminal. It ended up being a 5 minute walk, thanks to my high speed trailblazing efforts (which are not always appreciated), instead of the normal 15. My motto is: make every effort to get to your gate as quickly as possible, since one never knows the disruptions that lay ahead. It's better to be ahead of the game, instead of reaching the gate minutes before one boards, or worse yet, miss the flight.
Thankfully, we breezed through security with only a check of Mario's carry-on, and the frisking of the other three family members. But, nothing was confiscated. We arrived at our gate with plenty of time to stop for a hot drink at a kiosk.
I wish I could report everything went smoothly from that point on...not so! We sat on the Tarmac for about 40 minutes, with no explanation (at least not in English) as to why we were late. The flight to Trelew itself went smoothly, thankfully. Dan and I were assigned to an emergency exit, and were required to read the info and be able to assist if any trouble arose. A snack was offered, and in a few minutes, we were at the terminal. All our baggage was retrieved except for Mario's, which was worrisome, since our plane was going on to Calafate. After explaining the situation to a baggage agent, he took our claim tickets and proceeded to search for it. In the meantime, our tour guide, Marta, met us, and helped to navigate the system.
About 15 minutes later, the agent came back with the suitcase and a frown. . He had thought we lost all four of our pieces, so was not happy that he returned with only one! We, of course, clapped in appreciation (and thanked the Lord) that it was found!
Marta, an Argentine who is half Italian and half Czech, is vibrant, informed, and easygoing. Athletically built, tall, dark haired and deep voiced, she is what I imagined an Argentine woman would be like. We lost no time, and after a short explanation of our destination on an area map, we headed to the penguin colony in Punta Toombo, south of Puerta Madryn, the town where we will lodge tonight. Of course, it was along the shoreline, where these Magellan penguins could make their nests and find food.
Did you know that penguins will never meet polar bears? The latter live at the North Pole, while penguins are found in many countries in the Southern Hemisphere. The Magellan penguins are faithful to the nest and colony, and return year after year to the same place. They live about 30 years, and mature at age 5. The 'adolescent' penguins, who are close to maturity, gather along the shore to watch others, and teach the young to fish.
It's the male population that builds or rearranges (from the year before) the nest. When the female arrive, she chooses the male that has made the best 'home'. These nests can be a hole in the open ground, or dug under a scrub tree. If they check out a nest, and it doesn't meet their approval, off they go to find a more suitable one! The female then mates and lays up to two eggs, and then takes off to the sea to find food. The male remains to protect the chicks from predators, like snakes and birds of prey. The mother penguin feeds her young from food that has been regurgitated (and therefore easily digested) and deposited into their mouth. We heard chicks everywhere calling out to their parents with a constant braying sound...they were hungry continually!
As we walked the mile path through the reserve, there where penguins as far as the eye could see. Some huddled in groups, others standing independently with their faces to the sun, and at times, a single penguin would cross the road in front of us. We were asked to allow them to pass, and not to disturb their route.
Marta was telling us that the reserve allows the wildlife to live and die as nature intends, so, even if a penguin is sick or being attacked, they are to let them be. This was difficult for me to accept when we saw two chicks whose parents never returned from feeding, probably because they were killed by predators. The twins were waddling aimlessly across our path, obviously very weak from hunger. No other penguin will adopt the two, so there is no one to feed them. It was all I could do to resist the urge to take them with me! Very sad, but, 'tis true...another result of the Fall. It's comforting to know that there will be no death in Heaven.
Speaking of Heaven (on earth)...I have been so looking forward to our trip to Gaiman, the Welsh Colony near Trelew. It did not disappoint. I felt as though I had been transported to the British Isles for tea! Marta told us about how the colony came to be. Think: The Pilgrim's Story. The Welsh were persecuted by England, because they would not tolerate anyone who would not worship in the Anglican church. Since the Welsh were Methodist and Baptist, they were not accepted. They also demanded that everyone speak English, but the Welsh wanted to continue speaking their language. So, they sailed first to America, but, they began again to lose their unique language and culture. So they sailed south, along the Atlantic, until they found a port that would support them. About 153 Welsh settled in and first built a church for their community. The Indians helped them survive the first year...they traded with them, and taught them to hunt for food and plant seeds. (Sound familiar?). They taught the Indians to read and write. They were the first successful colony in Patagonia. Between 1865 and 1911, 3,000 Welsh families emigrated to Argentina successfully.
We came to Gaiman for high tea at the Ty Te Caerdy'dd, which translates 'Tea house of the Rising Sun'. The grounds were idyllic, filled with rose bushes of all colors. Princess Diana paid a visit here for high tea in the 80's as a good will gesture, since Argentina was at odds with England over the Malvines or Faukland Islands. Since her title was 'Princess of Wales' she was the perfect ambassador. Evidently, she picked a rose from the garden, and then sat down for tea. The establishment was so enamored with her that they saved her rose, the place setting, including the cup and saucer and spoon, (complete with tea stain), and the chair she sat in as a memorial of her visit.
I, of course, had been looking forward to this visit for many months. This was the day that I would allow Olivia and myself to break our 9 month diet. Was it worth it! The tea was smooth and flavorful, reminiscent of the British Breakfast variety I have tasted overseas. The homemade bread an butter, raisin scones, various cakes and fruit slices, along with two dulce de leche (Argentinian version) made the experience a delight for all...even Mario!
We drove over an hour back to Puerto Madryn where we were lodging overnight, and spent the early evening looking for Mate gourds and bobillas, along with a woolen shawl for souvenirs. No luck on the first two, but successful with the third, thanks to Dan!
Back to the hotel, and ready for a good night's sleep. Ta Ta for now!