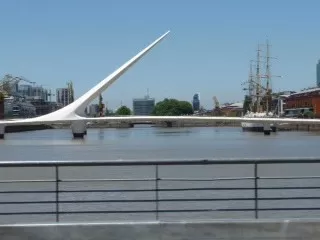 Traveling is becoming a chore for us. It occurred to me last night, that by the end of our journey, we will have taken 10 flights in a little over two weeks, two of which are red-eye, overnight specials. Ugh! As we were complaining, I reminded the others that many years ago, it would have taken weeks, or maybe months to reach our destination via boat or horseback, had we not had the benefit of the modern airplane. This was certainly the better choice. But, it's a small price to pay for the beauty we have seen and the things we have experienced!
This morning, we took a quick trip to El Calafate (15 minute taxi ride) to do last minute souvenir shopping. The town was quaint, with lots of shops. There was one, called, 'La Casa del Gaucho' or the House of the Cowboy, which had many hand make items and western style Estancia clothing. I found a nice pair of comfortable slipper made from porcupine skin!
Another surprise part of our package deal was a 1 1/2 hour trail ride through the estancia. We were thrilled...especially Olivia, who like I, enjoy horses. So, we saddled up with our specially chosen animals, and waited for instruction. Although the method of riding was western, the saddle was similar to an English variety; smaller and more compact. It was covered with a thin wool pillow, which made the ride more comfortable. As we were waiting on our horses, we noticed a small reddish brown hound-like dog the guide called a celty. He was nervous and on the move, and couldn't stand still for the anticipation of following us on the trail. He would sit, he would get up and run under the fence, into the barn, near the horses and back. Then sit for thirty seconds, get up and bark, and follow the same routine, over and over until the four of us were out of the corral and on the road. 'Kalla' was a scamp. He would run ahead of us, and chase the birds, sometimes the sheep, and towards the end, a horse grazing in the field. This dog is great fodder for a picture book!
With great difficulty I depart from the El Galpon Estancia. I will miss the serenity of this windswept property...an unexpected stay in an earthly paradise!
It was soon time to leave for the airport, so we did some last minute packing, said our goodbyes to Carolina and Cecilia, and took the taxi towards town. The kids were so exhausted they fell asleep on my shoulder. We arrived in good time, but faced numerous lines for checking, paying airport tax, and going through security. As usual, Aerolinas Argentinas was late again, so we arrived in Buenos Aires 45 minutes late. By the time we checked into our hotel, it was close to 10:30 pm, but Olivia and I could not sleep on an empty stomach. So, we found a restaurant at the corner that offered a satisfying beef and chicken shish-ke-bob for two, with a side salad. For an Argentine, eating at 11 pm was no big deal, but for us, it was a novelty as well as a necessity!
It was midnight before we turned in. Our wakeup call came at 3:45 am, and the taxi at 4:45 am, to escort us to yet another flight, so our rest was brief. I am finally weary of travel, and look forward to our few days with the Dubberlys in Bogota. Over and out!