You'd think living in Montana would have conditioned me to cold temperatures over time. Although, my comfort level never expanded to anything lower than 60 degrees, I have learned to adjust my wardrobe accordingly. You can find me wearing two pairs of pants and at least three shirts December through February. All these layers help me feel like I lost so much weight come spring! 
Calling myself "budget-conscious" is too generous. I'm cheap. I've grown up getting what I can second hand and anytime I wanted to splurge on something new, it came from the clearance rack at Wal-Mart. Working in the travel industry threw me into the world of brand name clothing. I always thought these brands just charged more for their brand name. The more familiar I got with the companies and their products, I learned that is not the case. Many companies like Patagonia and Prana either donate to conservation efforts or adopt business strategies that are also more environmentally sustainable.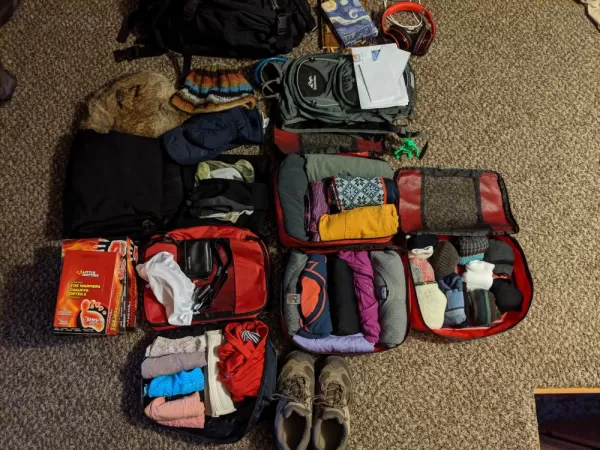 A friend lent me her Patagonia Capiline Air Crew shirt. I traveled for three weeks and wore this shirt almost every day. It kept me warm in the cold wind of Patagonia, it kept me dry while I worked up a sweat hiking. It's not a cheap shirts, but think of it this way- I would have had to pack a combination of four other shirts to layer what this one shirt did. in fact, here are the things that I brought: 
Colombia Brand- Hiking shoes: I've had these for years and have held up so well. I could definitely feel how heavy they were on long hiking days, but anything under 10 miles was fine. Just double up on socks. 
Smartwool Mountaineering socks: Why did I buy these? They were nice to use as slippers but too thick as socks and even too warm when camping in Antarctica! 
Darn Tough Socks: Yes. 
REI Silk Sock Liners: Well, I hiked 20 miles in one day with these babies under my Darn Tough's, so you tell me
Merino Wool Blend socks from Costco: These actually lasted me a long time. I would double up on really cold days
Athleta Double Lined Pants: I. Love. These. Pants! I wore them every single day and just sink washed them twice in three weeks. 11/10 would recommend. 
Patagonia Barely Underwears: I never thought I'd post thought about underwear online, but here we are. I'll just stick with "would recommend." 
Ski Goggles: SO much better than sunglasses for the Zodiac rides! Never fell off my face and great for all the reflection off the water/snow. 
Synthetic/Wool blend Neck Gator: These are amazing. They still allow you to breathe without getting all soggy from your mouth-condensation. Sadly, the Argentinean forest stole mine, so I bought a 100% wool one which I owned for three hours before losing again. I'm not allowed to another one yet. 
Fleece Neck Gator: Great for windy days but very bulky. Would ditch if tight on space. 
Kari Traa Svala Base Layer: Much better at keeping me dry than keeping me warm. I would opt for this instead of the Capaline on already sunny/warm days. 
Kari Traa Rose Base Layer Bottoms: Nice and cozy, but being full wool they stretched out easily and became baggy around the bum after one wear. Sink-washing doesn't exactly help get the shape back.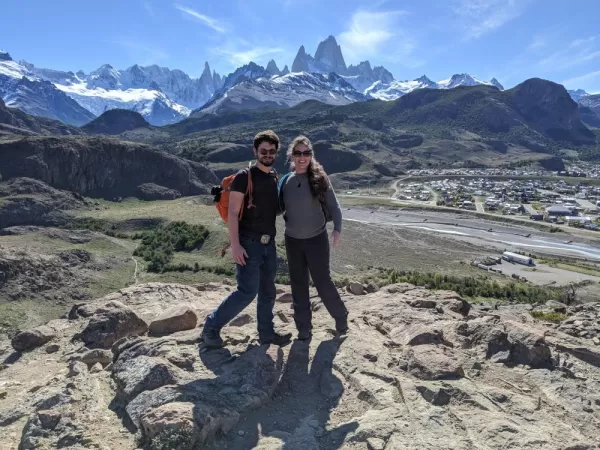 I didn't mean to turn this info an advertisement- in fact, I have yet to buy one of those Capaline's for myself (...yet), but perhaps there are other travelers that get scared away from these expensive clothes and keep feeding the mill of mass produced options. The higher upfront cost has proven worth it and I'm a believer.