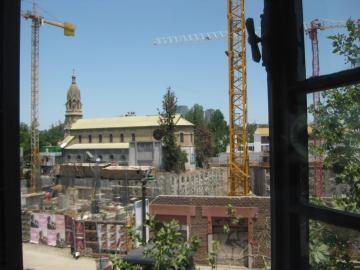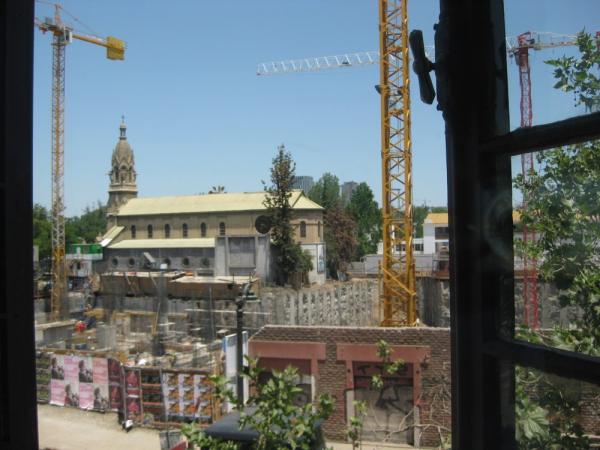 Santiago and I started off on the wrong foot. I spent one hour and a half at the airport. There was a line to get a visa, another line to get through passport control, and the 3rd one - customs. I ended up going through the passport line twice, because I failed to get the visa first. The customs officers took my beef jerky and trail mix, because I stupidly declared that I had meats and fruit in the customs form.
The next ordeal was to find and use an international phone card to call back home. A very friendly young man who helped me make the call (the first and the last one, for I was not able to use the card anywhere outside of the airport) turned out to be a taxi hustler, and he put me in a taxi for which I paid twice the going rate. I knew I was being ripped off, but was too exhausted to try and find another taxi.
Ok, my misadventures at the airport were not per se the city's fault. I also have to admit that I dislike big cities in general, and don't do well in hot weather, and it was hot in Santiago: 80° F.
Since I only had this day in Santiago, and another one on my way back, I decided to take a bus tour of the city with TourisTour. I was hot and tired, and did not quite enjoy the tour. My main impression: little lawns in the middle of the streets that the guide proudly called parks, on which young couples were lying down next to stray dogs. From the window of the bus, I watched a man chasing a little man. The little man collapsed in epileptic convulsions in the middle of the road. Someone picked him up, carried him to the sidewalk and dropped him there.
I do vaguely remember seeing nice places, like Cerro Santa Lucia, and the Cathedral. We did not stop at the central market. I wish I could revisit the city in cooler weather, and explore it on my own, at my own pace. I am sure I would have liked it more under different circumstances.
About the food. I had lunch at Como Agua Para Chocolate, with its very fancy and bright interior. The sea bass flambéed in rum looked very dramatic, but somehow the wonderful flavour of this fish was totally absent from it. I had seafood on a couple of other occasions in Chile, and had similar experience: it was fresh and good quality, but tasted more like boiled rather than broiled or grilled. Chilean cooking reminded me of Russian cuisine, where the main spices are salt and pepper, and garlic if you want to get exotic.
Another restaurant, Telar, was recommended to me for dinner by a hotel receptionist. When I got there, it turned out that they were having a private party at the restaurant that night. The owners, husband and wife, apologized, and tried to suggest different days and times for me to come back. When I told them that I won't be able to do so, the wife offered to walk me to another restaurant owned by a friend of theirs: Lazul Profundo. There I was whisked past a waiting line and sitted at a small table on the second floor with a stream of cold air blasting from somewhere between the wall and the floor. Soon I had a huge heap of miscellaneous seafood on my plate that I had nobody to share with, and a glass of wine. That's one of the disadvantages of travelling alone: eating in a restaurant in a strange city by yourself is not fun, at least not for me. Though I have a girl friend who in a similar situation would start a conversation with a stranger at the next table, and would be sampling food from his plate five minutes later, all by a way of totally innocent socializing.
By the time I got back to the hotel, I was slightly depressed, and had to keep reminding myself that my vacation destination is Patagonia, and Santiago is just a stopover.
I liked Hotel del Patio. It had character, my room had a window I could open, and there was a terrace facing a plaza (Patio Bellavista) with a lot of little shops and restaurants. The only problem was the non-stop noise outside. During the day, when I tried to take a short nap after lunch, there were sounds from the street traffic and construction sites. Then later in the evening the party started at the bars with outside tables, and the chatter and laughter went on till about 5am. I think there was a short period of relative calm, and then the traffic and construction noises resumed. Luckily, I was tired and slept relatively well, waking up from time to time to the noise, and falling back asleep.