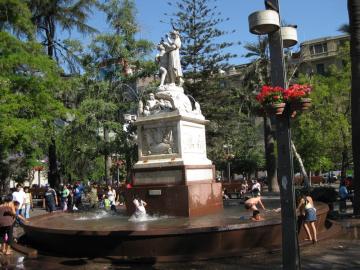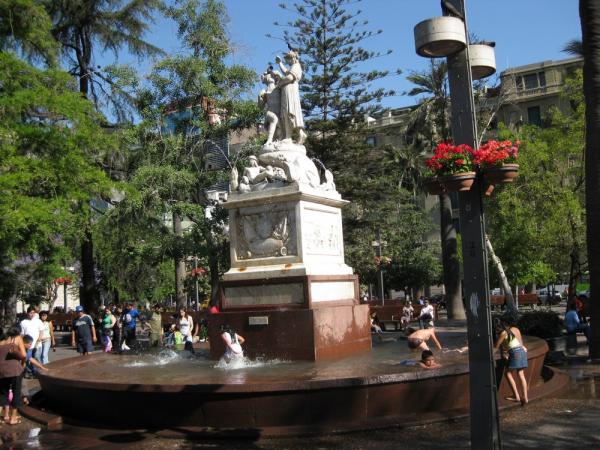 We had an early breakfast. I got to try mate and liked it right away: it was slightly bitter, and tasted a little bit of green tea and wood smoke.
This was the longest day of all. We left Refugio Los Cuernos at 9am, and got to Refugio Paine Grande at 8pm.
The feast of the senses continued. More avalanches, waterfalls, flowers, and mountain views. We also saw condors and parakeets. There were numerous other birds, and our guides were always able to name them (a lot of times, both in Spanish and English). It was sunny the first half of the day, with the temperature reaching 70Ëš F. There were a few sprinkles later on, and windy in some spots, but pleasant for the most part. I did not continue my garbage collection activities because I did not want to slow down the group on this long hike. Besides, my delirium somewhat subsided, and I was terrified that I might contract (if had not already done so) some fatal disease from the toilet paper.
In the middle of the day we split in two groups. I went with the group that chose to do a longer hike, all the way up the valley. The other group proceeded to the refugio shortly after we split. Two of my teammates got incredibly lucky: they saw two deer, and took pictures of one of them. Our guides told us that it is almost impossible to spot deer in the French Valley. After a while I started questioning my decision to go on the longer hike - my boots were too heavy and too big for me, and my little toes felt like they were about to fall off. But when we reached the highest point of our destination of the day, the panoramic view of the Paine Massif, my doubts disappeared. I was also convinced that the drink of mate I had in the morning helped me get through the day.
Refugio Paine Grande offered a simple but nutritious meal. There I tasted for the first time one of the greatest products of Punta Arenas: dark Austral Ale, Yagan, made with pure Patagonian water.
Our accommodations at Refugio Paine Grande were different from the nights before: we had a room with three sets of bunk beds. One of my roommates warned us of his imminent snoring and gave out five pairs of ear plugs. I was exhausted enough to sleep well without them.