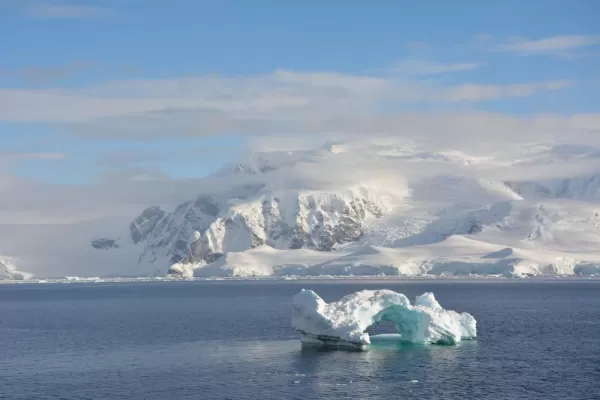 I woke this morning at dawn, rubbed my eyes and sat up to the windowsill – land!  Giant, sheer faces of ice surrounded the ship on all sides, and big chunks of ice floated past my window.  The sun barely shone through the mist and clouds, giving the entire scene a feeling of twilight in a different dimension.
At 8:30 AM we geared up in ALL of our layers and headed for the mudroom for our first kayaking excursion.  Anchored in icy Fournier Bay, we took off in our sea kayaks, encountering two napping humpback whales in the first few minutes!   Sleeping at the surface, or "logging", is a very common behavior for humpbacks, and allowed us to get very, very close to the leviathans without waking them up. 
We all stopped paddling about 500 feet from the two black masses resting at the surface, and we listened.  Every 30 seconds a huge, deep hiss would echo off the ice, occasionally from the two whales in front of us, but also from both sides and behind. there were whales everywhere.  At one point it seemed we were surrounded by deeply breathing whales.  We also saw crab eater seals lounging on various ice bergs as wells as two leopard seals, well over 15 feet long.  We paddled farther into the bay toward Mt. Frances, while shrouded in clouds we were told it is the tallest peak on the peninsula, 9,628 ft coming straight out of the ocean.  As we entered the brash ice, three minke whales popped out of the water, seemingly charging each other for sport.  A crab eater seal became quite curious of us, and poked his head out of the water at the bow of one of the kayaks and then dove directly under mine, the water so clear that I could see his whole body gliding and spinning under the surface.  This afternoon we visited Cuvervlle Island, the largest Gentoo Penguin rookery in the world.