While checking in for your stay at the Skylodge Adventure Suites, you are handed a harness...then a helmet. You look up at the daunting rock face you are expected to conquer, and you become keenly aware of your rising pulse.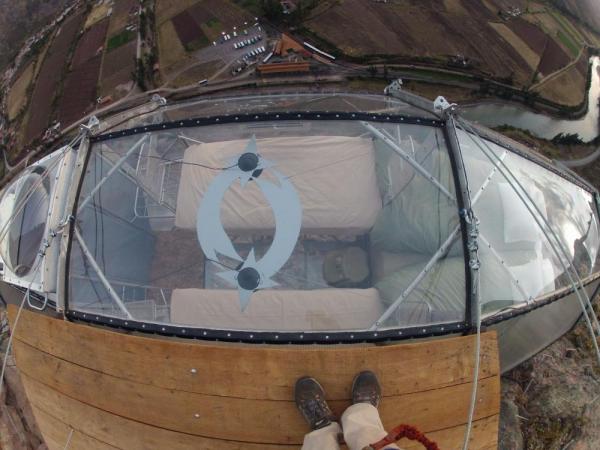 Welcome to the world's FIRST hanging lodge! Located in the heart of the Sacred Valley, Cusco, Skylodge Adventure Suites provides an unparalled
Peru mountain experience
. And they don't skimp on the opportunity for adventure. For instance, the only way to exit your dome is to open the upper portal and hook up to a harness system! In order to even GET to the Skylodge you have one of two options:
1. Hike a trail leading to the first in the series of ziplines known as the Via Ferrata. You then soar through the sky toward the vertical hanging modules.
2. Depend on a steel life-line and carabiner system to climb up the mountain. Then, rappel your way down to your dome.
Once you arrive, however, be prepared for comfort. Sleep in the warmth of your hanging bedroom, share gourmet meals on the communal platform, and take in the aerial views of the Sacred Valley. Allow yourself to be enveloped by the atmosphere with this unique
Peru tour
experience!