Machu Picchu Mountain and Huayna Picchu are two of the best places to get a bird's eye view of the magnificent ruins, but which hike is best? Deciding which trail is right for you depends on how much you enjoy physical activity and heights, as well as avoiding crowds. 
What is Huayna Picchu?
Huayna Picchu, also known as 'Wayna Picchu' ( Young Peak ), is the tall mountain that can be seen in the background of most iconic images of Machu Picchu Citadel. It is located in the Cusco Region, Urubamba Province.
How Long Does it Take to Hike Up Huayna Picchu?
The hike is a 2-3 hour steep round-trip climb on a well-established trail, but the last 65 feet (20 meters) is a vertical rock slab that is climbed with a ladder and a rope.
How Hard is it to Hike Huayna Picchu?
Huayna Picchu is a challenging, steep hike but short in distance. You have to register when you start the trek and sign out when you finish releasing any responsibility. You walk up some steps like half a mile until you start ascending to the mountain through a tiny dirt road that takes you through the forest. Some sections require the use of both hands and feet to scramble upwards, while some include railings and cables for support. Within Huayna Picchu are steep and narrow stairs named the "stairs of death." Huayna Picchu hikes are not recommended for those afraid of heights, ledges, or vertical stone ladders, those who are overweight, have mobility concerns, and children under 12.
Why is Huayna Picchu Famous?
According to ancient history, top priests and virgins lived at the mountain's summit, where they daily worshiped the primary deity, the sun. It towers over Machu Picchu, the Incas' mythical "hidden city." The Incas built a road up Huayna Picchu's side and temples and terraces at the summit.
What is Machu Picchu Mountain?
Machu Picchu Mountain ( Old Peak ), closer to civilization, is the higher peak towering above the ruins opposite Huayna Picchu.
How Many Hours Does it take to Climb Machu Picchu Mountain?
Machu Picchu Mountain is a lesser-known, 2.5-3.5 hour roundtrip hike, sometimes steep, with stone steps through the forested mountainside.
Is it Difficult to Climb Machu Picchu Mountain?
Machu Picchu Mountain is a relatively moderate but physically challenging hike, probably harder than Huayna Picchu since you have to climb more than 1600 stone stairs. It is possible to bring healthy and active children here, but their parents must always supervise them.
Do I Need to Book Machu Picchu Tickets in Advance?
Entrance is subject to availability, and guests must choose and inform their preferred schedule when booking. Guest information such as complete name, passport number, nationality, date of birth, and prepayment is necessary. Also, be advised that any permit or ticket to Machu Picchu is currently non-refundable/non-transferable. The only option to get a refund is if the government decides to close the citadel and its surroundings.
Here are some differences worth considering when deciding which trail to hike:
 
Huayna Picchu
Machu Picchu
Available Spaces
200 guests per day
400 guests per day
Entrance Time Slots
Divided into four slots:
6:00 a.m., 8:00 a.m., 10:00 a.m., and 12:00 p.m
Divided into two slots: 6:00 a.m. and 8:00 a.m. 
Are Kids Allowed
Not suitable for kids under 12
Suitable for fit & active kids above 12
 Months to Book in Advance
Must be purchased 2-3 months in advance. 
Do not sell out as quickly and are a better option for last-minute travelers. We do, however, encourage purchasing admissions ahead of time. 
 Circuit Entrance 
The only way to go to and from is via circuit 4. This entrance does not include re-entry or a visit to Machu Picchu. 
Guests can return to Machu Picchu and see the citadel through circuit 3.
 
 Elevation Gain
290 meters (951 ft)
Ascends nearly twice as high at 621 meters (2,037 ft)
Height 
3082 meters (10,111 ft)
2720 meters (8,923 ft)
Sights as I Climb Up
Incas-built temples and platforms
Has more wild orchids and birds, as well as a more lush environment. No ruins at the top. 
Duration
 2-2.5 hours
Higher than Huayna, Picchu takes nearly twice as long at 3–3.5 hours.
Difficulty
Steeper and not ideal for those afraid of heights. Some parts need your hands for balance. The hike begins on a well-established trail, but the last 65 feet (20 meters) is a steep rock slab climbed with a ladder and a rope. Take extra care when the weather is wet, as it can be slippery. 
Also steep, but the path is wider and so less dangerous than Huayna. However, it's also a longer hike at 1600 stone steps, making it more physically demanding. Here you do not have any ropes to get extra help, and you can use your own hands to climb if you feel you need it. 
Crowds
More popular. Hence, more touristy. 
Great option because it is less traveled than the trail to Huayna Picchu. If you prefer staying away from the crowds, hiking Machu Picchu is the way to go.
Views on the Summit
Admire unique views of the citadel with Machu Picchu Mountain as a backdrop. 
Take in the enclosures, temples, squares, and platforms of the Inca citadel and nearby attractions such as the Putukusi, Huayna Picchu, Salkantay glaciers, and Vilcanota rivers.
Peak
It lacks a flat summit which can be highly upsetting for those scared of heights. 
Flat Peak

Huayna Picchu Trail Photos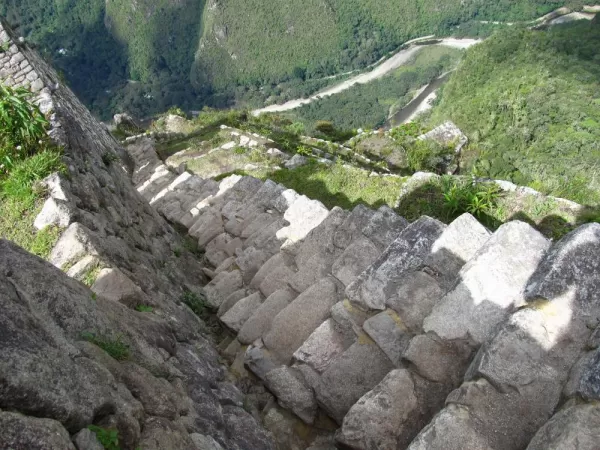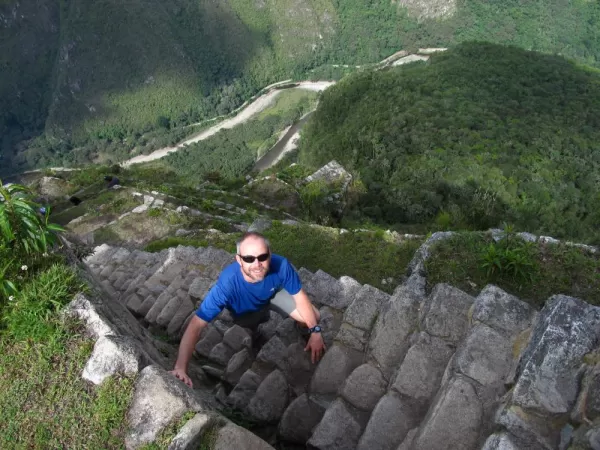 Machu Picchu Trail Photos
.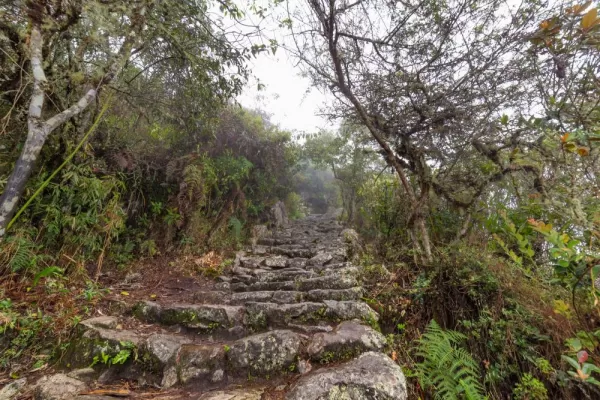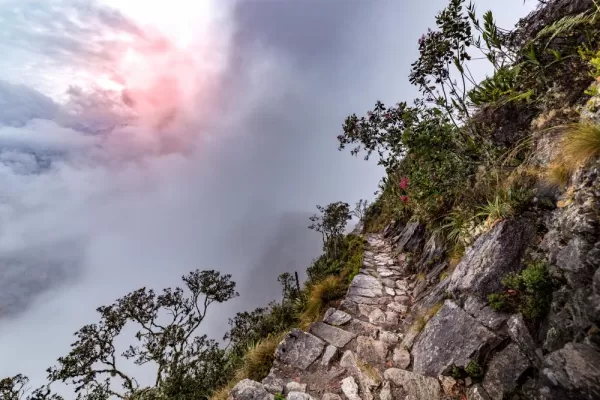 Is It Worth Climbing Huayna Picchu?
The stunning views of the Incas-built temples, platforms, and surroundings make the climb rewarding, despite its difficulty. There is nothing like seeing Machu Picchu from a new angle to broaden your perspective. In Machu Picchu, Huayna Picchu is one of the most popular hiking trails.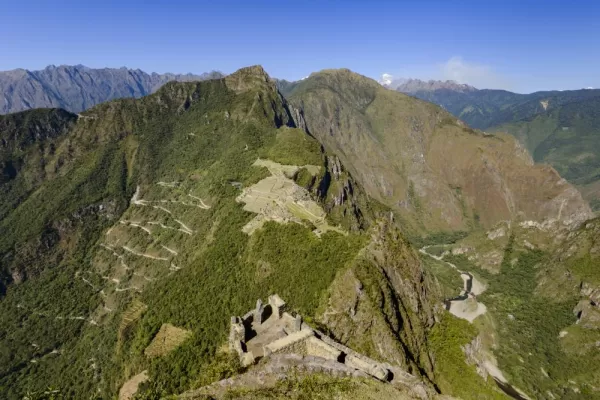 Is Hiking Machu Picchu Mountain Worth It?
The view from the top of Machu Picchu Mountain is better than Huayna Picchu's scenery. Although the climb is somewhat more difficult at 1,600 steps, Machu Picchu summit provides a truly bird's eye view of the ruins and breathtaking views of the surrounding mountains, the ruins below, and Huayna Picchu in the back-drop. Around it is the Urubamba river, the Willkamayu sacred valley, and the Veronica mountain range, part of the sacred tears mountain range. You can also see Salkantay, the second-highest glacier in Cusco.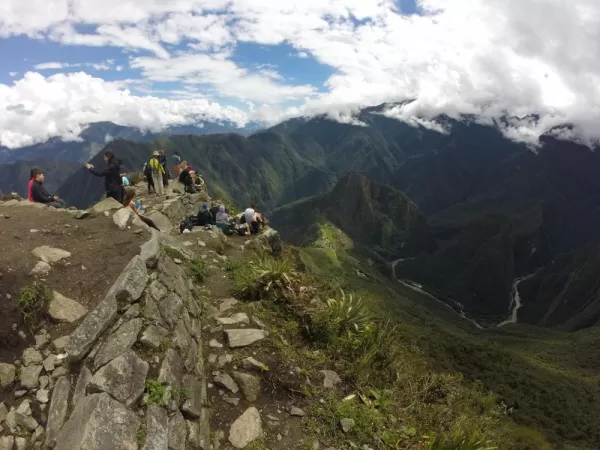 Should I Hike Huayna Picchu or Machu Picchu Mountain?
These
hikes
are both iconic, unique experiences that should not be missed by any traveler visiting Peru. Each trip gives you a different experience, and while they may be similar in price, they will be very different in what they offer. Either way, you can't go wrong—be sure to bring good hiking shoes, keep your load light but don't forget the camera, and let your guide know if you have any special requests. 
Alternative Hiking Options in Machu Picchu:
The Sun Gate does not require any additional permits and is a great way to walk some of the old Inca trails. There are a few narrow but short stairways, but handrails are available to assist. The vegetation and rock formations along the way make this 2-hour round-trip hike enjoyable. Once you are there, the view back to the ruins and Huayna Picchu is fabulous. Visiting the Sun Gate and the Inca Bridge in 2022 is currently not possible.
Huchuy Picchu is Machu Picchu's smallest peak, located just next to Huayna Picchu. It is much smaller, the hike is significantly shorter, and the terrain is not extremely difficult—a newly opened hiking trail in Machu Picchu. 
Contact an Adventure Life Trip Planner
if you need help deciding whether to add the extra hiking permit for Huayna Picchu or Machu Picchu Mountain, trying to decide between the two or an alternative hike.