Peru spans the
Andes Mountains
,
Amazon
rainforest, and the arid Pacific coast, and is a true year-round travel destination with rainfall and average temperatures varying significantly at any point of the year by region and altitude.
Since the vast majority of travelers visit
Machu Picchu
in the Andean highlands,
the best time to visit Peru is during the dry, cooler season from May to November
, with tourism peaks from June-August.
Peru Weather and Climate
The
wet season from December to April
isn't a bad time to visit Peru if you want smaller crowds and some good discounts and promotions, but you will likely encounter frequent afternoon showers and some muddy trails. Of course, the rainfall is also accompanied by greener hillsides and colorful orchids and wildflowers in full bloom.
A good alternative to going to Peru that combines warmer temperatures, small crowds, lower prices, and fewer showers are the
shoulder seasons from April-June and September-November
.
In a country as geographically diverse as Peru, local weather patterns vary greatly, and in fact, it's not uncommon to experience all four seasons in a single day.
The mysterious city of Machu Picchu (Adventure Life)
When to visit the Andean highlands (Machu Picchu, Cusco, Sacred Valley, and the Inca Trail)
From
April to November
, during the dry season in the highlands, is the best time to visit these popular destinations:
Machu Picchu
,
Cusco
, Sacred Valley, and the
Inca Trail
. You can count on little or no rainfall, hours of uninterrupted sunshine, and great views of the jagged Andean peaks of Peru. The rainy season from December to March experiences much more precipitation and temperatures that get downright cold very quickly once the sun sets.
When is the Best Time to Visit Machu Picchu?
April and May
are the best months to visit Machu Picchu. You'll be able to enjoy the green mountains just after the rainy season, and you won't have to deal with the crowds that often come around July and August. May through October are generally clear and dry, but expect cool weather at night!
Machu Picchu Month by Month
January:
The weather in Machu Picchu and the Andean mountains of Cusco is rainy.
Landslides on the Inca Trail may occur during this month, making hiking not advisable.
Temperatures range between 27°C/80°F during the day and 17°C/63°F at night.
February:
Considered the worst time to visit Machu Picchu due to heavy rains and unbearable weather.
The Inca Trail closes for maintenance, and the risks of getting stuck due to landslides are high.
Temperatures range from 28°C/82°F during the day and 18°C/65°F at night.
March:
Recommended for hiking tours, as the rains start to subside, and beautiful views emerge.
Temperatures range between 27°C/81°F during the day and 17°C/64°F at night.
April:
One of the best months to visit Machu Picchu, with warmer weather and fewer crowds.
Ideal for hiking the Inca Trail or alternative treks.
Temperatures range from 22°C/77°F during the day and 14°C/61°F at night.
May:
The arrival of the dry season brings blue skies and breathtaking views.
Festivities in Cusco and traditional Andean religious celebrations take place during this month.
Temperatures can reach high 20s°C/70s°F during the day and drop to 13°C/55°F at night.
June:
The start of the high season with thousands of tourists for winter solstice celebrations.
Temperatures range between 20°C/58°F and 11°C/52°F during the day and can get below freezing at night.
July:
Full swing of winter with blue skies and impressive views.
Crowded with tourists from the Northern Hemisphere during summer vacations.
Temperatures range from 19°C/66°F during the day to 10°C/50°F at night.
August:
Fairly cold with lengthy lines and overcrowding on hiking trails.
Recommended to climb Machu Picchu or choose alternative treks for a quieter experience.
Temperatures range from 20°C/68°F during the day to 12°C/54°F at night.
September:
End of the dry season and beginning of the rainy season.
Fewer crowds and beautiful views before the first rains of the month.
Temperatures range from 21°C/70°F during the day to 12°C/54°F at night.
October:
Considered one of the best months with fewer crowds and silence in the Sanctuary.
Ideal hiking weather with temperatures between 22°C/72°F and 12°C/54°F.
November:
Start of the rainy season with scattered showers and dwindling tourist numbers.
Great photo opportunities of mountains and valleys.
Temperatures range from 24°C/75°F during the day to 13°C/54°F at night.
December:
Weather is touch-and-go with some sunny days amid looming rain clouds.
Fewer crowds on the Inca Trail but increased tourist activity during the holidays.
Temperatures range from 26°C/79°F during the day to 16°C/61°F at night.
Plan your visit to Machu Picchu based on your preferences for weather, crowds, and festivities, and be prepared for varying weather conditions throughout the year.
Machu Picchu Weather Table
| | | | |
| --- | --- | --- | --- |
| MONTH | MIN °C / °F | MAX °C / °F | RAIN mm /inches |
| JAN | 13 / 55.4 | 24 / 75.2 | 138 / 5.43 |
| FEB | 13 / 55.4 | 25 / 77.0 | 141 / 5.55 |
| MAR | 13 / 55.4 | 25 / 77.0 | 151 / 5.94 |
| APR | 12 / 53.6 | 25 / 77.0 | 62 / 2.44 |
| MAY | 11 / 51.8 | 25 / 77.0 | 23 / 0.91 |
| JUN | 9 / 48.2 | 25 / 77.0 | 17 / 0.67 |
| JUL | 9 / 48.2 | 25 / 77.0 | 22 / 0.87 |
| AUG | 10 / 50.0 | 25 / 77.0 | 24 / 0.94 |
| SEP | 11 / 51.8 | 26 / 78.8 | 44 / 1.73 |
| OCT | 12 / 53.6 | 26 / 78.8 | 75 / 2.95 |
| NOV | 13 / 55.4 | 26 / 78.8 | 86 / 3.39 |
| DEC | 13 / 55.4 | 26 / 78.8 | 121 / 4.76 |
Best Time to Hike Machu Picchu
May, June, or July are the best months for hiking in Machu Picchu. During these months, chances of rain are few, and also there will be less rain on top of the mountains making it easier for visitors wanting to hike the trails leading up to either Machu Picchu Mountain or Huayna Picchu. But if you go during February, which is part of their rainy season, it can be dangerous and scary inside some of the narrow paths because they get really slippery!
The best time to hike up those trails is in the early morning when the fog has not yet settled in. There will be less crowding at that time in the Inca citadel as well, giving you an amazing view of the city and distant mountains without other people around! The people visiting Machu Picchu on this schedule are those that spent overnight in Aguas Calientes, as well as hikers from the Inca Trail, Salkantay, and Lares, as well as other trekking trips.
When to Go on a Sacred Valley Tour
Although the busiest, the best time to visit the Sacred Valley is during their
dry season, in June and July
. The weather will be warm during this time, but not too hot, so it's a good time for adventuring! You'll love exploring all the different places in the Sacred Valley, from markets filled with fresh food from local farmers to beautiful mountains that are perfect for hiking or biking.
Pre-peak season months might also be great times to visit. April, May, September, and October are pleasant before the rains return. From October to March, travelers can brave Mother Nature's fury but expect frequent rains that turn Cusco and Machu Picchu into ghost towns. Destruction of infrastructure is expected.
Trek through the Amazon (Valeria Blanc)


When to Visit the Amazon jungle
While humidity in the rainforest is high all year, the
dry season (May to September)
is the best time to visit the Amazon, and temperatures can get as high as 32º C (the high 80s/ low 90s F). The rainy season, from October to April, is characterized by consistent daily rains and cooler nights, making it a less desirable time to visit this part of the country, but it is a rainforest, after all.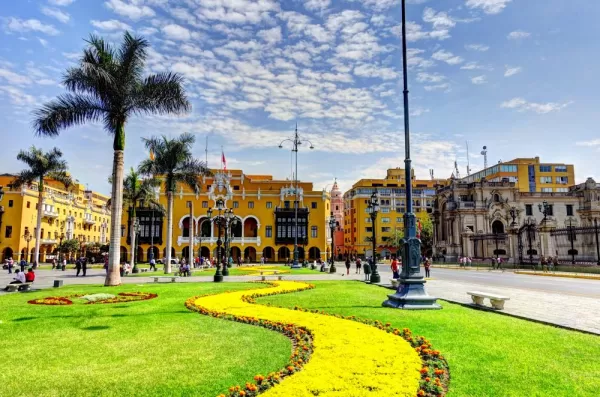 When to Visit the Pacific Coast & Lima
The Pacific coast of Peru, the longest in the world, is arid and cool. The best time to visit is between
January and March
when the water is warm and the skies are clear. Peruvians go to the beach at this time. It's a great season for swimming in the cool waters of the Pacific. Even during this warmer season, though, note that the chilly Antarctic Humboldt Current runs right along the entire Peruvian coast all year round.
From April through December, a misty gray fog called "garua" moves in, and it can be difficult to see the sun. At this time of year, if you're planning on swimming along the coast, you'll need to bring a wetsuit because it will be very cold in the ocean.