We had a very strange international flight schedule to get to Belize. After a flight that departed around 2:00 AM we arrived in Belize City at 6:30 AM. Our guide picked us up at the airport and brought us to Pook's Hill Lodge. Since we got there so early and knew we would be pretty tired from traveling all night we decided not to book any excursions on our first day. After a much needed nap, we took a map of the lodge's trails and set out to explore on our own. It only took a few minutes to realize we had made one pretty important mistake. We forgot to apply bug spray and the mosquitos were trying to eat us alive. Still we walked on determined to explore the trails. Then, all of a sudden, we heard a rustling on the jungle floor to our left. I froze and assumed it was some terrible animal that was going to finish off what the mosquitos had started. Nick peered into a gap between the trees and saw a cute little armadillo who had stopped when he heard us.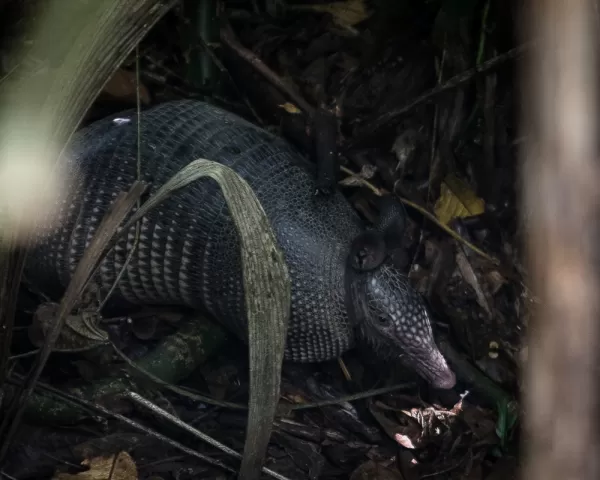 Both of us had only ever seen armadillos in the zoo so we were pretty excited and decided to try and get a few pictures. After that sighting we made sure to keep our eyes open for other jungle creatures and to our delight we were able to spot what we referred to as a jungle raccoon as it casually strolled across the trail in front of us. Once we got back to the Pook's lounge we were able to look up the animal in a book of Belizean animals and discovered that what we had seen was a white nosed coati. Over the next few days in the jungle we were able to see many animals. We saw a howler monkey carrying a baby on her back, tons of colorful birds, and an agouti (which looked like a cross between a guinea pig and a rabbit).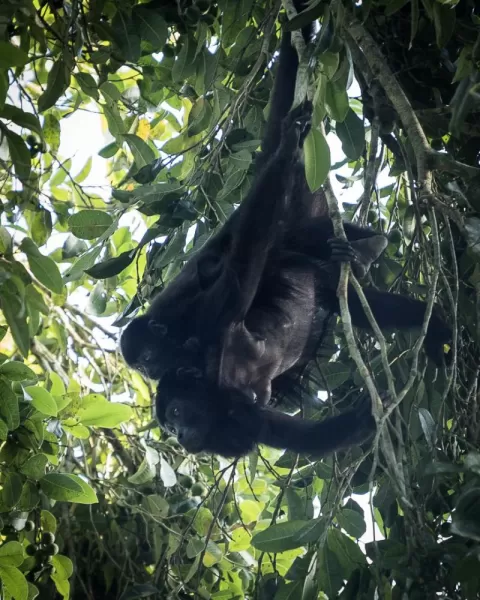 Although it was fun to experience such close encounters with these animals, our favorite animal was a stray dog we found on the beach at Ramon's Village. When we got to Ambergris Caye we noticed pretty quickly that there are a few stray dogs running around. Both Nick and I love dogs so when a particularly friendly one wandered up to us once we had finished dinner we were delighted. We spent much of the next few days with Derek (as we decided to name him). He came and went as he pleased and was always happy to see us when we came back from our excursions. If you ever go to Ramon's Village make sure you say hi to Derek for us. He lives under one of the beachfront cabanas and will greet you with a smile.