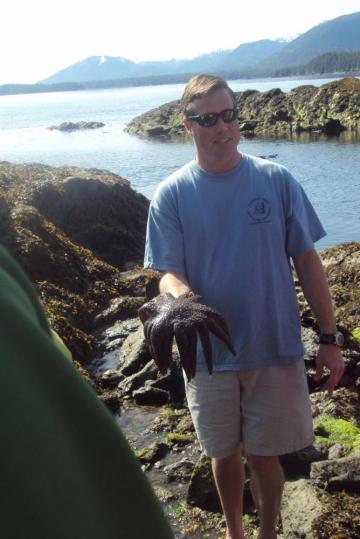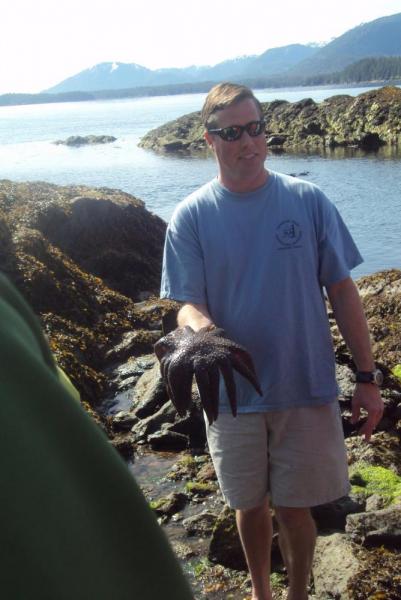 Today we dock in the small port town of Klawok. Here we meet the mayor of the town Leslie. He takes us on a tour of the town. This small port town is know for its Totem Poles.
We walk through town until we reach a shop where Jon runs the Totem pole program. They are working on replacing the 8 or so Totem poles in the center of town. Each pole takes approximately 3-4 months. Careful emphasis is placed on the pole that will be uses as well as the story that is told with the poles unique carvings.
The program is run in conjunction with the local high school. The high school students must apply to be a carver and it is a great honor to be selected. But it is not a job taken lightly. In the summer, the students are required to start work at 6 AM. The idea is to provide the students with discipline which they then can carry on with them later in life.
This afternoon, we are off on our overnight adventure. We meet our adventure guide Patti who is a complete treat. She use to live about 45 minutes from where I know live in Montana so it is nice to speak with a local.
We will head out for our 7 mile kayaking adventure. All of our camping gear, food and clothing is loaded into dry bags and placed inside the front and backs of the kayaks.
The rest of the afternoon is spent kayaking to our camping destination. Because my kayak partner is a renowned photographer, we stop often for him to take pictures.
Today is the first day that I hear my first whale blow and I am in awe. We paddle as fast as we can to where we thought we heard the sound with the hopes of catching a glance of these enormous beasts. To our disappointment, we don't see them (and now we have to kayak back to the group).
We land at a small island in the middle of nowhere to make camp. After tethering our kayaks and finding a place to set up our tents, it is time for some rest and relaxation. Pattie quickly get the fire going and places some stew on the fire. It is the best thing I have ever tasted and so toasty warm. We even have small seats to sit on and some wine!
I wish I could say I slept like a baby but to the contrary. I was initially prepared to not get sleep because of the cold. That was not the case however as I stayed nice and warm.
It was actually the whale tales slapping the water in the dark and the animal screeching on the beach. Pattie thinks the animal was possibly mink mating...I thought it was something being eaten with the horrific sounds it made.
But what an experience to camp in Alaska!