Cruising down the Canadian Coast - August 30
This morning we heard first mate Katie's voice over the loudspeaker. "Well folks, if you're not looking out your window or on deck. . . you should be!  This boat is blessed with some amazing wildlife karma."  We pulled on coats and shoes to race out our cabin door onto the deck and discover humpback whales cruising along the coastline beside us.  We continue to watch from a safe distance until the whale's curiosity grew and they swam in tandem over to the SS Legacy.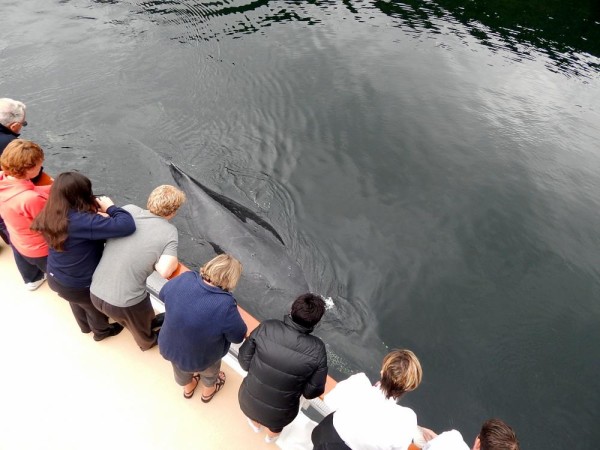 This was one of the most awe-inspiring moments of my life was watching the whales as they examined our ship.  The entire crew came on deck, including the cook and housekeeping staff that we had not seen yet.  So we knew this was something special.  The giant beautiful beasts glided and swam alongside us, turning their eyes up to the surface to examine the strange creatures looking down on them.  We were close enough to see every barnacle and line on their bodies.  It brought tears to my eyes when one surfaced, tipped to her side, and stared directly at me on the deck.  What magnificent creatures!  They spent about five minutes diving under and around our ship as we raced from side to side, trying to capture that elusive photo of the moment that cannot be put into words.
Then the pair dove under the ship and swam away to the shores beside us.  In the distance, we heard a great slap! on the water.  We turned to discover another humpback who was breaching the water in great grandeur.  Our naturalist explained that this behavior is as of yet unexplained completely by scientists.  Some think that it is for fun, some say it is to clean barnacles from the whale's sides, others say it is to send signals up and down the coast from group to group.  We simply enjoyed the spectacle from nature and applauded her beauty.