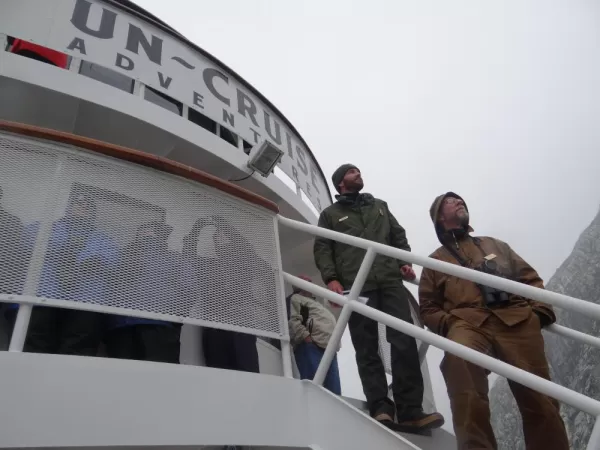 In the wee dark hours of the morning we picked up Ranger Brad from the entrance of Glacier Bay National Park.  Every vessel that comes into the park must have a ranger onboard.  We lucked out with Ranger Brad who is a wealth of knowledge on the glaciology and wildlife biology of the region.  It is astounding that just 250 year ago Glacier Bay was all glacier and no bay.  The water we cruise along was solid ice with not much life in sight. 
We begin in the park by heading down the bay to Johns Hopkins Glacier. One thing we notice first off is the drop in temperature.  As we approach, we see one of the giant cruise ships at the base of the glacier.  They motor into the bay, turn a 180 for everyone to take a quick snapshot from their window and head back out of the park.  We thank our lucky stars that we're not on that floating city.  The peacefulness that sets in after the ship has left is wonderful.  The tiny black dots in the distance begin to materialize as harbor seals.  They lounge on their icebergs and occasionally slide off into the water and reappear with a curious look on their faces.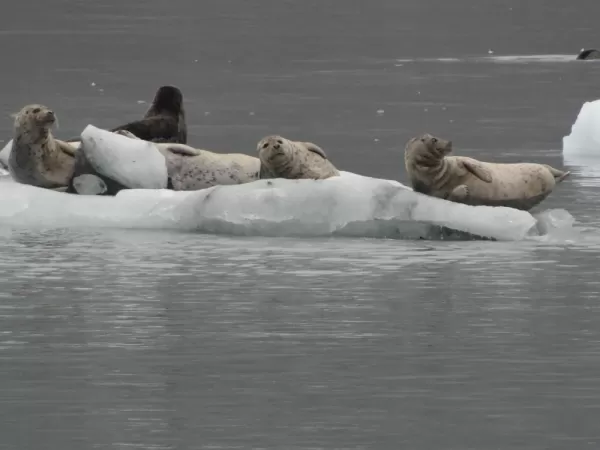 We get within a half mile of the glacier - the distance that is allowed unless you want to capsize in wave made from the glacier calving.  The crackle and pop reminds you how active it is as it turns and churns internally.  Ranger Brad describes it as dough being kneaded.  The glacier doesn't just flow down the mountain into the water, it swirls and mixes the sediments making beautiful designs in the mountain cliffs on either side.  The question and hope on everyone's minds is that we'll see it calving.  Yes!  The glacier does not disappoint its spectators!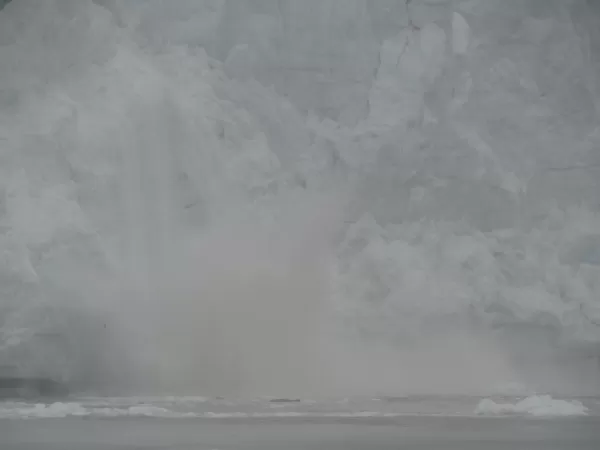 We watched as the tidal wave streamed out over the water and finally hits the SS Legacy rocking us back and forth.  You feel very small in the world next to a glacier and it put things in perspective.  We replay these images in our minds and on our cameras as we continued back down Glacier Bay.