This morning on our schedule we have a visit to Skagway and Haines.  We began the morning disembarking in Skagway which was the gateway to the Gold Rish back in the 1800s.  It was a bit like stepping back in time in this quaint little town.  We were met at the docks by our drivers and guides in their supped up 1800s vans.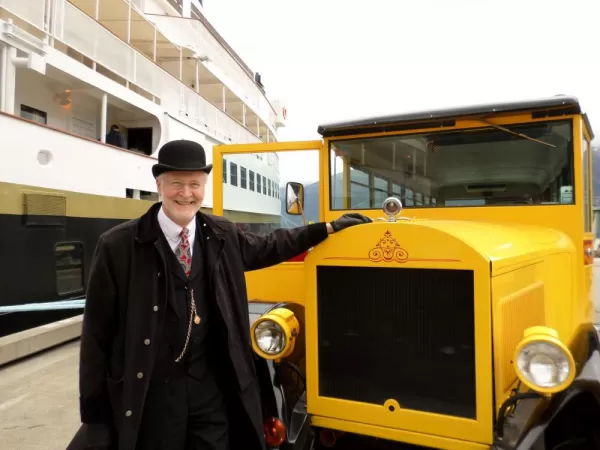 The tour through Skagway was quick and interesting to see Sarah Palin's original home while growing up.  Our guide had a great sense of humor about being a woman in Alaska.  She had just saved up enough to get her own fourwheeler for running into town or down to the local bar.  She joked about the dating scene in Skagway for women say, "The odds are good, but the goods are odd."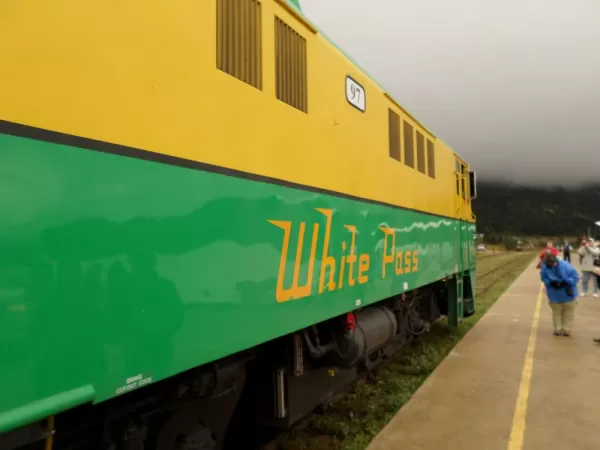 Next we hopped into large bus and headed up the pass with another guide and driver to catch the train back down to Skagway.  You actually cross into Canada for a brief jaunt while you're at the top of the White Pass.  It's all tourists for the most part and we took a moment to dash into the only building at the station to stamp our passports.  Then we were off down the mountain on the Yukon Rail.  You can go outside if you choose to on the back of the train car.  It was freezing in the wind but a great opportunity to take some photos as we descended along the valley back to Skagway.  The way back to town we descended nearly 3000 feet down along trestles, bridges and tunnels.  They have the conductor announcing the history of the White Pass and Yukon Rail as you go down.  It was interesting but I kept being distracting by the landscape and running outside to catch another photo of the experience.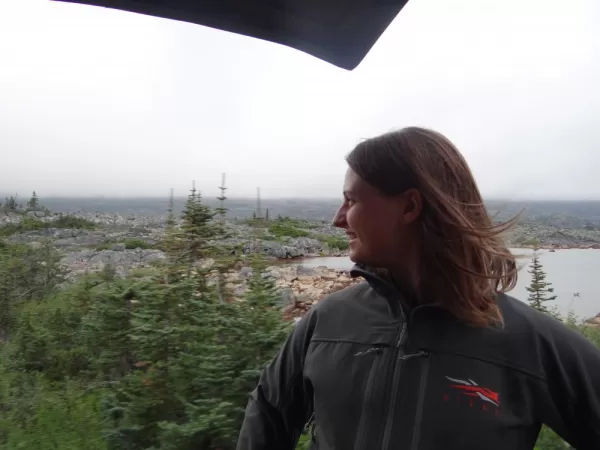 After our Skagway experience, we climbed back on board and cruised onward to Haines.  We spent the afternoon walking around Haines and learning about the Chilkat Indians.  The common buildings in the town were beautifully decorated with native art.  The entire town was very walkable and we took moments looking at the native artwork on canoes and woodcarvings in front lawns of the homes.  Our last stop was to the Hammer Museum.  Apparently they hold the world's largest collection of hammer's.  They recently had another visit from the Smithsonian.  The expert had requested the help of the shop owner to detail the history and use of a new piece being displayed.  You could see the owner's chest puff in pride as they explained how they have helped out much larger and well-funded organizations in the past.