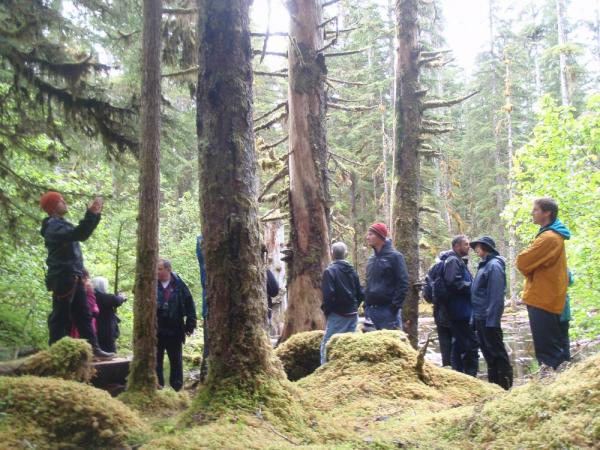 We motor back out of Glacier Bay and anchor near Elfin Cove. This morning they offer a short kayak, hikes and a dib boat ride along with a long "bushwack challenge" hike on game trails and then a long kayak to nearby islands. Jens and I choose the long paddle and set out after breakfast with all the other youngins on the boat (8 total I'd say under age 40). We head to circle around Shaw Island, and as we do, we spot porpoises all around us in the water. They come up all around and get within 10 feet of our boats, clearing their blowholes and re-submerging. We see out in the channel a ways a group of sea otters floating on their back with the current. Next we continue paddling to see a huge bald eagle circling around the cove. He has a wing span of about 6 ft – and must be a female due to its big size. Off to our right is a small shallow bay are in front of a small island where a whole group of sea lions are hanging out in the water. One of our kayaks starts to approach and they swim up to it and splash around as if to say "Back off our piece of water". So we do, next out in the open channel, we spot orcas a bit off. They are likely 1-2 miles away so we can't paddle to them, but we can see them very well with our binoculars as well as hear them clearing their blowholes and making sounds. One of our dib boats drove out with people on board and they all got within 100 feet of this pod of about 20 whales. On our way back, we spot some humpbacks breaching and jumping about two miles off as well. What a full kayak it was!
Upon reboarding the vessel Jens asks about grabbing out a paddle board. They show him briefly how to do it and he takes off. Staying close to the boat in case he tips and has to swim back. As he paddles off to do a loop around the vessel, a humpback surfaces about 100 feet in front of him. Now! Don't ride them Jens – its not allowed.
After seafood chowder for lunch, he boat got underway and heads first out towards the open ocean, but next to a spot where a lot of currents and nutrients come together and make for great humpback spotting opportunities. This is in Icy Strait near Point Adolphus. We spot multiple groups of humpbacks feeding together and catch many photos of them taling and makings their dives. Jens and I decide to get in the hot tub to watch for more as we sail onour way South. What a great whale-spotting Day!