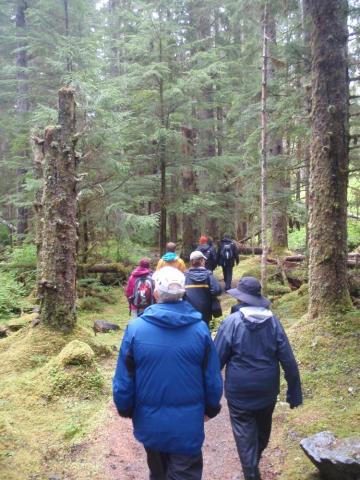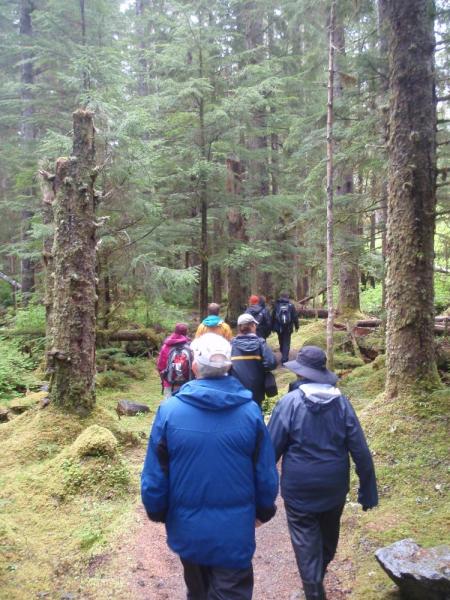 This morning we woke up motoring to Endicott Arm to kayak around Dawes Glacier, but the wind and ice conditions made it too difficult to do, so they turned the boat around and headed back down the arm to Ford's Terror. Ford's Terror is a tiny inlet that creates a tidal bore when tides come in and out. The expanse in the back of the inlet is almost a mile wide, but the water has to pass through a narrow few hundred feet wide space to get in and out with the tides. This can create a wall of water as tides come in that literally suck a kayaker into it and won't let you out until the tides changes. We paddled into the back of it past huge high steep rocky cliffs and past gorgeous cascading waterfalls. We also paddled around some icebergs floating in the arm.
After a good paddle everyone loaded back up. The winds had died down and the water was calmer, so we head back up the arm towards the glacier. As we putt along, the water is increasingly turning the turquoise blue for glacier water, and we see stark blue icebergs floating in the water. Occasionally we see seals and seal pups floating on the ice as well as this is a common place for them to calve. We next load into the dib boats and make our way another 5 miles in the ice fields and past a lot of icebergs up to the glacier. It looks very close but the longer we o in the boat, the more we realize how very far away it is After 30 minutes, we approach to within ¼ mile of the glacier. We all wait, watching, without a word for it to calve. We see small pieces fall at first. You can here the splash and thunderous echo to follow as it crashes down and then see the new blue ice it exposed. We see a chunk over 100 ft tall fall into the water with a huge crash. We wait for a few more minutes and then get to see a whole chunk – the entire height of the glacier which is almost 300 ft high, fall down. The crack and boom is tremendous and it creates a massive small swell that reaches our boat within minutes. We turn around for the thirty minute boat ride back to the vessel, please that we were so lucky to see such a display.
This evening, we have he captain's dinner of crab and steak, along with some flaming baked Alaska before the send off. The crew put together a slide show of pictures for us that they gave us on a memory stick, and we shared a thank you farewell song, thanking the crew. We returned to our cabins for the last time.