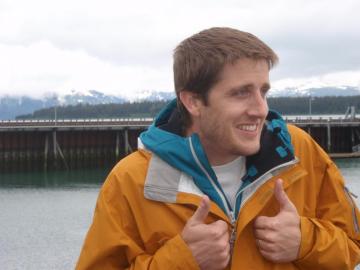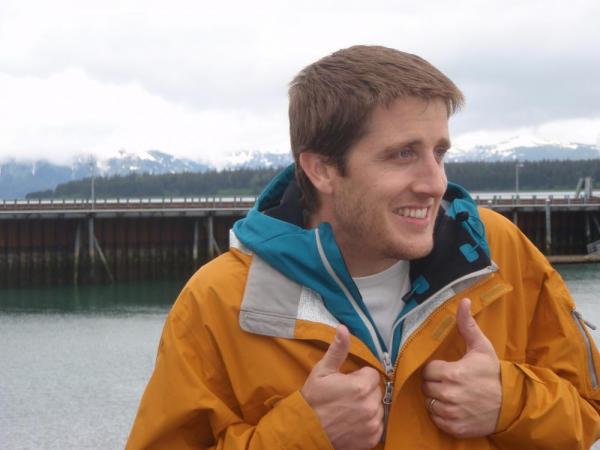 This morning we woke up even earlier at 7 AM to get a jump start on the day. After a hearty breakfast we broke off into our assigned groups (we had signed up for activities the day before). Jens and I were in the first kayaking group. We headed to the aft deck to get our gear and then board our tandem sea kayak. We sit in the kayaks on the aft deck, get our skirts in place and paddles in hand, and then they push us off into the water. It was a cinch to do. The weather this morning was gorgeous with blue skies and calm turquoise water from the glacial ice. We motored overnight close to the John Hopkins Glacier (which is advancing) and the Reid glacier which is retreating. We paddle about fifteen minutes to reach the opening of the Reid Glacier. It looks very close and as though we will reach it within ten minutes, but the longer we paddle, the longer it gets and still seems just as far away! The sound in the U shaped fjord carved out by his massive ice floe has tons of waterfalls flowing on its walls – making a background rushing water music that gets louder as you approach one side of the valley. The Reid Glacier is about ½ mile wide and you can see the blue ice face in parts where it has recently calved. As we paddle, we see lots of various birds, bitty bergs, floating around as well as a couple of harbor seals that seem to enjoy following us as we paddle along. What a gorgeous morning. Being in places like these that make me feel so small , as the scenery is so immensely enormous and yet is just one small fraction of a portion of the entire park size on the map. Which again, is just one small piece of land in reference to the entire world.
We return to the boat for a brief rest time before our next activity, the zip boat ride along the shore. We drive a ways while our guide keeps a look out for bears on shore, eagles, and other wildlife. Sadly, all the brown bears are sleeping as we scan the mountains and tidal beach areas, but we do get to see a bald eagle perched on a rock. As we approach closer, he spans his almost 6" span and flies off to avoid us. We return after an hour and then prepare for a nice Thai chicken early lunch. After lunch I head off to receive my complimentary massage. I am completely relaxed and peaceful as I get my sore shoulder muscles loosened. Now for an afternoon of relaxation We asked about possibly taking the paddle boards out and the park ranger is going to check on the permits for that. Jens is up top biking on the sun deck to get a workout in, and its still only Day 2! Love it!
We send the rest of the day reading, playing backgammon and chatting with others before a wonderful and creative presentation in the evening about the history of Glacier Bay Park, including seeing old photos comparing with new photos the changes the glaciers have made over that past decades.