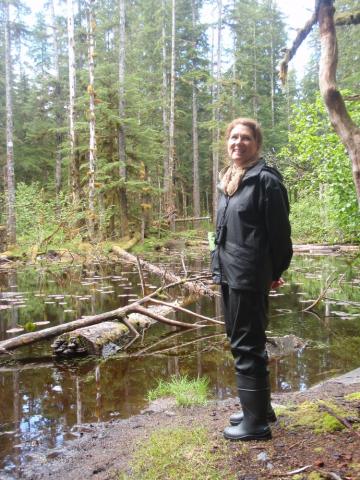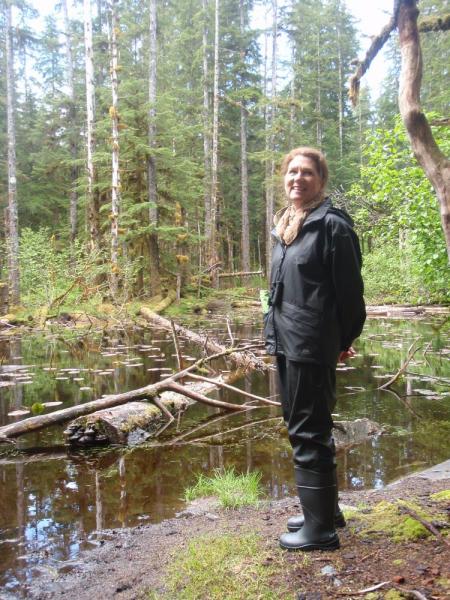 This morning we woke up in Thomas Bay, located just north of Wrangell and Petersburg. Here we dropped anchor for the whole day for some kayaking and hiking opportunities. In the morning Jens and I went out on the kayak again across the way to Ruth Island. The water was again extremely calm and the weather even a bit sunny. We spot some birds and harbor seals and saw some amazing layers in the rocky cliffs during our 2 hour paddle.
We returned to the boat and then got out the paddleboards again. This time a lot of people decided to try it! I was able to get on and paddle around for about ten minutes until I decided to come back in. Jens stayed out for almost an hour with another passenger attempting to pop wheelies on them. It was fun to watch. One of our older passengers, Bob, even got on it and managed to stand up too.
After lunch we got ready for a more challenging hike they were offering. They offered also a leisurely stroll and then a longer flat hike option along Patterson River, but we opted for the more challenging choice. We were climbing up and over rocks and roots along a gorgeous waterfall creek bed. The forest was spectacular! Everyone in our group of 10 kept great pace and we had a great time on the three hour hike and even spotted a porcupine! When we returned to the ship we heard that other travelers spotted a baby moose on their dib boat excursion too! After a soak in the hot tub, we decide to head back downstairs for cocktail hour before diner.