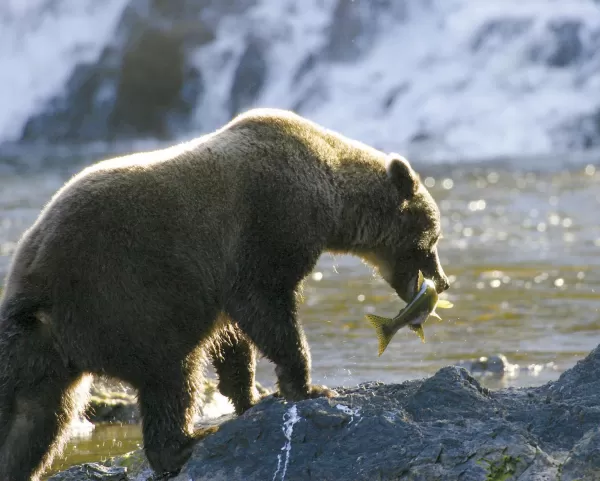 Bald eagles, humpback whales, grizzly bears, moose & caribou, otters, and thousands of land and sea birds are among the iconic wildlife at the heart of any Alaskan expedition.
Bears
Grizzly bears: Nearly 98 percent of the country's grizzly bears live in Alaska, especially along the Gulf of Alaska and in the southwestern region, where they can catch salmon. The Kodiak archipelago hosts the endemic grizzly sub-species of Kodiak bears, which are the largest in the world, weighing in at 1,500 pounds.
Black bears:Black bears, ranging in colors from blue-black, cinnamon brown, and even a rare creamy white, are usually spotted inland, in forested areas.
Polar bears: These elusive bears might be spotted if your cruise ventures into the sea ice of the Arctic region.
Moose & Caribou
Moose - weighing up to 1,600 pounds - and caribou (reindeer) can be spotted throughout Alaska (except in the extreme north) and have even been seen wandering within the city limits and along highways & railways. A great place to see moose and caribou in Alaska is in the Kenai National Wildlife Refuge or in the numerous other parks and reserves throughout Alaska.
Whales
Humpback whales spend the summer feeding on the nutrient rich waters in the Gulf of Alaska, and are found throughout the Inside Passage, in Glacier Bay, Prince William Sound and around the waters of Kodiak Islands.
The distinctive black and white orcas and also commonly spotted in large groups in Southeast Alaska.
Smaller belugas are found in Cook Inlet and the Turnagain Arm near Anchorage, while bowhead whales feed in Alaska's icy Arctic waters in the northern region of the state.
Other Marine Mammals
Sea otters are a universal favorite for their playful manner and curious personality. Adult sea otters reach roughly 4.5 feet, and are frequently seen in kelp beds and along the coasts of Prince William Sound.
A variety of seals including the Steller fur seal and Harbor seal are also very common on Alaskan coasts.
The walrus is another staple marine mammal in Alaska. These huge animals can weigh 2 tons. Both males and females grow the distinctive tusks, which they use for fighting and maneuvering their massive bodies out of the water. Walruses typically follow the sea ice, seasonally migrating northward in the summer months.
Birds
Thousands of birds nest, breed, migrate and inhabit Alaska's coasts, prairies and mountains:
Bald eagles circle the coasts and streams where the salmon are abundant, while golden eagles search for small rodents in Denali National Park.
Other popular birds are Alaska's loons, owls, swans, and puffins
The state bird is the ptarmigan, which has the curious ability to change white in the winter and brown in the summer months.
How to see the wildlife
Since wildlife exploration is at the heart of almost all of our Alaska itineraries, each cruise and expedition offers unique ways to safely observe the majestic creatures that inhabit the untouched swaths of land that define Alaska, including:
Zodiac and kayak excursions give access to more remote areas by twisting through a labyrinth of glaciers, icebergs, fjords and rivers.
Hiking and interpretive walks are great ways to explore the national parks, and all itineraries feature guided tours, while many land-based excursions also offer opportunities to explore the local trails on your own.
Coldwater snorkeling is even offered on a few itineraries as a great way to get up close to the Alaskan marine life.
Board a charter boat for deep sea fishing and an opportunity to see the marine life.
Notable Wildlife Reserves & National Parks
No matter where your Alaska expedition takes you, you will definitely encounter an array of the majestic wildlife that trademarks the largest of the United States. Here are some of the best places to spot wildlife:
Denali National Park: a pristine six-million acre wildlife sanctuary where you might come across grizzly and black bears, wolves, caribou, moose and Dall's sheep.
Tongass National Forest: The 17-million acre forest hosts black & brown bears, wolves, bald eagles, Sitka black-tailed deer, moose, humpback whales, orcas, sea otters, marten, mink, Steller sea lions, and all five species of Pacific salmon.
Glacier Bay National Park: This park just about has it all, including several species of bear, moose, sea lions & seals, a mix of seabirds and small mammals, and several easily spotted species of whales.
Tracy Arm/ Frederick Sound: Brown and black bears, mountain goats, wolves, a few Sitka black-tailed deer, and other smaller mammals can be seen on land, while whales, sea lions, and harbor seals are common sights off shore.
Ketchikan: Known as the "salmon capital of the world," the abundant salmon that populate the streams & rivers outside of Alaska's southernmost city attract hungry grizzly bears.
Misty Fjords National Monument: This is a haven for mountain goats and Sitka deer.
Kenai National Wildlife Refuge: Moose, eagles, brown and black bears, lynx, wolves, and trumpeter swans are just a few of the iconic wildlife that can be found here.
Katmai National Park: Here you'll find the largest concentration of brown bears in the world.