A comprehensive expedition of extremes, you can't find a more complete Antarctic experience than this! Venture to the wildlife paradise of the remote Cape Horn. Diversity and discovery are the hallmarks of this voyage, which offers pristine landscapes and unprecedented wildlife viewing opportunities. Your once-in-a-lifetime experience ends with a visit to Buenos Aires, the Paris of South America.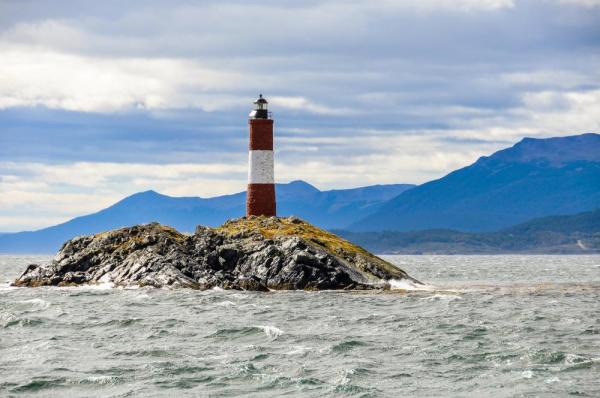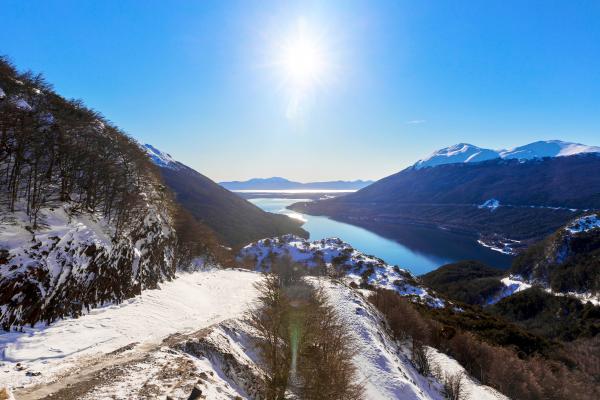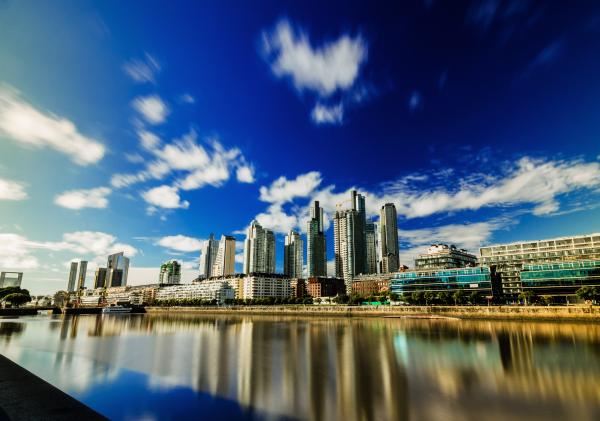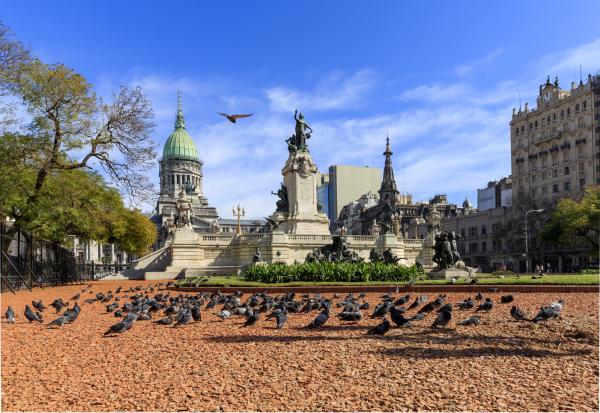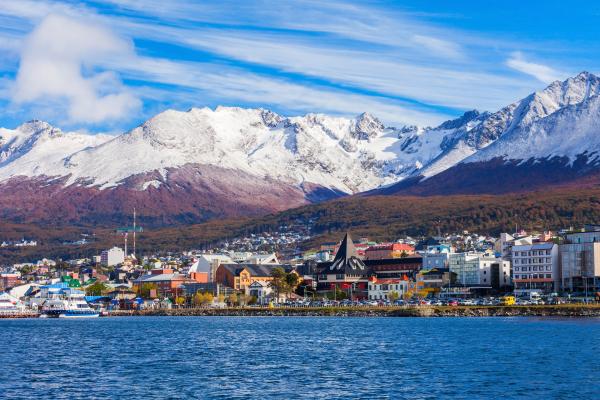 Hop on Zodiacs for outings and shore visits
Look out for whales and sea birds at Puerto Madryn
Observe resident and migrating wildlife on shore and from the ship
Experience some of the most remote and pristine wilderness areas on Earth
Andes Mountains
Garibaldi Glacier
Patagonia Fjord
Port of Ushuaia
Puerto Deseado
Tierra del Fuego
Full Itinerary
Expand All
Day 1: Ushuaia, Argentina | Embark
In the far southern reaches of Patagonia, you'll find the port of Ushuaia clinging to what seems to be the very edge of the Earth, a magnificent region known as Tierra del Fuego. With the striking Martial Mountains looming to the north and the picturesque Beagle Channel to the south, Ushuaia rewards intrepid visitors with stunning panoramas as far as the eye can see. Discover a lively Gentoo and Magellanic penguin rookery on Martillo Island or hike through the subantarctic forest of Tierra del Fuego National Park, an immensely scenic landscape of rushing rivers, glassy lakes and snow-capped peaks. Gain a terrific overview of the area by riding the historic Southern Fuegian Railway, sometimes referred to as "The Train of the End of the World," and pause at lovely Lapataia Bay for a memorable photograph of the iconic sign indicating the Pan-American Highway's southern terminus. In the evening, dine on some of the region's superlative seafood, and if you've still got energy, pop into a local bar to hear the fascinating tales of fearless travelers just returned from forbidding Antarctica.
Day 2: Cape Horn
1 Breakfast, 1 Lunch, 1 Dinner
Reenact one of the greatest achievements of the Age of Exploration by rounding legendary Cape Horn, the arresting headland marking the southernmost point of Chile's Tierra del Fuego and a place once believed to mark the true end of the world. Jutting forbiddingly from Isla Hornos, the cape is distinguished by precipitous bluffs draped with wind-whipped vegetation. Look to the air for sightings of southern giant petrels, red-legged cormorants and southern royal albatross, regal seabirds equipped to handle the sometimes harsh conditions. Should weather permit, relish an opportunity to alight on Isla Hornos. Although trees cannot flourish at this latitude, you'll learn that abundant rainfall contributes to a lush terrain of grasses, mosses and lichens that swathe the landscape in shades of green, ochre and burnt sienna. Follow a boardwalk to the memorial dedicated to sailors who have perished in these waters, a splendid steel sculpture that features the silhouette of an albatross, and take a truly memorable photograph beside the world's southernmost lighthouse.
Day 3: Garibaldi Glaciers
Day 4: Admiralty Sound
Day 5: Punta Arenas, Chile
1 Breakfast, 1 Lunch, 1 Dinner
Located on the legendary Strait of Magellan, this far-flung city reveals many unexpected pleasures. In Plaza Muñoz Gamero, you'll be surrounded by stately mansions that wouldn't seem out of place in Paris, Budapest or Madrid. Anchoring the square is a regal statue of Magellan himself, looking off into the distance in a suitably heroic manner. Immerse yourself in the region's tumultuous seafaring history at the Naval and Maritime Museum, where fascinating exhibits include artifacts from the 1916 Chilean rescue of Sir Ernest Shackleton's crew, who were stranded on Antarctica. Wander among a colony of Magellanic penguins on Magdalena Island, an intimate encounter with nature you won't soon forget. And for the true adventurer in you, the Torres del Paine National Park offers spectacular vistas of pristine azure lakes surrounded by jagged peaks that slice the sky, an area declared a UNESCO Biosphere Reserve you can reach via an immensely scenic flight over Chilean Patagonia. Whether absorbing the enchanting ambiance of the city or venturing out into the untamed wilderness, your sense of wonder will be awakened by your time in Punta Arenas.
Day 6: At Sea
Day 7: Puerto Deseado, Argentina
1 Breakfast, 1 Lunch, 1 Dinner
Retread the steps of Charles Darwin in Puerto Deseado, Spanish name of a settlement christened as Port Desire in 1586 by the privateer Sir Thomas Cavendish, whose ship bore the same name. Much like Darwin, you can navigate inland along the Ría Deseado, a winding waterway lined with dramatic, seemingly barren ravines. You'll find the opposite is true, as a spectacular variety of wildlife thrives here, including Magellanic penguins, sea lions, red-legged cormorants and sprightly Commerson's dolphins, which are distinguished by their unexpected black and white coloration. Offshore, sail to austerely beautiful Penguin Island, home to rockhopper penguins renowned for their yellow-feather crests, making them particularly photogenic. View the colossal remains of fossilized monkey puzzle trees and other ancient conifers at the Jaramillo Petrified Forest National Park, a monumental site dating to the Jurassic period. Back in town, train lovers will delight in the Pioneer Railway Station, a wonderfully maintained facility over a century old that pays homage to the golden age of rail travel. You'll surely marvel that distant Puerto Deseado holds so many splendid treasures.
Day 8: Exploration Day
Day 9: Puerto Madryn, Argentina
1 Breakfast, 1 Lunch, 1 Dinner
The perfect embodiment of Patagonia's adventurous spirit, Puerto Madryn lies in a protected gulf teeming with marine wildlife. In the waters off the nearby Valdes Peninsula, a UNESCO World Heritage site, southern right whales converge yearly during breeding season, a magnificent natural spectacle with few equals. Along the coastline, you'll find a dazzling variety of sea birds flying above one of the world's largest colonies of elephant seals. And if you need a bite, take a break in nearby Puerto Pirámides, a minuscule hamlet with several eateries and a laid-back vibe. For a once-in-a-lifetime experience, seize an extraordinary opportunity to snorkel among lithe and docile sea lions, who will cavort around you in an improvised aquatic dance. More enchanting creatures await at Punta Tombo, the most important Magellanic penguin rookery in Patagonia. One of the area's most surprising attractions is the town of Gaiman, which has retained the Welsh culture of the 19th-century colonists who settled the area. At an authentic tea house surrounded by English gardens, snack on scrumptious cakes and let yourself be transported to the distant British Isles.
Day 10-11: At Sea
2 Breakfasts, 2 Lunches, 2 Dinners
Day 12: Buenos Aires, Argentina | Disembark
Few cities in South America can convincingly pass for a European capital, but elegant Buenos Aires certainly fits the bill. With a generous dash of Latin American spirit thrown in, you'll find the city is a perfect blend of the Old and New Worlds.
Dates & Prices


Select a Date
Discovery Suites
312 ft². Located on Deck 4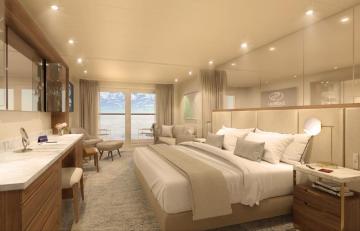 Select a Date
Journey Suites Deck 5
323 ft².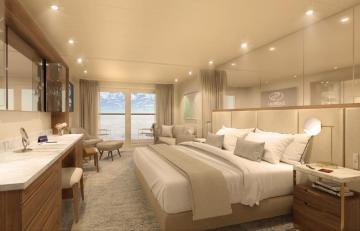 Select a Date
Journey Suites Deck 6
323 ft².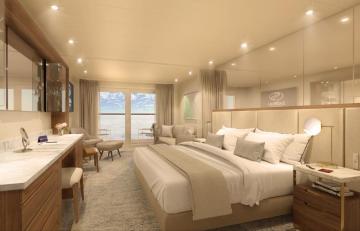 Select a Date
Journey Suites Deck 7
323 ft².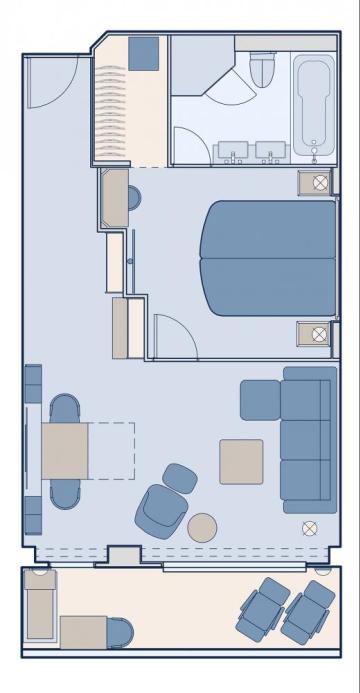 Select a Date
Adventurer Suites
456 ft². Located on Deck 7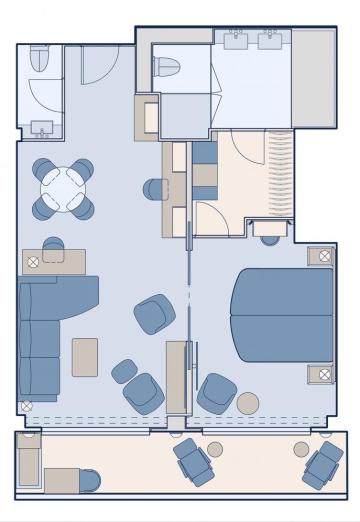 Select a Date
Nansen Suite
607 ft². Located on Deck 6 & 7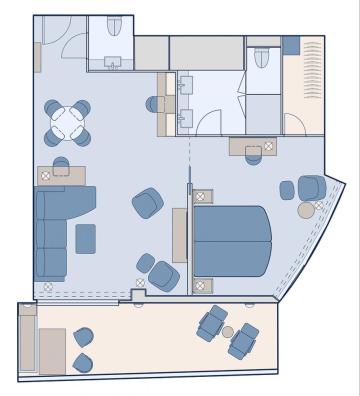 Select a Date
Archer Suite
502 ft² including a private master bedroom with a comfortable walk-in closet.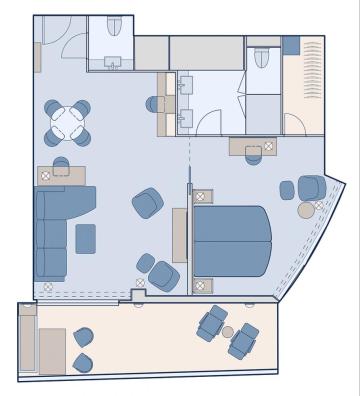 Select a Date
Sverdrup Suite
600 ft² including a private master bedroom with a comfortable walk-in closet.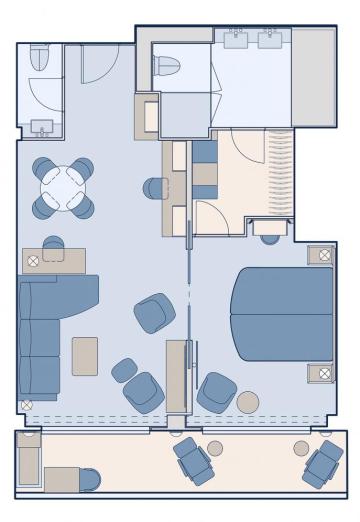 Select a Date
Admundsen Suite
607 ft². Located on Deck 6 & 7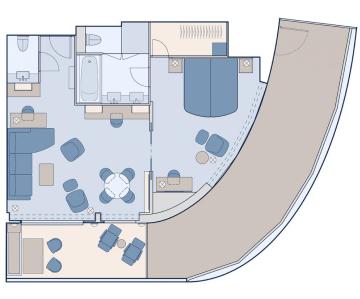 Select a Date
Eriksson Suite
982 ft² including seating and dining areas, a walk-in closet, and a large bathroom with an oversized shower and soaking tub.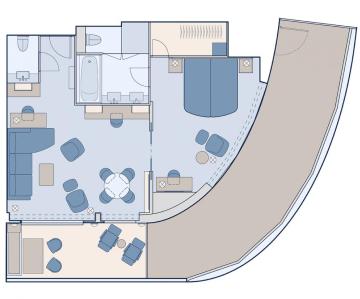 Select a Date
Heyerdahl Suite
1,008 ft² including seating and dining areas, a walk-in closet, and a large bathroom with an oversized shower and soaking tub.
Notes
Please note: Optional Activities are NOT included in this cruise-only rate. Contact us for details.
- All guests are required to have a valid passport while onboard.
Rates Include:
Accommodations
All gourmet meals
Wine with lunch and dinner
Open bar with selected premium brands
Gratuities
Use of water toys
Mountain bikes
Golf simulator
DVDs and more
Rates Exclude:
Optional land adventures. Contact us for pricing.
Air and ground travel arrangements
Spa treatments
Certain select premium liquor and wine cellar selections
Individual caviar requests
Communication costs
Use of satellite telephone
Internet access
Boutique purchases
Medical services
Casino play
Laundry
Government, Port, Document Issuance, Handling & Service fees
Inquire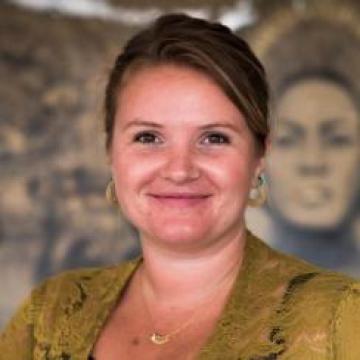 We Love to Talk Travel
Call
1.800.344.6118
or
Chat Now
This was our first trip to South America and we were a little nervous. But Adventure Life made things so easy! All our questions were answered before we left, and our guide, Vidal, was amazing! He gave us enough space to explore without rushing us along. He also knew where the best picture taking opportunities were, which was great.
Lindsay Gompf