After my Antarctic journey, I decided to go "thaw out" in Iguazu. I was really excited to see the falls- I have always been a big fan of waterfalls- they are so sacred and powerful! The beauty and expansiveness of Iguazu is unmatched by all the other waterfalls I have seen on my travels thus far. 
Upon finishing my cruise, I flew from Ushuaia to Puerto Iguazu, Argentina via Buenos Aires. This particular area of the world is geographically interesting because it is where Brazil, Argentina and Paraguay's borders meet. I stayed in the area for three days, which was a good amount of time to visit the falls in both Argentina and Brazil and also to relax by the hotel pool! We always recommend that our travelers visit both the Brazilian and Argentine sides of the falls. Each side has unique differences so it is important to see both sides to understand the full grandeur of the place!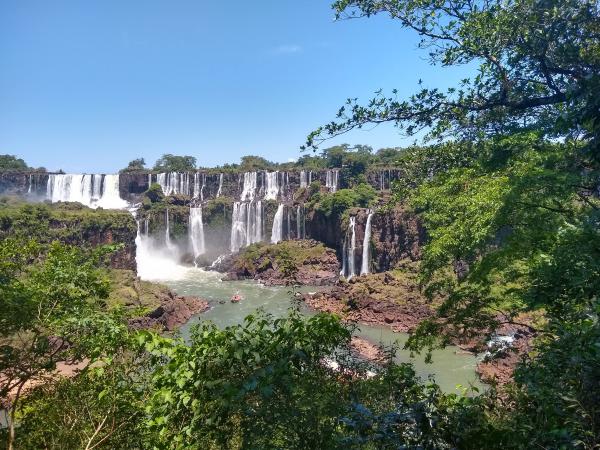 The Argentine side of the falls holds about two-thirds of all the falls in the park (there are a total of 275 total waterfalls on both sides!) It's quite an expansive area to visit. Seeing the highlights of the Argentinian side can easily take a full day. There are many different trails within the park, each offering a different view of the falls. You can walk above, beneath and all around the falls on the clearly marked trails, and a small "eco-train" also runs through the park and can take you to different view points. Thrill-seekers can also take a boat ride into the falls for a nice refreshing shower in the heat of the jungle! The boat ride was one of my favorite parts of Iguazu falls and such a unique experience.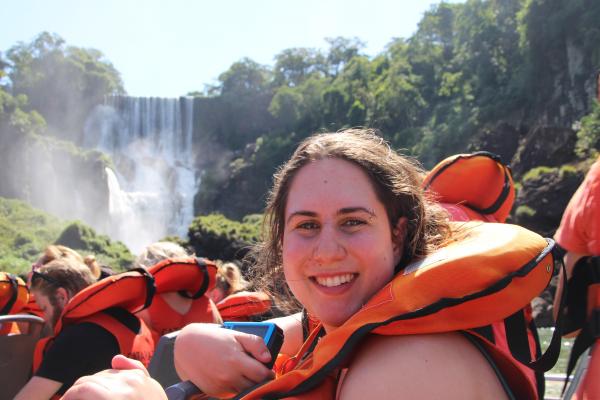 On my last day, I went to see the Brazil side of the falls. It was exciting to visit a new country, even if only for a few hours. US citizens no longer need a visa for Brazil, making it even easier to visit than in past years. The border crossing was pretty simple- our guide took our passports and got them stamped at the Brazilian border and then we were on our way! It is certainly a lot smaller than the Argentine side with basically one path and main viewing area. However, the views are a bit more panoramic as you look over all the falls on the Argentine side that you visited the day before. This particular excursion only took about a half day, and I returned to the hotel with some time to relax before my international flight back home.