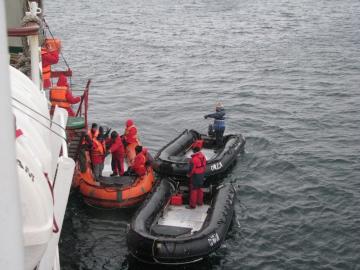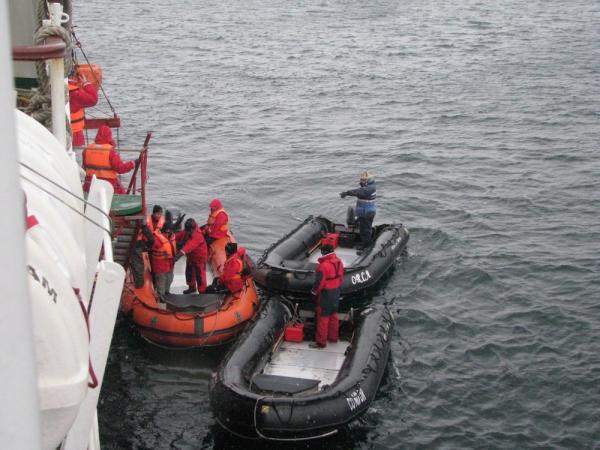 At nine sharp, we were all decked out with our gear as we joined our group, which had been designated for the first landing. The staging area was filled with people in red parkas, orange life vests and black boots. It was reminiscent of a WWII movie with paratroopers standing in line preparing to jump from the side door of the plane. One by one a red parka would disappear out of the side of the ship and onto the bobbing steps that led to even more bobbing Zodiacs. There was a mix of snow, rain and ice pellets in the air and an icy breeze of about 20 knots. Cool!! Or, should I say cold?
Now, we were in our landing craft like some other WWII movie of Omaha Beach. We got on shore in about 10 minutes. There was no machine gun fire, only penguins to welcome us and everyone landed safely.
My first impression of the terrain was that we have landed on the moon except that it had penguins and ice. The landscape was stark, but magnificent. We were led up a hill by one of the guides passing through colony after colony of penguins. The rain/snow/ice changed to all ice and then stopped for a while. The penguins were adorable, unafraid, curious and a little smelly.
We spent about 2 hours on shore going up and down hills, over crags to edges of cliffs. Everywhere, there were more penguins. The guide said that a month ago there were so many penguins on this island that they couldn't land because there was no space to maneuver around them.