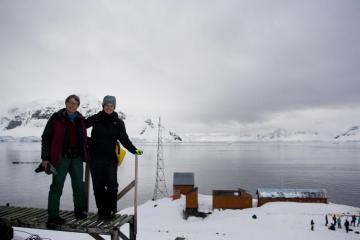 Step 1. Decide to go to Antarctica.
Step 2: Decide
when
to go to Antarctica.
Step 3: Decide which vessel will take you to Antarctica.
Step 4: Go to Antarctica.
For most travelers, deciding to go to Antarctica is the easy part. Narrowing down the options – which part of the season best suits what you want to experience, which ship offers the amenities you want, which itinerary offers the activities you most desire to partake in – can be a bit more time consuming, confusing, and overwhelming. Luckily for me, I already knew exactly what I wanted: I wanted ice. I wanted active. I wanted Basecamp.
What is Basecamp, you ask? "As much fun and exploration as you can pack into a single cruise." Basecamp offers kayaking, snowshoeing, mountaineering and camping to everyone on board, as well as the whale/wildlife watching, zodiac cruising, polar plunging and general standing around in awe which accompany other cruises in the Polar Regions. For travelers seeking a more active Antarctic experience, Basecamp is key. While you're not guaranteed to
partake
all the activities (you really never know when a blizzard will hit), you're guaranteed a chance.
My own Basecamp experience did not disappoint. We cruised around in zodiacs. We saw whales. We snow-shoed. We mountaineered. We kayaked. We camped. We stood around in awe. We threw the occasional snowball and rolled down snow-covered hills like children.
We played hard every day and slept even harder every night. We had as much fun and exploration as we could have possibly had and, if given the chance, I'd do it all over again.