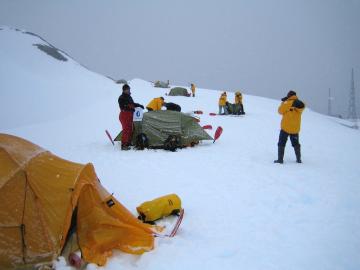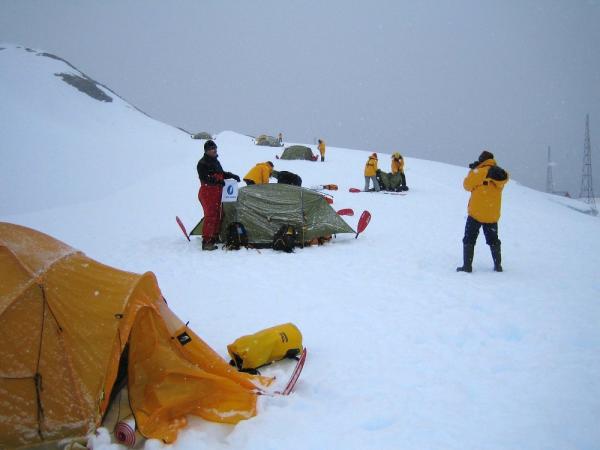 Latitude: 61 10.0' S, Longitude: 64 16.0' W, Wind Speed: 14 knots NW, Weather Conditions: Fog, rough seas, Distance covered in previous 24 hours: 228.5 nautical miles (nm), Air Temperature: 1 C, Sea Temperature: 1 C
There was a sense of melancholy as we left Antarctica and were now traveling northbound. Did we all just fall in love with Antarctica and were not ready to leave? Had we enjoyed the comraderie that developed with our fellow travelers of varying age and nationality? Were we all beginning to worry the re-entry into the "real world" and forecasting a rude awakening of heading back to our jobs and other tasks that make vacations all the more important?
I think it was all of the above, but it was good to feel this way. It was the experience of a lifetime that we shared with others. Many of us commented that we only wanted to come back to Antarctica again and that this was not our last time to experience a polar region. We learned a lot, laughed a lot, ate too much, and took a lot of pictures.
The next few days of the Drake Passage were quite pleasant with relatively calm seas combined with travelers having developed their sea legs. We stayed active with wildlife sightings on the bridge, having some free time to view our photos, and catch up in our journals. We were privileged to have some final lectures that recapped our experiences, and we learned about Trevor's expedition that followed Shackleton's footsteps in a modern day replica of the small boat, the James Caird; he navigated from the peninsula to South Georgia and then overland across South Georgia Island. Trevor had impressed us the entire trip with his experience and knowledge of the region's history, but we hadn't realized how hardcore he was!
And so we sailed north with a great experience behind us, rolls of photos and digital cameras full of the memories; and the smell of penguin scat stuck in our clothes.