An expedition to Antarctica is a once-in-a-lifetime trip. For some, it's a dream come true. For others, it's simply a check off the old bucket list. Regardless of your motivation for traveling to Antarctica, it's increasingly important to choose an operator that advocates for responsible travel and follows IAATO's guidelines.
What is IAATO? The International Association of Antarctic Tour Operators. The organization was founded in 1991 by several tour operators who realized that the boom in tourism to Antarctica could potentially have serious environmental impacts. They got together to create a set of guidelines for Antarctic-bound outfitters. IAATO meets once a year to evaluate all policies, procedures, and tasks. 
Upon embarking on your cruise with one of IAATO's members, you will have an IAATO briefing where you learn about the history of the organization and how very important it is that all travelers abide by these policies. It is for the safety of each passenger and the expedition crew, as well as the wildlife and continent of Antarctica itself.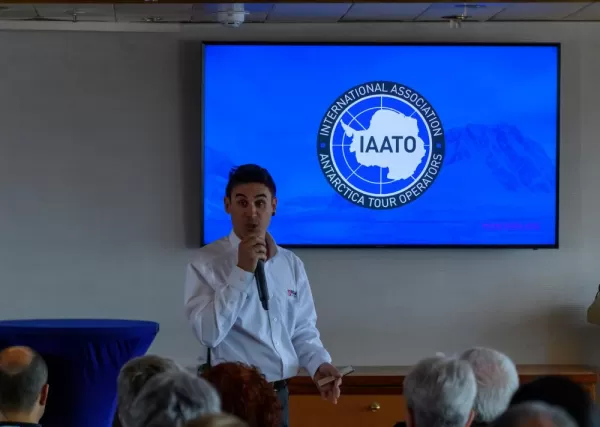 Here are a few of the guidelines discussed during the IAATO briefing onboard:
"Don't Pack a Pest" - Clean all gear with a vacuum to avoid introducing any non-native species (seeds, plants, foreign bacteria). Your expedition team will help vacuum your gear down to the velcro and zippers and pockets.
"Leave No Trace" - No waste is thrown overboard when below 60 degrees south. All research stations and expedition vessels utilize storage containers to dispose of all waste, which are then shipped out.
Protect wildlife - Do not approach wildlife within 5 meters/15 feet. Do not feed. Do not touch. Give them the right of way (penguin highways!).
Protect the vegetation - Do not walk on moss or lichen. It can take decades to regenerate and is very sparse in the region.
Protect the environment - No fires or burning of garbage. Do not remove any rocks, sand, or fossils.
I encourage you to review the
visitor guidelines
 to familiarize yourself before your trip.