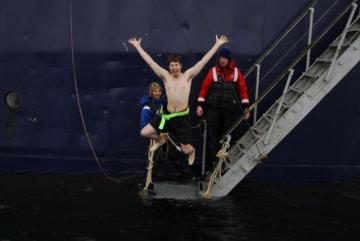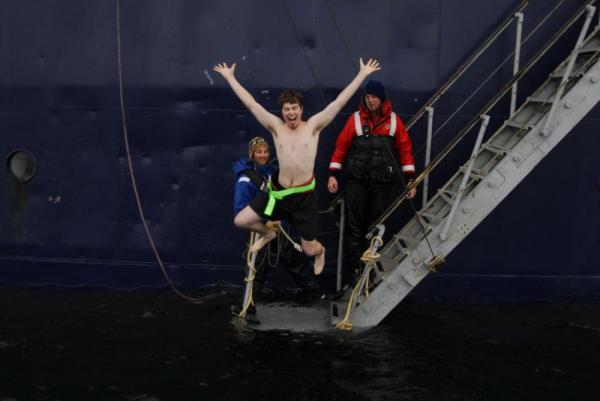 November 29
This is it. Our last chance to make it to the Emperor Penguin Rookery at Snow Hill. At 5:30 AM, Shane's voice wakes us with the announcement that visibility is only 100 meters and the helicopters need 300. We wait and see.
At 7:45, he comes on again. Penguin Plunge will be at 8:30 sharp! What's a Penguin Plunge? Its a jump and a swim in the ice Antarctica waters. I'm proud to say, this was my idea and I urged Shane (Expedition Leader) to arrange it. Word from the crew is that this was the first time this season for this - clearly, we have an adventurous group on board. Or is it just crazy me?
As I walk out onto the ice, over a dozen others join me! Dressed in bathrobes with jackets over the top and giddy with the craziness of what we're all about to do, we gather around the hole in the ice. As the
instigator of this craziness, I was the first to jump. A running jump and splash! The water was okay - I can't even remember if it was cold - but getting out and standing on the snow with my bare feet was the real cold part of the moment. Someone hands me a shot of vodka to help warm me from inside out.
Over a dozen others joined me and Tui de Roy (wildlife photographer) even went twice - just to see what it felt like. The highlight was when a minke whale surfaced in our puddle. It was incredible, to say the least. I believe it was when the third jumper was climbing out of the water that it surfaced. I like to think that it was my lily white body that first attracted the minke whale to our escapade.
At 10:30, the last hour passed for us to visit Snow Hill and the ship's engines started. We cruised over to Brown Bluff as the wind started picking up. By the time we arrived around 2:30, snow was falling sideways with the brisk blow. I think my core was still a bit chilled, as I only lasted an hour at the site.
Tomorrow, we are off to the Shetland Islands to continue our Antarctica journey.