Ha Long Bay is one of the incredible natural wonders of Vietnam. I was looking forward to our 2-day, 1-night cruise on a junk boat to get the full experience.
First, I have to say, if you have an extra day, opt for the 3-day/2-night cruise on the Bay. The transfer time from Hanoi is long, and I felt like I spent about as much time getting to and from the boat as I did actually on it! That might be a bit of an exaggeration, but it was pretty close. Luckily, the experience did not disappoint. I just wished I had more time.
By the time we arrived on our boat with the 25 or so other travelers, it was time for a late lunch and out for our excursion. Tim and I opted to kayak to our swim stop and followed a group of 7 or so kayakers through the bay, marveling at the rock outcroppings that stretch for miles and miles into the distance. The rest of the group took a skiff to our swim spot, and I highly recommend getting in a kayak. Neither Tim nor I had much experience in one, but it wasn't hard to get the hang of it. We didn't feel rushed at all, and it was fun to be able to cruise around in the kayaks. Once we arrived at the beach, we had some time to swim in the bathtub-temp waters.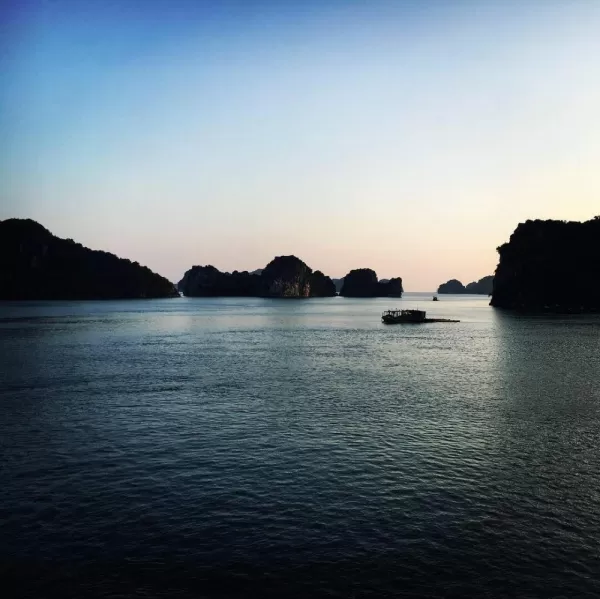 After an hour or so on the beach, we all took the skiff back to the Dragon Legend, watching the sunset as we went. The rock outcroppings popping up for miles and disappearing into the mist are mesmerizing, and we spent most of the rest of the evening out on the deck enjoying the view.
We definitely saw a lot of other junk boats during our trip with many other tourists, and our excursion in the morning up to Thien Canh Son Cave was absolutely packed. It was an interesting stop on the way back to the pier, but doing the 3-day/2-night cruise would have given us more time to take some more interesting excursions with maybe fewer people around.