Japan
The best time of year to embark on a cruise around Japan can often be decided on travelers' weather and festival preferences. The climate in Japan falls into four distinct seasons, and each comes with unique seasonal festivals.

Fall (September through November) sees foliage that begins to turn brilliant colors in October through early November. Visit Japan during the fall to see the renowned Japanese maples, ginkos, and ash trees turn yellow, orange, red, and purple. This is also a season of many regional festivals. Infrequent rainstorms characterize both spring and fall, and the weather is mild, making both ideal periods for a tour of Japan.

Winter months (December and February) bring moderate cold and snow, good news for the many Japanese ski resorts and winter sports enthusiasts. The weather rarely dips below 30 degrees Fahrenheit. New Year's is widely celebrated and is a very busy time for traveling with airlines, highways, and trains crowded with passengers.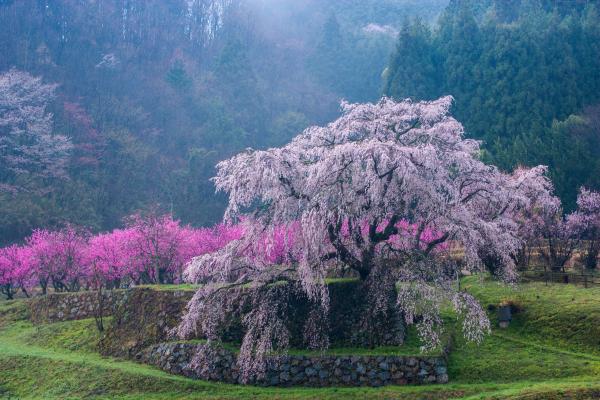 Cruising Japan during spring (March through May) allows passengers to experience the famed cherry or sakura blossoms, which flower in March or April. Plum trees blossom as early as the end of February, and the season is characterized by various blossom-viewing festivals. April 29 through May 5 is Golden Week, a time when much of the population goes on holiday, hence is a more crowded traveling time.

Summer (June through August) is itself divided into two seasons; June to mid-July is the rainy season, and mid- July through August is hot and humid. The rainy season can be a cool and less crowded time to travel to Japan; however, avoid these dates if you do not like rain. The above seasons do no apply to Hokkaido, which, unlike mainland Japan, does not experience rain nor hot and humid temperatures in summer, but cool, dry weather. The O-Bon festival occurs from August 13-16 and many Japanese citizens go on vacation. Tokyo is quieter than usual as many residents return to their home towns for the holiday.
Vietnam, China, Cambodia & South Korea
Other stops on a cruise of Asia may include Vietnam, China, Cambodia, and South Korea. The southern regions of these countries, particularly coastal areas, experience a monsoon season from May to October. Summers in these areas are hot and humid. A more enjoyable time to visit is later in autumn through January, when temperatures are cooler and rain is unlikely.

If your Asian voyage continues up towards Russia and the Arctic Circle, expect the largest holiday crowds and warmest weather in July and August. To avoid the crowds, try the shoulder months of May-June and September –early October. In early autumn the foliage is brilliant and mushrooms and berries are ripe and ready to be picked or foraged. Winter is bitterly cold, hence its reputation, although Russians are very hospitable and eager to share their theater, indoor warmth, and vodka to enjoy while watching the snow. Spring (February-mid April) in Russia in spring is very slushy, muddy, and generally not recommended for enjoyable travel.